printer friendly version
Power transmission solutions for high productivity in the sugar sector
June 2021
News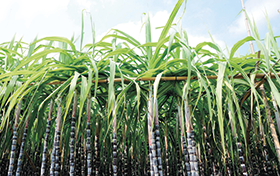 BMG plays a critical role in the sugar sector, not only during the operational period of sugar production, but also in off-crop seasons, when maintenance and refurbishment on sugar farms and at mills is essential.
"BMG boasts a depth of experience in the sugar sector through the provision, over decades, of power transmission solutions that ensure high productivity in cane fields and during processing and refinement," says Carlo Beukes, business unit manager of BMG's Power Transmission division. "BMG supplies and supports a wide range of products, carefully selected for dependable performance in demanding conditions in the sugar industry throughout Africa. These components include carrier and diffuser chains, knife and shredder bearing housings, custom sprockets and gear couplings, as well as steam gaskets, heat exchangers and hydraulic tools. Diffuser and mill gearboxes, in addition to mill lubrication and hydraulic systems, form a critical part of this range.
"An important service to the sugar sector is BMG's chain refurbishment facility in Durban, where chains are stripped, inspected and re-assembled, using new components where necessary. This refurbishment service is often carried out under strict time restrictions, which requires advanced planning.
"Analysis of chain failures is also conducted at this facility. BMG specialists are able to advise customers on the expected remaining wear life of a chain and on what improvements need to be introduced to their systems.
"Other specialist services in the sugar sector include bearing and gearbox inspection, bearing and chain refurbishment, large size bearing assembly, alignment and balancing, as well as customised product design. BMG also offers a troubleshooting and maintenance service, condition monitoring and training."
Tsubaki chains
Tsubaki high performance chains – key components in BMG's power transmission division – are well-suited for harsh conditions in sugar processing and production, offering enhanced strength and reliability, a cleaner environment and extended operating life.
"BMG specialists are able to provide solutions for any problems our customers face when using conveyor chain," explains Gavin Kirstein, Tsubaki product manager, BMG. "We can adapt the materials used and even the heat treatment of a chain's components, to match the specific application and operating environment, whether in the sugarcane field, mill or refinery. We also offer a range of chains with stainless steel components to protect against corrosion, which is especially problematic on bagasse carriers and elevators. Stainless steel components can be heat treated to provide wear and corrosion resistance, as well as additional strength.
"BMG's Tsubaki products encompass cane harvester chains that are manufactured at an ISO-certified manufacturing facility, in line with Tsubaki's exacting specifications. All components are shot peened and the chain is also statically pre-loaded for enhanced wear life in the harsh conditions of cane fields."
Tsubaki also manufactures a wide range of mud conveyor chains, designed especially for damp conditions. These chains are fitted with stainless steel pins and bushes for protection against corrosion and wear.
BMG's Tsubaki RF series intermediate carrier chains are manufactured from durable materials, with stainless steel used for the pin and bush to protect against corrosion and wear. The pin and bush areas are also lubricated with grease during assembly and since the chain is not normally lubricated during operation, this grease is baked on in certain areas to provide enhanced lubrication functions.
Tsubaki diffuser and cast dog bone link type chains, with special design features to withstand operation in harsh conditions, also have stainless steel pins and bushes for enhanced protection against corrosion and wear.
The most critical chain application in sugar processing is the bagasse reclaimer, which powers the mill. Tsubaki has made a substantial investment in market research and field testing, to develop a robust bagasse chain, with a grade of stainless steel that has the highest combined levels of corrosion resistance, strength and wear properties. In addition, induction-hardened pins offer extended service life. Attachments are robotically welded to the chain to ensure the strongest weld penetration.
Field service maintenance
The BMG team attends to breakdowns in sugar mills and refineries and meets tight time frames to manufacture replacement components. Recent field service maintenance projects during off-crop seasons involved a turnkey in-situ replacement of diffuser head shaft bearings and the complete refurbishment of the multi-misalignment couplings driving each end of the head shaft. This project also involved the installation of new bearings and adaptor sleeves, as well as new keys and connector arms for the couplings.
BMG's specialist services to the local sugar sector are underpinned by a broad range of quality-branded engineering components, a technically competent team and a 24-hour support service.
For more information contact Carlo Beukes, BMG, +27 11 620 7558, carlob@bmgworld.net, www.bmgworld.net
Credit(s)
Further reading:
From the editor's desk: Is additive manufacturing poised to go mainstream?
Technews Publishing (SA Instrumentation & Control) News
As digital manufacturing technology pushes its way further towards the production floor, additive manufacturing (3D printing) is emerging as a viable option to complement the more traditional methods 
...
Read more...
---
WIKA SA opens online shop
WIKA Instruments News
Now customers in South Africa can order measurement technology directly from the manufacturer – simple, quick, secure.
Read more...
---
GE Invests $2,5 million in Johannesburg engineers
News
The Next Engineers program aims to increase the diversity of young people in engineering and reach 3500 local students.
Read more...
---
Webinar on radiometric level measurement
Mecosa News
Experts from Berthold discuss the advantages of a rod source/point detector arrangement.
Read more...
---
BMG's heavy-duty mechanical face seals
Bearing Man Group t/a BMG News
BMG's extensive range of seals and gaskets includes Trelleborg mechanical face (torric) seals, which have been specially engineered for rotating applications in arduous conditions.
Read more...
---
Zest customers can now buy online – anytime
Zest WEG Group Africa News
Zest WEG has linked its new E-Commerce facility to the organisation's website, allowing its customers to make online purchases.
Read more...
---
A new vibration test system for Dragonfly Aerospace
TANDM Technologies News
Dragonfly Aerospace is investing in a 3000 square metre design and manufacturing facility in Techno Park, Stellenbosch.
Read more...
---
Successful EtherCAT Interoperability Testing Week in Japan
News
With the recently concluded EtherCAT Interoperability Testing Week in Japan, the EtherCAT Technology Group (ETG) concludes this year's series of developer events in online format.
Read more...
---
Eaton Oxalis CCTV cameras available from Extech
Extech Safety Systems News
Extech Safety Systems is pleased to announce that it has been appointed by Eaton to sell the Oxalis CCTV cameras in southern Africa.
Read more...
---
Inspection, repair, maintenance all bread-and-butter work for Skyriders
News
Skyriders offers a variety of rope-access aided services to numerous industries, such as power generation, petrochemical, mining and facilities management.
Read more...
---