printer friendly version
Tailored technology meets responsive design with the new Festo website
April 2021
Editor's Choice
Festo South Africa, a renowned leading automation company for over 45 years, has recently launched its new website www.festo.co.za, which demonstrates its continued commitment to customer service delivery and simplifying its customer's lives. With its responsive design, intelligence and adaptability, it is no surprise that the new site is named FOX (Festo Online Experience). The company's wide range of products, services and accompanying tools are now accessible more easily, quickly, and efficiently than before.
The company has rebuilt the website to live up to its innovative, cost-effective, and reliable automation solution standards. With the new website, Festo is taking the opportunity to strengthen and modernise how it presents its products and solutions to improve the online customer experience.
Key features of the new platform
New and improved online shop
To better serve thousands of customers all over Africa, Festo also developed a new and improved online shop. This shop aims to solve the need for a quick and hassle-free ordering system. Boasting over 30 000 products, you'll have an abundance of options to choose from. However, that's not all! From search and ordering to delivery, customers will immediately see the difference between the old and new e-shops. Intelligent and intuitive features are some of the functionalities that have been added to customer accounts. The online shop simplifies the ordering process for customers in several ways:
Shopping cart
The shopping cart offers quick information about price and availability, and delivery dates. It provides an option to save or share a shopping cart with a third party and an opportunity to request an official quotation.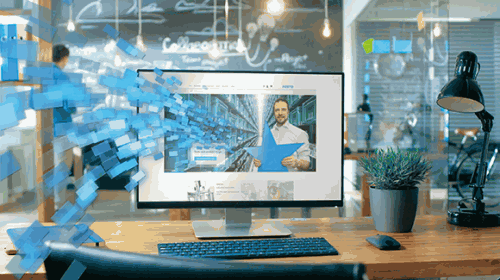 Proof of delivery and invoices
A proof of delivery document is crucial, so Festo has added an option to download the proof of delivery document and invoice for quick reference.
Quick order
Do you know the exact product that you would like to purchase from Festo? If yes, the new quick order feature is for customers like you. All that is required from customers is to enter the Festo product number.
Order history
The order history feature offers customers a convenient way to keep track of all current and past orders, as well as their status in the order process. Repeat orders can be placed effortlessly by using the re-order function to quickly transfer all items from a previous order to your cart.
Better performance with fewer clicks
With the site's smart features, FOX gives automation designers quicker access to the company's latest design tools. Its users receive information and educational support at every crossroad on the company's new product category pages. This is provided through product pictures, animations, product videos, technical documentation, product support information and manuals.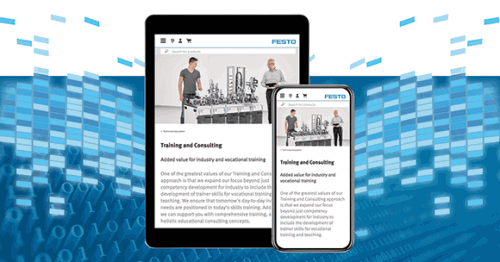 CAD designs
With one click, customers can create CAD assemblies quickly and accurately with the Festo Design Tool 3D. This tool provides an ordering code which customers can use to order the assembly directly, either pre-assembled or as individual components.
Configurator tool
With intelligent configurators such as HGO (Handling Guide Online), and YJKP (servo press kit), customers will be able to design a complete handling system for their machines within a few minutes with immediate access to the CAD drawing to incorporate in their design. Thus, saving customers time and money in the design process of their machines. Coupled with an easy ordering process and instant pricing, customers have complete convenience and access to all their required information.
Circuit diagram software
With FluidDraw, users can create pneumatic, hydraulic and electric circuit diagrams plus the relevant parts lists in an instant. The intelligent software solution permits the user-friendly creation of clear structures, even with complex systems. Third-party libraries allow users to add their own symbols to their drawing layouts. Standard templates give users a professional layout and design for their drawing packs. The software supports all stages, from the initial idea through to planning and designing the system and machine.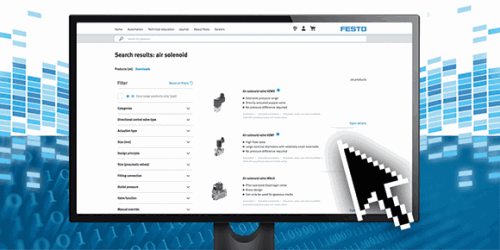 Be better equipped to manage emergencies and avoid downtime
The Festo website is designed to keep users ahead of emergencies or downtime through analysis, diagnostic tools and on-demand solutions. This customer-centric, intuitive and responsive website helps users take care of their machines effectively and efficiently, whether they are at their desk or on the shop floor, thanks to the following features:
Spare parts for Festo products
Customers can quickly find the right spare parts by using the part number, ordering code, type, product key, or the scanned data matrix code. They will then see all the spare parts in the smart spare parts catalogue, and place the part they need in the shopping basket.
Easy self-help video tutorials
The YouTube channel, Festo South Africa, offers practical and intuitive step-by-step instructions on frequently requested topics such as repairs, configuration, commissioning and modifications. The videos also contain helpful information about which tools the website visitors need, how to use them, and how much time you should expect to spend as well as illustrated comparisons that point out typical sources of error.
Repair service from Festo
Repairs are particularly recommended for high-value components and modules that have not yet reached the end of their service life. Festo takes care of this for customers – quickly, reliably and professionally. Festo offers a wide range of repair services such as inspection, economic feasibility analysis and more.
Its not just the website that is changing
Festo has re-designed the structure of its sales teams to better serve customer needs. With its full complement of dedicated employees, the new structure better aligns the sales teams to focus on primary business units and key industry segments. The new website and its recent structural changes will afford Festo an opportunity to provide Africa with cutting-edge and unrivalled automation services.
Festo believes that the new website with its intuitive features will result in a level of service and functionality unparalleled in the South African market, ensuring that the company remains a leader in innovation. Furthermore, new innovations will be uploaded to the site as soon as they become available. This ensures that customers always have access to the latest offerings. Visit the Festo website on www.festo.co.za to view the vast range of products, solutions and services.
For more information contact Festo South Africa, 0860 033 786, marketing.za@festo.com, www.festo.co.za
Credit(s)
Further reading:
Loop Signatures 1: Introduction to the Loop Problem Signatures series
May 2020, Michael Brown Control Engineering , Editor's Choice
Over the years I have had many requests to write a book giving more detailed explanations of some of the problems I have encountered in my work on practical loop optimisation. I am by nature and inclination 
...
Read more...
---
Loop Signatures 6: Final control elements – Part 2: characteristics.
April 2021, Michael Brown Control Engineering , Editor's Choice
Feedback theory generally assumes that the process has a linear transfer function, which means that equal changes on the input will result in equal changes on the output.
Read more...
---
Control Loop: Case History 176 The importance of programming PLC control modules correctly.
March 2021, Michael Brown Control Engineering , Editor's Choice
Every time I work on a plant that is using a PLC and scada system for feedback control, I always first do a test on a controller module to ensure that the controllers have been configured correctly.
Read more...
---
Highly flexible pick and place with digitised pneumatics from Festo
February 2021, Festo South Africa , Pneumatics & Hydraulics
Motion Apps are revolutionising pneumatics by increasing flexibility, energy efficiency and accelerating production processes.
Read more...
---
Control Loop: Loop Signatures 5
February 2021, Michael Brown Control Engineering , Editor's Choice
This article outlines some of the practical problems and rules of thumb relating to final control elements, which can affect control in the real world.
Read more...
---
Unlimited performance in limited spaces
February 2021, KROHNE , Editor's Choice
The new AF-E 400 is the culmination of KROHNE`s 70 years of expertise in electromagnetic flow measurement and was specifically designed for industrial automation applications.
Read more...
---
Control loop: Case History 175 Oversized valve disrupts good control
January 2021, Michael Brown Control Engineering , Editor's Choice
This article provides good insight into the dangers of using largely oversized valves, and into the importance of understanding practical control, and how your controllers work.
Read more...
---
Advanced new Festo valve portfolio gains immense popularity in industrial automation
November 2020, Festo South Africa , Editor's Choice
Kershia Beharie talks to SA Instrumentation and Control about choosing the right valves for machine applications from the popular Festo range.
Read more...
---
2020 MESA virtual conference – if you missed it you missed out!
January 2021 , Editor's Choice, IT in Manufacturing
Arguably the best lineup of guest speakers in years; to top it you'd have to get Elon Musk and Kanye West to present at next year's event.
Read more...
---
PMV D30 smart digital positioner from V&A
January 2021, Valve & Automation , Editor's Choice
While pumps, seals and valves frequently get most of the attention, it is often the actuators and positioning solutions that are running the show.
Read more...
---