printer friendly version
Complete Beckhoff system for power supply, protection and energy monitoring
April 2021
Electrical Power & Protection
Universal monitoring of power supplies results in maximum data transparency from power generation to energy optimisation. This in turn is the basis for increasing the efficiency of production machines and optimising process sequences. PC-based control from Beckhoff makes this possible with matching components for power supply, fusing and monitoring.
Universal system reduces work and costs
No machine or plant works without reliable power supplies and the corresponding fusing. With the new high-quality supplies from Beckhoff's PS series, the system approach of PC-based control comes into its own because all components are optimally matched to one another. In particular, the EL922x overcurrent protection terminals integrated directly in the EtherCAT I/O system not only reliably secure the power in the individual supply paths, but also continuously measure it.
If machine manufacturers avoid power peaks, for example, they reduce the connected load of the plant as well as installation costs for the end customer due to the smaller supply cable sizes. Furthermore, universal and system-integrated energy measuring technology satisfies the prerequisite for being able to compare the target and actual state of the plant directly inside the machine controller. In this way, developing problems can be detected at an early stage and process optimisation potential is easier to discover. The power measurement terminals, current transformers, overcurrent protection terminals and power supplies from Beckhoff enable this with standard components – even when retrofitting existing machines and plants.
Data transparency through a complete measurement chain
As an automation specialist, Beckhoff enables the combination of the relevant power supply components to form a transparent and complete system. Only such a combined implementation provides a comprehensive overview of the energy and power supply of the machine, on both the AC and DC sides. The complete measurement chain begins with the SCT current transformer at the main supply to the machine. The power supplies from the PS device series provide a safe 24 V DC for all connected automation components and the overcurrent protection terminals not only secure the individual lines, but also continuously monitor the current consumption.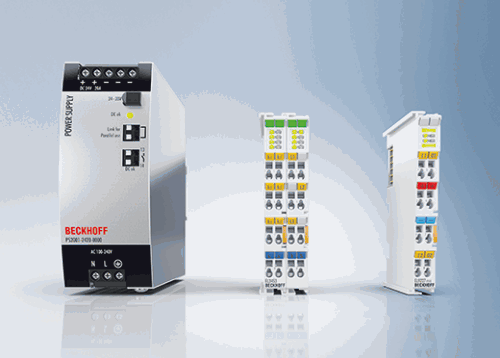 With the SCT series current transformers, Beckhoff has completed the power measuring chain from the recording of the physical measured values to the transmission of data to the cloud. The portfolio of current transformers covers all relevant applications: for current intensities from 1 to 5000 A as well as ring-type and split-core transformer versions or 3-phase transformer sets. There is a choice of two concepts, which are highly scalable due to various designs and performance classes and are thus suitable for a wide variety of applications.
The diverse requirements in energy management in the machine environment demand an extensive range of solutions. In response, Beckhoff has introduced four new EtherCAT I/Os and a comprehensive range of EtherCAT Terminals, which are scalable in terms of both price and performance. Together with the proven EL37x3 grid monitoring oversampling terminals (and the associated TF3650 TwinCAT Power Monitoring software library), the new EL34x3 EtherCAT Terminals for energy management make up a comprehensive range of products that optimally adapt to the respective applications.
Distributed power measurement minimizes costs
The new concept of distributed power measurement offers a particularly efficient and inexpensive way to obtain exact power measurement data, even in complex systems. The central element is the EL3446 6-channel current input terminal for measuring currents up to 1 A AC/DC. It can be used to determine precise power values, even with physically separated voltage and current measurement. Decisive here is that all relevant electrical data from the supply grid, including real measured values for power, can be determined with the EL3446 purely as a current measurement terminal. The voltage values required for the calculation of the power data are transmitted – precisely synchronized by the distributed clocks in EtherCAT – via an EL3443 three-phase power measurement terminal, which only needs to be installed once for each system. The active power and energy consumption for each of the up to six connectable phases are then calculated in the EL3446. The effective values of voltage and current as well as active, apparent and reactive power or frequency, phase shift angle and harmonics are thus available, enabling comprehensive grid analysis extending up to energy management.
Power supplies with optimized convection cooling
The new PS1000, PS2000 and PS3000 power supply series are the starting point for a powerful and safe power supply within the plant. They are suitable for virtually all areas of use, extending up to motion control applications with high requirements for back EMF. Excellent convection, minimized power loss and high efficiency of up to 96% optimise the service life and reliability of the devices. The peak power capability of up to 150% makes it possible to provide up to 1.44 kW output power for short periods of time. Together with the space-saving design and high immunity to transients and over voltages, this allows efficient and cost-effective application, even in harsh industrial environments.
The devices are specifically designed with good convection cooling properties in mind. In addition, components that are particularly temperature-sensitive and prone to ageing are placed at the bottom of the unit, i.e. as close as possible to the incoming cool air. Due to this universally temperature-optimised design, all components used are subject to less thermal stress and thus attain a long service life.
Analog monitoring terminal with fusing functionality
In the EL922x EtherCAT Terminal series, Beckhoff combines functions for comprehensive energy monitoring in a highly compact way with electronic overcurrent protection for fusing 24 VDC plant components. Thus, these analog monitoring terminals record the current and voltage values for continuous power monitoring. Among other things, this data enables a detailed analysis of power consumption and voltage as well as the monitoring of voltage limit values. Furthermore, status information and preliminary warnings can be displayed.
The integrated overcurrent protection offers numerous practical advantages. It reduces wiring work, as the supply to the neighbouring I/O terminals connects automatically when the terminal is plugged in. In addition, the control cabinet design benefits from space and cost savings by eliminating an otherwise necessary additional coupling device and further digital I/O or supply products. Furthermore, EtherCAT offers access to numerous process data such as load, load current, input/output voltage, under/overvoltage and reverse supply.
For more information contact Dane Potter, Beckhoff Automation, +27 79 493 2288, danep@beckhoff.com, www.beckhoff.co.za
Credit(s)
Further reading:
TeSys Giga with digital innovation
Schneider Electric South Africa Electrical Power & Protection
Schneider Electric has announced the release of the new generation of TeSys Giga series motor starters.
Read more...
---
Zest WEG minimises downtime at local mine
Zest WEG Group Africa Electrical Power & Protection
Zest WEG has supplied one of its locally manufactured MV switchboards to a gold producer in Gauteng.
Read more...
---
Accelerating high-precision assembly of micro-optics
Beckhoff Automation System Integration & Control Systems Design
PC-based control technology automates component assembly.
Read more...
---
Dry-type transformers for auto plant
Electrical Power & Protection
An important expansion to South Africa's automotive industry is benefiting from the installation of 10 dry-type transformers and two mini-substations supplied by Trafo Power Solutions.
Read more...
---
Low profile 5 kW PSU with outputs up to 200 VDC
Vepac Electronics Electrical Power & Protection
Vepac has announced the addition of a low-profile enclosure to the HPT5K0 series of high efficiency 5 kW AC-DC power supply modules.
Read more...
---
The MX-System: the controller becomes a modular control cabinet
Beckhoff Automation System Integration & Control Systems Design
The new MX-System from Beckhoff is quite simply a revolution in control cabinet construction.
Read more...
---
DC-DC converters
Vepac Electronics Electrical Power & Protection
Vepac Electronics offers an extensive portfolio of power converters.
Read more...
---
AC-DC power supplies
Vepac Electronics Electrical Power & Protection
Vepac Electronics offers a strong range of AC-DC power solutions, covering 3 W to 10 000 W.
Read more...
---
Schneider boosts next generation TeSys Giga offering with digital innovation
Schneider Electric South Africa Electrical Power & Protection
Schneider Electric has announced the release of the new generation of TeSys Giga series motor starters.
Read more...
---
Cummins offers a range of solutions for load-shedding and back-up power
Electrical Power & Protection
Cummins' technology is particularly suited to dealing with load-shedding due to features such as full load acceptance for critical equipment.
Read more...
---