printer friendly version
Bosch Capital works with CBSS to advance water quality monitoring tool
February 2021
News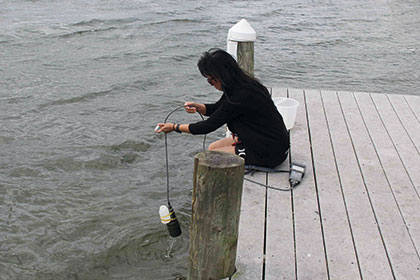 Bosch Capital has been appointed by environmental and water governance, risk and compliance specialist, CBSS, to support the commercial development of the new LEGUAAN Software-as-a-Service (SaaS) water quality monitoring, data visualisation and reporting tool. This project is supported by the WADER programme of the Water Research Commission.
CBSS has developed this water resource management tool to facilitate the efficient conversion of water monitoring data into meaningful visual graphs and reports that meet specific requirements of each organisation and that facilitate improved monitoring and compliance.
"In this exciting venture with CBSS, the Bosch Capital team is conducting a market analysis study that will inform the development of a commercial model and business plan for the LEGUAAN SaaS tool," explains Rajiv Paladh, manager: Advisory and Funding at Bosch Capital. "This project also includes the development of a high-level financial model, to enable the analysis of the key financial drivers of the business.
"This study is crucial in assisting CBSS to ensure that LEGUAAN will offer an excellent value proposition to customers. The market analysis for this project is expected to be completed by the end of January 2021."
The founding member of CBSS, Carin Bosman, had this to say regarding the monitoring tool: "We derived the name LEGUAAN from the South African water monitor, an agile reptile that plays an essential role in maintaining ecological balance in aquatic ecosystems. Key advantages of this cost-efficient system are time savings for the user, coupled with the assurance that all data is accurately converted into meaningful information and graphical representations."
Without the correct interpretation of results, it is impossible to make informed decisions about the management adjustments that are necessary to improve consumption, reduce water footprint and minimise impacts on water quality, as well as reduce liability risks for the organisation.
Once the scientific integrity of the data is verified, it is swiftly converted into interactive and intelligible charts, such as Mauchino diagrams (salt balances including nitrates), time-series graphs, box-plot diagrams for statistical evaluations, and Ficklin graphs. Graphs and reports are provided online to users in a secure, interactive dashboard format, thus enabling users to download and present it to their internal and external stakeholders.
Reports and graphs generated by this water resource management tool can be set up to compare a user's data to the limit values in the water-use licence, or any other site-specific limit value specified by a government agency. CBSS specialists are also able to assist with the development of scientifically correct, site-specific limit values in accordance with the new Department of Water and Sanitation policy on water quality management.
Further reading:
From the editor's desk: Is additive manufacturing poised to go mainstream?
Technews Publishing (SA Instrumentation & Control) News
As digital manufacturing technology pushes its way further towards the production floor, additive manufacturing (3D printing) is emerging as a viable option to complement the more traditional methods 
...
Read more...
---
Obituary: Steven James Meyer
January 1957 - January 2022
Technews Publishing (SA Instrumentation & Control) News SAIMC
It is with deep sadness and shock that we announce the sudden death of SA Instrumentation & Control Editor, Steven Meyer. Steven joined Technews in October 2007 in the position of Deputy Editor. His 
...
Read more...
---
ESG certified as Level 2 contributor to B-BBEE
News
Invicta Holdings Limited's Engineering Solutions Group (ESG) has achieved recognition as a Level 2 contributor to B-BBEE.
Read more...
---
Abrasive Flow Solutions celebrates its first year of business
News
Abrasive Flow Solutions (AFS) – specialists in the design and manufacture of slurry related valves – celebrates its first year of business.
Read more...
---
Microsatellite production gets a boost in Stellenbosch
TANDM Technologies News
Dragonfly Aerospace is investing in a 3000 square metre design and manufacturing facility in Techno Park, Stellenbosch.
Read more...
---
Danfoss doubles down on energy efficiency
Danfoss News
Danfoss encourages decision makers to act at COP26.
Read more...
---
Zest supplies SA's new gas helium project
Zest WEG Group Africa News
Zest WEG is supplying locally manufactured transformers, switchgear and substations to South Africa's onshore natural gas and helium project, Tetra4.
Read more...
---
Emerson announces commitment to venture capital initiative
Emerson Automation Solutions News
Emerson Ventures to focus on disruptive discrete automation solutions, environmental sustainability technologies and industrial software.
Read more...
---
Valve & Automation's new Secunda Valve Repair Centre
Valve & Automation News
On 1 November 2021, Valve & Automation's Secunda Valve Repair Centre opened at 18 Kingfisher Street, Ext 57, Secunda, Mpumalanga.
Read more...
---
SECO Process Instrumentation appointed East Rand agent for Yokogawa
SECO Process Instrumentation News
SECO Process Instrumentation, a consulting company in the fields of instrumentation, moisture analysers, pneumatics and VSD solutions, has recently been appointed as the East Rand agent for Yokogawa.
Read more...
---