printer friendly version
Bosch Capital works with CBSS to advance water quality monitoring tool
February 2021
News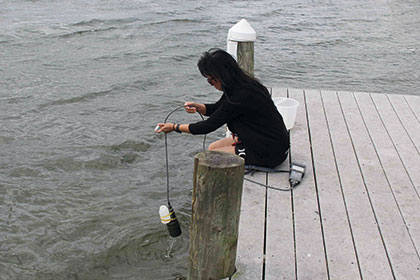 Bosch Capital has been appointed by environmental and water governance, risk and compliance specialist, CBSS, to support the commercial development of the new LEGUAAN Software-as-a-Service (SaaS) water quality monitoring, data visualisation and reporting tool. This project is supported by the WADER programme of the Water Research Commission.
CBSS has developed this water resource management tool to facilitate the efficient conversion of water monitoring data into meaningful visual graphs and reports that meet specific requirements of each organisation and that facilitate improved monitoring and compliance.
"In this exciting venture with CBSS, the Bosch Capital team is conducting a market analysis study that will inform the development of a commercial model and business plan for the LEGUAAN SaaS tool," explains Rajiv Paladh, manager: Advisory and Funding at Bosch Capital. "This project also includes the development of a high-level financial model, to enable the analysis of the key financial drivers of the business.
"This study is crucial in assisting CBSS to ensure that LEGUAAN will offer an excellent value proposition to customers. The market analysis for this project is expected to be completed by the end of January 2021."
The founding member of CBSS, Carin Bosman, had this to say regarding the monitoring tool: "We derived the name LEGUAAN from the South African water monitor, an agile reptile that plays an essential role in maintaining ecological balance in aquatic ecosystems. Key advantages of this cost-efficient system are time savings for the user, coupled with the assurance that all data is accurately converted into meaningful information and graphical representations."
Without the correct interpretation of results, it is impossible to make informed decisions about the management adjustments that are necessary to improve consumption, reduce water footprint and minimise impacts on water quality, as well as reduce liability risks for the organisation.
Once the scientific integrity of the data is verified, it is swiftly converted into interactive and intelligible charts, such as Mauchino diagrams (salt balances including nitrates), time-series graphs, box-plot diagrams for statistical evaluations, and Ficklin graphs. Graphs and reports are provided online to users in a secure, interactive dashboard format, thus enabling users to download and present it to their internal and external stakeholders.
Reports and graphs generated by this water resource management tool can be set up to compare a user's data to the limit values in the water-use licence, or any other site-specific limit value specified by a government agency. CBSS specialists are also able to assist with the development of scientifically correct, site-specific limit values in accordance with the new Department of Water and Sanitation policy on water quality management.
For more information contact Rajiv Paladh, Bosch Capital, +27 31 535 6000, paladhr@boschcapital.co.za, www.boschcapital.co.za
Further reading:
Cable, components and critical space exploration
February 2021, ABB South Africa , News
ABB provides Ty-Rap cable ties for NASA Mars 2020 Perseverance Rover mission.
Read more...
---
Success for NASA's Jet Propulsion Laboratory (JPL)
February 2021 , News
maxon congratulates on the successful Mars landing of the Perseverance rover.
Read more...
---
ABB sensor onboard SpaceX rocket to detect greenhouse gas emissions
February 2021, ABB South Africa , News
An optical sensor manufactured by ABB was deployed with the successful launch of satellite Hugo from GHGSat, the emerging leader in greenhouse gas sensing services in space.
Read more...
---
Eye-openers for the process industry
January 2021, Endress+Hauser South Africa , News
For a long time, Industry 4.0 was little more than a vision. Now, the benefits of digital services are becoming apparent in real environments.
Read more...
---
40 years of innovation
January 2021, Beckhoff Automation , News
Founded 40 years ago, Beckhoff Automation's anaging director and founder, Hans Beckhoff, talks about the company's many achievements.
Read more...
---
CSIR and Siemens partner to boost the South Africa's 4IR competitiveness
February 2021, Siemens Digital Industries , News
South Africa's pursuit of being a key player in the Fourth Industrial Revolution received a massive boost as the CSIR and Siemens South Africa entered into a partnership to empower the country's economy.
Read more...
---
Parker presents first 'Expert Insights' tech talk on routes to carbon zero
February 2021, Parker Hannifin - Sales Company South Africa , News
Parker Hannifin will present the first in a new series of "Expert Insights" tech talks on Thursday 4 February.
Read more...
---
Obituary: Chris du Plessis: 14 June 1959 – 12 January 2021
February 2021, SA Gauge , News
Chris started a company called Techniman in 1986 selling other companies' products, but in 1992, Chris and his wife Judith founded SA Gauge.
Read more...
---
Erratum
February 2021, Valve & Automation, Technews Publishing (SA Instrumentation & Control) , News
Read more...
---
Danfoss ushers in the digital sensor age
February 2021, Danfoss , News
With the adoption of an ever-growing digital world, Danfoss Industrial Automation has repositioned itself as Danfoss Sensing Solutions, representing the union of application-driven sensor technologies and unparalleled commitment to helping customers navigate their journey into the digital frontier.
Read more...
---