printer friendly version
Vert Energy to support Yanmar in Southern Africa
February 2021
News
Vert Energy has been appointed by Yanmar as the official distributors in southern Africa for Yanmar industrial engines from 1 January 2021. "What's exciting for the African market is easy access to the globally respected Yanmar brand through local specialists, offering a dependable service and technical support, in line with stringent international standards," explains Vert Energy's sales and marketing director, Ryan Robertson. "The addition of Yanmar diesel engines and power products to our electromechanical power generation range provides new market and application opportunities. This development also extends our services not just to gen-set manufacturers, but to many sectors, including agricultural, mining, climate control and construction.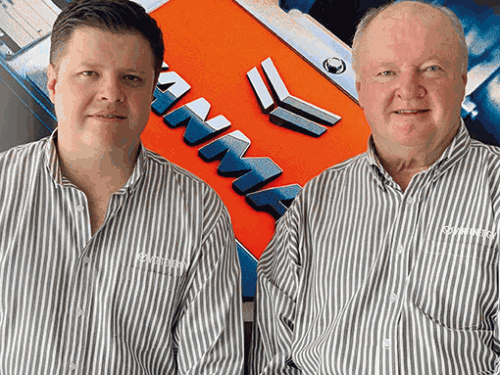 Ryan Robertson (left) and Grant Robertson, managing director, Vert Energy.
"At Vert Energy, we align ourselves with companies that vertically integrate with our energy and electromechanical business units and provide industry with products that are at the forefront of reducing carbon footprints for use in environmentally-conscious energy solutions. By selecting the best partners and products, we are able to meet our customers' exact requirements. Product efficiency, competitive market positioning, pristine quality standards and guarantees of extended service life, are our main selection criteria. In Yanmar, we have found a partner with whom we share all these important values.
"Our team strives to not just support the direct sale of Yanmar products, but we will also work closely with global OEMs who integrate Yanmar engines in their equipment. Yanmar's extensive range of diesel engines provides a variety of solutions for new capital equipment manufacturers, as well as the option of potential retrofitment in certain ranges to engines that are now Tier 4 Final Stage 5 compliant with European emission standards.
"The addition of Yanmar's L Series diesel engines strengthens Vert Energy's position in the local pump industry. The company has been supplying electric motors to the pump industry for many years and the addition of a mechanical diesel powered engine as an alternative, represents an exciting opportunity for the company.
"The combination of Yanmar's quality branded products and Vert Energy's technical expertise and broad distribution reach, augers well for electromechanical power generation on the African continent."
Further reading:
From the editor's desk: Is additive manufacturing poised to go mainstream?
Technews Publishing (SA Instrumentation & Control) News
As digital manufacturing technology pushes its way further towards the production floor, additive manufacturing (3D printing) is emerging as a viable option to complement the more traditional methods 
...
Read more...
---
Obituary: Steven James Meyer
January 1957 - January 2022
Technews Publishing (SA Instrumentation & Control) News SAIMC
It is with deep sadness and shock that we announce the sudden death of SA Instrumentation & Control Editor, Steven Meyer. Steven joined Technews in October 2007 in the position of Deputy Editor. His 
...
Read more...
---
ESG certified as Level 2 contributor to B-BBEE
News
Invicta Holdings Limited's Engineering Solutions Group (ESG) has achieved recognition as a Level 2 contributor to B-BBEE.
Read more...
---
Abrasive Flow Solutions celebrates its first year of business
News
Abrasive Flow Solutions (AFS) – specialists in the design and manufacture of slurry related valves – celebrates its first year of business.
Read more...
---
Microsatellite production gets a boost in Stellenbosch
TANDM Technologies News
Dragonfly Aerospace is investing in a 3000 square metre design and manufacturing facility in Techno Park, Stellenbosch.
Read more...
---
Danfoss doubles down on energy efficiency
Danfoss News
Danfoss encourages decision makers to act at COP26.
Read more...
---
Zest supplies SA's new gas helium project
Zest WEG Group Africa News
Zest WEG is supplying locally manufactured transformers, switchgear and substations to South Africa's onshore natural gas and helium project, Tetra4.
Read more...
---
Emerson announces commitment to venture capital initiative
Emerson Automation Solutions News
Emerson Ventures to focus on disruptive discrete automation solutions, environmental sustainability technologies and industrial software.
Read more...
---
Valve & Automation's new Secunda Valve Repair Centre
Valve & Automation News
On 1 November 2021, Valve & Automation's Secunda Valve Repair Centre opened at 18 Kingfisher Street, Ext 57, Secunda, Mpumalanga.
Read more...
---
SECO Process Instrumentation appointed East Rand agent for Yokogawa
SECO Process Instrumentation News
SECO Process Instrumentation, a consulting company in the fields of instrumentation, moisture analysers, pneumatics and VSD solutions, has recently been appointed as the East Rand agent for Yokogawa.
Read more...
---