printer friendly version
Sustainability in practice at Omron
January 2021
System Integration & Control Systems Design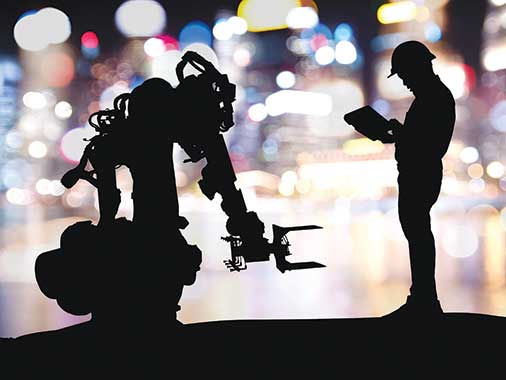 Today, sustainability is no longer a niche topic, but something that companies are integrating into their business strategies on a daily basis. Not only are sustainability practices necessary to answer the changing demands of consumers, marketplaces and governments, they are also increasingly being seen as a competitive strength. It is because sustainability practices reduce energy consumption and waste and also help companies to use their resources more efficiently. It even helps companies optimise their manufacturing agility and enable them to respond to fluctuating demand and the growing need for personalisation. Sustainability can play an important role in acquiring and retaining customers, as well in developing new market opportunities.
Example: e-mobility: pouch battery production of the future
One area where Omron wants to shape the market with a sustainable manufacturing approach is battery cell production. In Europe suppliers need to step up their game and compete with other regions with better quality, more efficient production and optimised use of resources. Omron's goal is to help suppliers save 10% on excess material. As e-mobility moves forward, more advanced battery technologies are being developed to increase the reliability, safety and operation of vehicles. In the widely used cylindrical cells, the active layers are wrapped around the inner electrode. Where in contrast to cylindrical cells, with pouch cells, the stacked layers are enclosed by a flexible outer foil usually made of aluminium. Pouch batteries meet some of the most important current requirements for the automotive industry as per example – they are easier to install in vehicles because of their flat and more flexible shape. They also offer longer battery life and are less susceptible to damage from electrical charging and discharging. At the same time, these batteries are safer and more consistent at lower cell temperatures.
The production of pouch cells is also more complex and much more demanding than the production of cylindrical batteries. This places special demands on production. Manufacturers are turning to production processes supported by artificial intelligence to optimise machine efficiency and to ensure zero-defect production. Omron's AI, sensing, control, security and robotics solutions support the reliable, sustainable and high-quality production of pouch batteries. In addition, Omron supports manufacturers with self-contained, battery cell inspection solutions that are fully integrated in the line, as well as solutions for electrode and battery module manufacturing. Omron's automation solutions can help streamline leak and vacuum testing and provide end-to-end traceability throughout the lifetime of the battery cell.
Automation solutions with artificial intelligence can fulfil all customer requirements for product quality and predictive maintenance, helping manufacturers to achieve sustainability goals. While battery manufacturers must adapt to the constant state of change in the e-mobility market, they are in need of production lines that can be adapted faster with more flexibility than ever before to meet the constant changing requirements. This can be achieved with innovative automation solutions that also ensure quality and reduce waste, ensuring sustainability.
Process and plant control with predictive maintenance and AI
Operational excellence requires reliable, safe and high-quality manufacturing. Manufacturers must predict problems in their production lines better than ever to avoid production stoppages and quality issues. In this context, artificial intelligence is a key technology with advanced predictive maintenance solutions for machines and production lines. Powerful AI controllers operating at the Edge of the Machine, together with smart sensors integrated in the production lines can react in real-time to potential issues on the machine, right where the data is generated. Using AI and smart devices, operators can stay on top of the current production status and prevent production downtime while ensuring a good product quality. AI along the manufacturing chain with predictive maintenance and process control helps to make manufacturing processes sustainable by extending machine lifespan and optimising resources.
Sustainability in practice at Omron
Omron launched its own environmental protection concept 'Green Omron 21' in May 2002. The goal of this vision is to contribute to the sustainable development of society, while at the same time maximise 'value added' as a company in the long term. Factory automation is a critical element in vehicle manufacturing as well as food production. In energy management, the introduction of renewable energy resources needs to be promoted and CO2 emissions reduced.
Together with its partners, Omron intends to promote the use of power inverters and battery systems in favour of a cleaner environment.
Credit(s)
Further reading:
The benefits of mobile robots and cobots
July 2021, Omron Electronics , Motion Control & Drives
Easily configurable production lines will in future consist of collaborative and flexible transport and transfer solutions, tailored to specific production environments.
Read more...
---
WLS15 Pro series strip light
July 2021, Turck Banner , System Integration & Control Systems Design
Turck Banner's new WLS15 Pro comes in Pro Editor, IO-Link, or Pick-IQ compatible models.
Read more...
---
Water resource sustainability management
July 2021, Yokogawa South Africa , System Integration & Control Systems Design
One way Yokogawa is successfully pursuing its sustainability goals is through its service to the global water industry.
Read more...
---
SCiBOTRON's quality culture the key to success
May 2020 , System Integration & Control Systems Design
The company was founded on lean principles and quickly grew into a QSE (Qualifying Small Enterprise). Ricardo Paddy, managing director and founding member, attributes one of the reasons for the company's 
...
Read more...
---
Visualisation using vision-specific controls
June 2021, Beckhoff Automation , System Integration & Control Systems Design
TwinCAT Vision combined with TwinCAT HMI.
Read more...
---
Modularity boosts performance
June 2021, SEW-Eurodrive , System Integration & Control Systems Design
Integrated technologies automate, upgrade and streamline existing production processes, while still allowing for future technology to be incorporated.
Read more...
---
Changing negative attitudes towards alarms
June 2021, Omniflex Remote Monitoring Specialists , System Integration & Control Systems Design
Why technology is only as good as the people using it.
Read more...
---
Controller for robotic systems
June 2021, Omron Electronics , PLCs, DCSs & Controllers
Omron has announced the launch of its first 'Robotic Integrated Controller', based on its leading NJ series of machine controllers for industrial automation.
Read more...
---
Smart traffic management for Syntell
April 2021 , System Integration & Control Systems Design
Syntell is a leading South African technology company. One of its key projects is the running and management of one third of Johannesburg's traffic lights. Syntell's system is a full traffic management 
...
Read more...
---
PCS Global implements 5-phase control system upgrade at Kiara Health
May 2021, PCS Global , System Integration & Control Systems Design
Kiara Health is the first African company equipped with a fully-scaled server deployment in the AWS Cloud, as well as the first South African company to implement the AVEVA Flex Model.
Read more...
---