printer friendly version
AM Systems Integrations
January 2021
News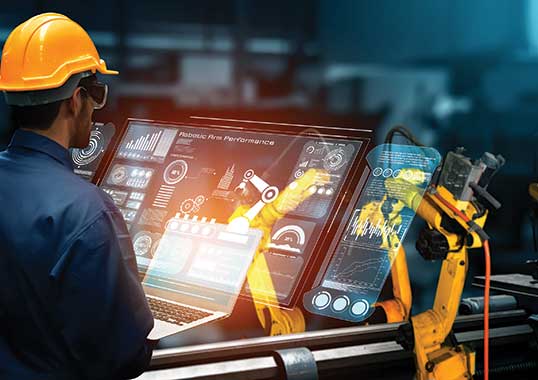 Founded in 2011, AM Systems Integrations (AMSI) was formed to address a demand in the market for highly skilled and knowledgeable workmanship, focused on the objective of delivering complete customer satisfaction on projects, support, and products and services.
AMSI is a specialist systems integration company whose core offering is in plant optimisation and automation. Added to this, it offers service level agreements for process plant support, plant equipment, process instrumentation calibrations, automation, valve servicing and pump services. while specialities include scada and MES systems to track plant efficiencies and operations.
"The quality of our offering is the ultimate commitment we offer to our customers," emphasises managing director, Michael-John Rautenbach. "As such, all the products and services we provide are aligned with strict international quality assurance standards."
Products and services
AMSI has an energetic and passion-driven team together with a large network of knowledgeable, experienced and supportive partners, who can provide complete solutions to customers along with exclusive discount structures on all related products. Not only does the company provide the products and services listed below, but it also specialises in service level agreements to continually maintain process plant support, giving customers the peace of mind that plant productivity is always optimal.
MES and scada: Siemens WinCC, Ignition, Wonderware; Indusoft; Adroit; Version Dog; Flow; MDT Auto Backup Systems; and Smart Glance Remote Data.
Industrial networking: Moxa; Jet Net; D-Link; Siemens; Rockwell Automation; and Hirschmann.
Sensing solutions: SICK Automation; Omron; Banner; Leuze; Pepperl+Fuchs; IFM Electronic; Turck; and Reer.
Process instrumentation: SICK Automation; Endress+Hauser; Siemens; Anderson Negele; Vega Instruments; IFM Electronic; Dweyer; Wika; Yokogawa; and AMI.
Process valves and pneumatics: Kieselmann; APV (SPX); Samson; Alfa Laval; Spirax Sarco; Burkert; Krammer; Tyco; Festo; ASCO; Rexroth; SMC; Pneumax; Guth; and Inoxpa.
Electrical switchgear: Schneider Electric; Omron; Rockwell Automation; Phoenix Contact; Siemens; Eaton; ABB and Weidmuller.
PLC, HMI and IPC: Siemens; Omron; Rockwell Automation; Beckhoff; Schneider Electric; Festo; and IFM Electronic.
VSD and soft starters: Siemens; Omron; Rockwell Automation; Schneider Electric; Danfoss; Lenze; and Yaskawa.
The Internet of Things
In an age of technological advances, AMSI has aligned as a channel partner with global LPWA (low power wide area) network, Sigfox.
Sigfox has reinvented connectivity for the IoT as a unique connectivity solution that provides the lowest energy consumption, from device to cloud. "Simplifying communications reduces energy consumption," explains Rautenbach. "Soon, there'll be no need for replacing or recharging batteries, since the devices will generate energy themselves."
With its simple approach to connectivity, Sigfox provides extremely price-competitive subscriptions, and even more importantly, enables extremely simple and cost-efficient silicon modules. The network is compatible with Bluetooth, GPS, 2G/3G/4G and Wi-Fi. It offers a software-based communications solution, where all the network and computing complexity is managed in the cloud, rather than on the devices. Taken together, these features drastically reduce energy consumption and the cost of connected devices.
So, what does all this mean for customers? AMSI customers are able to 'switch on' to new wireless technology and get their businesses started with an inexpensive, reliable and low-power solution for connecting sensors and devices. Sigfox links customers to a partner network, connecting the dots that make the IoT happen. In the not too distant future, the IoT will link smart industry, smart agriculture, smart automotive, smart retail, smart home and lifestyle, and utilities into one ever expanding asset management network.
"Our vision is to be at the forefront of that future, combining IoT with process automation," concludes Rautenbach, "driving AMSI customers forward to the fourth industrial revolution with the vast array of technology and expertise we have at our disposal."
For more information contact Michael-John Rautenbach, AM Systems Integrations, +27 11 914 1115, info@amsi.co.za, www.amsi.co.za
Further reading:
Breathers and spin-on elements form part of BMG's filtrations solutions
November 2020, Bearing Man Group t/a BMG , News
BMG's fluid technology filtration solutions comprise a wide range of fluid power components and systems, which are supported by the team's broad technical capabilities to ensure fluids operate within the required cleanliness standards.
Read more...
---
Emerson appoints Akberet Boykin Farr as vice president of Diversity and Social Responsibility
November 2020, Emerson Automation Solutions , News
Emerson has announced the appointment of Akberet Boykin Farr as vice president of Diversity and Social Responsibility, effective December 1, 2020.
Read more...
---
Endress+Hauser invites you to its virtual trade fair booth
January 2021, Endress+Hauser South Africa , News
Endress+Hauser is breaking new ground by bringing customers closer to its products, solutions and services in a flexible and informative way through a virtual exhibition booth.
Read more...
---
ABB and BI extend partnership to include high-efficiency IE3 motors
January 2021 , News
As an extension of the partnership between the two companies, low-voltage IE3 motors from ABB Africa will now be distributed by Bearings International.
Read more...
---
From the editor's desk: Hardwired to survive, can we beat coronavirus in 2021?
January 2021, Technews Publishing (SA Instrumentation & Control) , News
According to the Smithsonian, it was around four million years ago that our earliest ancestors broke the evolutionary mould and walked upright for the very first time. Over the course of the next few 
...
Read more...
---
From the editor's desk: Isolation economy could quicken the pace of 4IR adoption
November 2020, Technews Publishing (SA Instrumentation & Control) , News
The coronavirus pandemic has highlighted a problem that the manufacturing industry was already uncomfortably aware of – its traditional ecosystems are too cumbersome to cope with the variety of choice 
...
Read more...
---
Pepperl+Fuchs continues Its Digital Event Series and invites you to its second Online Summit
October 2020, Pepperl+Fuchs , News
Pepperl+Fuchs invites you to its second Online Summit: register now, free of charge, to gain access to this fully digital event, which will be held from 17-19 November.
Read more...
---
Cummins ships 800 QSK60 engines to China for use in data centres
November 2020 , News
Cummins has shipped 800 QSK60 series engines to China, where they will be installed in data centres to help communities stay connected through the reopening of the economy.
Read more...
---
Rockwell Automation and Microsoft expand partnership
November 2020, Rockwell Automation , News
Partnership aims to empower manufacturers with agility, intelligence, and scale to deliver digital transformation initiatives, from the cloud to the edge.
Read more...
---
Hager automation solution from EM keeps Noka Camp in luxury
November 2020, ElectroMechanica , News
A smart Hager KNX home automation system has been supplied by ElectroMechanica for the Noka Camp luxury cliff-top lodge in the Lapalala Game Reserve.
Read more...
---