printer friendly version
Pepperl+Fuchs: entering the digital age
January 2021
System Integration & Control Systems Design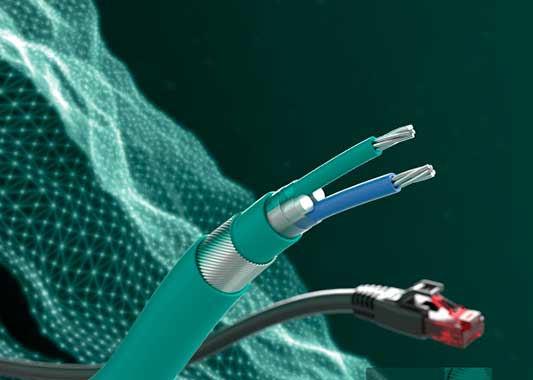 Process plants generally have a life of several decades and are often large plants with a considerable geographical spread. Not only does the communication infrastructure need to bridge large distances, it is also constantly exposed to all kinds of weather conditions and must therefore be particularly robust. In addition, there are often electromagnetic influences or potentially explosive areas to contend with, which place special demands on all infrastructure components. In addition, in process plants it has also proven to be the best solution to route both the data and the power supply of the individual field devices via one and the same cable.
However, the automation of a plant often consists of several disparate systems that operate according to different standards and communicate with each other via gateways. Engineering, operation and maintenance of such a heterogeneous environment are correspondingly complex and data communication is associated with numerous restrictions. For example, different data formats are often the reason that field devices can only communicate imperfectly with the system, and thus existing information remains unused.
Data must be available at all times
Nowadays, big data is key to the efficiency and profitability of a plant. This makes it all the more alarming that around 60% of the time currently spent on data analysis does not actually bring any benefit, but is required solely for acquisition, preparation and processing. In today's digital world, however, data should be as readily available as electricity from the socket.
The prerequisite for this, however, is that the continuous process data from individual sensors, actuators and measuring devices in the field are seamlessly recorded and made available centrally at one point. Modern field devices provide such data in abundance. However, it is often not easily accessible.
Ethernet-APL (Advanced Physical Layer) is the key to a new type of flat communication infrastructure in the process area. It stands in contrast to the hierarchically structured system environments of today's plants and allows unhindered access to all process data down to each individual field device. In addition, Ethernet-APL field devices and other infrastructure components allow data access fully independent of the running process and are also able to communicate directly with each other. Process data is therefore available without restriction. Big data applications can draw on the full potential and need no longer fail due insufficient availability of data.
Ubiquitous data transmission
As the name suggests, Ethernet-APL is based on the absolute world standard in data transmission. Until now, process plants have been more or less isolated solutions that offer only a few interfaces to the information technology of the company that operates them. This results in numerous restrictions, which are removed by Ethernet-APL, since APL describes a physical layer for the transmission of data and electrical energy via 2-wire cables over distances up to 1000 metres.
Ethernet-APL will thus become an integrated component of a uniform and universal communication landscape, making the principles of Industry 4.0 a reality for the process industry.
New field devices for new possibilities
The vision of Ethernet-APL also includes concrete requirements for Ethernet-APL-capable field devices and infrastructure components. The principle is based on self-contained field devices that can easily be integrated into any system environment without a high degree of adaptation effort. Such devices can be automatically integrated by the system controller, whereby the configuration made when the system was commissioned is automatically transferred to the replacement device.
Since Ethernet APL-capable field devices do not require a gateway to communicate with the automation system, there are no longer any restrictions on data transmission. Instead, there is unrestricted access to all process and status data provided by the respective device. These can be used not only for efficient process control. They are also available for maintenance tasks and big data applications.
Thanks to Ethernet-compliant data transmission, completely independent of the running process control, direct access to field device data is now possible from any location. This not only speeds up troubleshooting, but also allows preventive maintenance concepts vital to the availability of the process plant. It also enables a wealth of new applications that will give the process industry new impetus in the future.
Credit(s)
Further reading:
SCiBOTRON's quality culture the key to success
May 2020 , System Integration & Control Systems Design
The company was founded on lean principles and quickly grew into a QSE (Qualifying Small Enterprise). Ricardo Paddy, managing director and founding member, attributes one of the reasons for the company's 
...
Read more...
---
Light section sensors for many applications
January 2021, Pepperl+Fuchs , Sensors & Transducers
Light section sensors work on the principle of triangulation, using a projected laser line to detect height profiles and edge contours with high precision.
Read more...
---
Sustainability in practice at Omron
January 2021, Omron Electronics , System Integration & Control Systems Design
Today, sustainability is no longer a niche topic, but something that companies are integrating into their business strategies on a daily basis. Not only are sustainability practices necessary to answer 
...
Read more...
---
Pepperl+Fuchs continues Its Digital Event Series and invites you to its second Online Summit
October 2020, Pepperl+Fuchs , News
Pepperl+Fuchs invites you to its second Online Summit: register now, free of charge, to gain access to this fully digital event, which will be held from 17-19 November.
Read more...
---
Portion cutter for fish and poultry
November 2020, Beckhoff Automation , System Integration & Control Systems Design
Extremely fast and highly precise meat portion cutter leverages PC control.
Read more...
---
Integrated sensor solution for many applications
November 2020, Pepperl+Fuchs , Sensors & Transducers
The line triangulation method is a frequently underestimated sensing mode for monitoring presence, completeness, position, and similar tasks.
Read more...
---
3D multi-layer scanner
November 2020, Pepperl+Fuchs , Sensors & Transducers
Pepperl+Fuchs has developed the R2300 multi-layer scanner, a 3D LiDAR sensor for travel path and rear-area monitoring.
Read more...
---
Five factors influencing the choice of industrial control hardware
January 2021, RJ Connect , System Integration & Control Systems Design
Since industrial control systems are a major investment, system integrators are well advised to consider the following five factors during the equipment selection phase of a project.
Read more...
---
Safe and reliable steel production
January 2021, Endress+Hauser South Africa , System Integration & Control Systems Design
Improve the safety of your steel production with Endress+Hauser's dependable measurement and software solutions.
Read more...
---
Omniflex enables mine water quality
October 2020, Omniflex Remote Monitoring Specialists , System Integration & Control Systems Design
Water licences carry a 'Burden of Proof' that the licence holder will not harm the environment or the water system through its activities. This covers the use of water from the system and the responsible 
...
Read more...
---