printer friendly version
Pyrometers for industry
January 2021
Temperature Measurement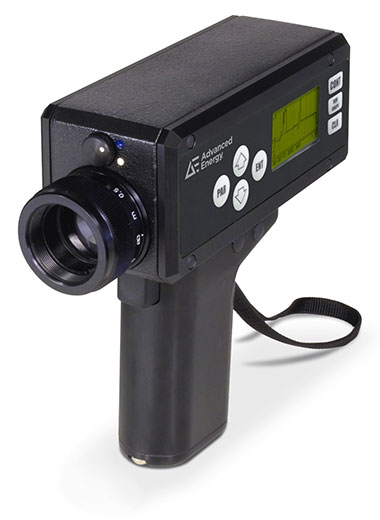 Pyrometers are temperature measurement instruments that operate on the principle of infrared radiation, i.e., they detect infrared radiation of objects to determine the temperature without making contact with the process or surface being measured. In many industry sectors, the use of non-contact temperature measurement instruments is essential. For example, it is used for controlling complete factory processes or measuring even the smallest components to ensure a consistent quality level. With its extensive Impac pyrometer product portfolio, developed from years of research and customer contact, Advanced Energy can provide solutions for almost every application request.
The portable Impac Series 8 pyrometers are suitable for measuring metals, ceramics, graphite, etc. Also, they can be used for special applications such as measuring pouring streams or for temperature monitoring in coke ovens. The focusable optics and compact design allow for easy operation and data capture during the measurement process.
These robust, classically designed, handheld infrared thermometers offer small spot sizes, maximum value storage, and temperature indicators.
From the flagship series of stationary pyrometers, the Impac ISR 6‐TI Advanced represents the first industrial grade infrared pyrometer with thermal imaging capabilities, i.e., a pyrometer and thermal imager in a single solution. It uses two-colour (ratio) technology to measure the centre spot's temperature for ranges between 700°C and 1800°C. The built-in video camera's infrared filter auto calibrates the thermal image. The video output is transferred to a PC via USB, and InfraWin software generates the image.
Another versatile infrared-measurement highlight is the Igar 6 Advanced, a pyrometer with Smart Mode functionality for industrial applications. It includes a unique switchover technology that transitions between modes, creating a wide temperature measurement range from 100-2000°C.
In Smart Mode, measurements in the range 100-250°C will be taken in 1-colour mode, whereas in the range between 280°C and 2000°C, measurements will be based on the 2-colour (or ratio) method. In the range from 250°C to 280°C, a continuous transition from 1-color to 2-color measurement automatically takes place.
Credit(s)
Further reading:
Non-contact temperature measurement in the cement industry
R&C Instrumentation Temperature Measurement
Industrial IR sensors and systems for non-contact temperature measurement are vital to the cement industry and can be employed throughout the plant for process monitoring and predictive maintenance.
Read more...
---
Compact IR camera
Instrotech Temperature Measurement
Instrotech now offers the Optris PI 05M compact IR thermal imaging camera for high temperature applications.
Read more...
---
Webinar on radiometric level measurement
Mecosa News
Experts from Berthold discuss the advantages of a rod source/point detector arrangement.
Read more...
---
PRO series thermal cameras
Comtest Temperature Measurement
Fluke Ti401 and TiX501 PRO thermal cameras capture and display smaller temperature differences to easily visualise and diagnose issues, making it easy to get to the root cause of problems faster.
Read more...
---
Tracking systems for furnace applications
R&C Instrumentation Temperature Measurement
Fluke Process Instruments has released the latest Datapaq Furnace Tracker System complete with the TP6 data logger, thermal barriers and intuitive software.
Read more...
---
Compact ultrasonic flow controller
Mecosa Flow Measurement & Control
Bronkhorst's new, compact ES-Flow ultrasonic flowmeter/controller series ES-113C was designed for the OEM market to measure or dose low volume flows with high precision, high linearity and low pressure drop.
Read more...
---
Pyrometers for fast processes
Instrotech Temperature Measurement
With very fast processes, the requirements of the pyrometers used for temperature measurement are especially onerous.
Read more...
---
Raytek extends Thermalert 4 range
R&C Instrumentation Temperature Measurement
Fluke Process Instruments and Raytek extended the Thermalert 4.0 spot pyrometer series by adding new shortwave versions and various additional interface options.
Read more...
---
Temperature profiling in hydro processing units
Endress+Hauser South Africa Temperature Measurement
Precise and reliable temperature mapping of densely packed reactor catalyst beds makes an essential contribution to stable and profitable unit operations.
Read more...
---
Pyrometer cooling up to 315°C
R&C Instrumentation Temperature Measurement
The ThermoJacket from Raytek and Fluke Process Instruments gives users the ability to use selected sensing heads in ambient temperatures up to 315°C.
Read more...
---