printer friendly version
Vaal branch
September 2020
SAIMC
As South Africa celebrated Women's Month in August, the Vaal branch and Proconics decided to celebrate women in engineering with a technical evening highlighting the importance of a diverse team for solving the problems of the future.
The presenter was Dirk van der Walt, a professional engineer with 15+ years' experience as the Control & Instrumentation manager for Proconics at the Vanderbijlpark office. He also serves on the Vaal and national SAIMC committees, and is responsible for growth and standards respectively.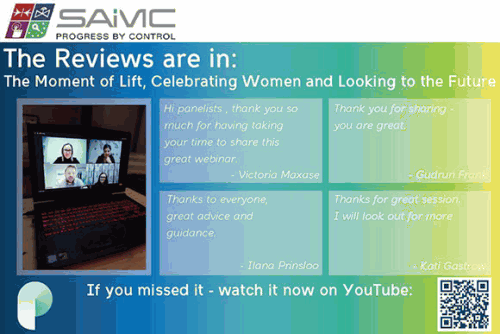 The panel consisted of 3 women that have made a significant impact in their respective fields:
• Annemarie van Coller: a professional engineer with 15 years' experience, Annemarie is currently the director of the National Committee of the SAIMC, driving the organization to new highs. In her professional career, she has worked on site at Sasol plants as a control engineer, and now a data engineer specializing in analysis and insights to strengthen the business and make it more robust.
• Elmarie Koen: an electrical engineer by trade, but as life creates interesting turn-offs she now finds herself the marketing manager of a a proudly South African engineering company. Her passion is to show and communicate the wonderful world of engineering, sharing lessons learned with other business disciplines.
• Elizma van der Walt: a professional engineer with over 15 years' experience. Elizma's career has taken her from the Sasol plant workshop to being a shareholding partner in Proconics. As engineering director, responsible for all engineering disciplines, she has a passion for collaborative leadership and created an inter-disciplinary team that can take on any challenge in the complex brownfield refining and chemical spaces.
The panel shared personal stories of their engineering experiences and influences, and gave advice to inspire the next generation of women engineers. We need to encourage more opportunities for women in science and engineering to harness this powerful resource for the development of our country.
Credit(s)
Further reading:
Obituary: Steven James Meyer
January 1957 - January 2022
Technews Publishing (SA Instrumentation & Control) News SAIMC
It is with deep sadness and shock that we announce the sudden death of SA Instrumentation & Control Editor, Steven Meyer. Steven joined Technews in October 2007 in the position of Deputy Editor. His 
...
Read more...
---
SAIMC: From the office of the CEO
SAIMC SAIMC
I trust that you all had a wonderful holiday season and are rested and ready to start another year of hectic activity. For some people, the holidays are the highlight of their year, while for others, 
...
Read more...
---
SAIMC: Johannesburg branch
SAIMC SAIMC
During another full month, the Johannesburg team had the pleasure of hosting the branch year-end function, as well as a technology evening presented by turboTRAIN. The year-end function was a spectacular 
...
Read more...
---
SAIMC: Cape Town branch
SAIMC SAIMC
The Cape Town branch management team would like to thank all members for their support in 2021 and wish everyone all the best for 2022. Presented by by Dhiren Naidoo, the last technical evening 
...
Read more...
---
SAIMC: Durban branch
SAIMC SAIMC
On 3 November the branch was treated to an informative presentation, given by Dewald Smit of Festo, using Zoom as the virtual medium. He provided a well-balanced comparison of the relative advantages 
...
Read more...
---
SAIMC: From the office of the CEO
SAIMC SAIMC
Covid-19, vaccination and 5G are both culprits when it comes to the subject of rumours, false information and scare-mongering. I will not be talking about Covid as this is a highly controversial subject. 
...
Read more...
---
SAIMC: Durban branch
SAIMC SAIMC
The branch held its virtual technology meeting, as always, on the first Wednesday of October. Diogo Fidalgo from R. STAHL South Africa presented on the very interesting topic: HMI and camera solutions 
...
Read more...
---
SAIMC: Johannesburg branch
SAIMC SAIMC
The branch had the good fortune of hosting two technology events this month, but due to the Covid-19 virus threat and the current lockdown situation, the management team has decided to do virtual training 
...
Read more...
---
SAIMC: Vaal branch
SAIMC SAIMC
The branch hosted Kenneth M
c
Pherson from Turck Banner during the month of September, when he presented on the role that IO-Link can and probably will, play in the Industry 4.0 workplace.       Most 
...
Read more...
---
SAIMC: From the office of the CEO
SAIMC News
Last month I elaborated on the big question: What are assessors looking for? Today I would like to talk to you about the new CPD requirements. This is especially important to companies who will apply 
...
Read more...
---