printer friendly version
The IIoT powered village
July 2020
IT in Manufacturing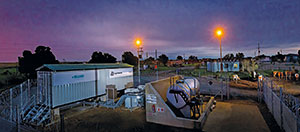 It may be difficult to imagine life without electricity, but in South Africa, rural villages have lacked a reliable source of electricity for a long time. Many villages are not even connected to the power grid because they are so far from any electrical infrastructure, that connecting them would be extremely expensive. Also, with so few users, the revenue generated wouldn't be able to cover the expenses required for maintenance alone. Unfortunately, this lack of power significantly impedes economic growth, corporate investment, governmental activities, and development for these communities.
The Naledi Trust community in the Free State is a perfect example of this. With only 34 households, economic growth is difficult without reliable power, and unemployed residents wandering the streets can lead to public safety issues. In order to address this, the South African government initially tried installing solar panels for each household. However, this attempt ended in failure. Due to poverty and the high unemployment rate, the solar panels were stolen and sold on the black market. Determined to find a solution, the government initiated a two-year programme to develop an off-grid sustainable power solution for remote villages.
An off-grid power solution would be ideal. It would allow communities to be powered by electricity generated by a centralised local facility rather than relying on a remote power station. This would eliminate the cost of building and maintaining infrastructure to connect to a power grid hundreds of miles away.
This led the government to investigate Chung Hsin Electric & Machinery's (CHEM) hydrogen fuel cell system. CHEM's ME2 fuel cell system can generate up to 15 kW of clean energy, and peaks of 70 kW with the support of batteries. This is sufficient to supply power for all 34 households in the community. Additionally, because fuel cell systems are large and can weigh over 300 kg, theft of the system would be difficult.
Two challenges remained. First, operation and maintenance costs would be high. Second, the initial investment cost would be high, especially when compared to traditional diesel generators. To overcome these, CHEM partnered with Moxa to augment the system with IIoT capabilities, transforming both CHEM's fuel system and its business model.
Reducing operation and maintenance costs
In order to ensure reliable, 24/7 access to electricity, regular deliveries of methanol fuel would be required. Additionally, the system would be installed in a harsh outdoor environment and would need regular inspections. Due to the remote nature of the community, the costs of fuel delivery and site visits would be high.
Adding IIoT capabilities to CHEM's fuel cell system turned the situation around. By integrating Moxa's cellular remote I/O solution, real-time operational data could be sent to a control centre. This allowed for detection of low fuel levels, which helped CHEM optimise the logistics of fuel delivery. Also, remote maintenance was now a possibility. System status could be monitored at any time, and basic issues could be resolved remotely. Maintenance personnel would only need to make site visits when necessary. Empowering the system with IIoT capabilities resulted in a 50% reduction in deployment and maintenance costs.
Reducing initial investment costs
As a clean energy source, fuel cell systems have a much higher cost compared to diesel generators, which can act as a barrier to entry for many customers. But, once the system is enabled with IIoT connectivity, usage can be monitored remotely. Data on power consumption, voltage, ambient conditions, power supply operating time, fuel levels, and more, can be accurately tracked from a control centre. "The IIoT is transforming our business model," says Amy Liao, director of the Hydrogen Department at CHEM. "We are transitioning from selling a product to offering Machines-as-a-Service. Through this business model, CHEM can now established long-term business relationships where it charged for actual power consumed, rather than for sale of the system itself. Eliminating this barrier to entry gives the company access to a much larger customer pool, and new revenue streams."
The lives of people living in the Naledi Trust community have been transformed. Reliable power brings new commercial and economic activity, and education and government services can keep running. "It's my sincere wish that our IIoT solutions bring light to all the remote villages in the world, changing it for the better," concludes Eddy Lin, general manager of Moxa's Intelligence Business Group.
Credit(s)
Further reading:
Simplify collaboration between machines and operators
RJ Connect Industrial Wireless
Moxa's wireless networking solutions are the perfect fit for manufacturing environments.
Read more...
---
The importance of good project management
Iritron IT in Manufacturing
A structured way of organising work can help identify and resolve problems in an efficient manner before the implications have a chance to escalate.
Read more...
---
Experience Eplan Platform 2022
EPLAN Software & Services IT in Manufacturing
Eplan heralds the future of electrotechnical engineering with a focus on ease-of-use for both experienced users and for newcomers to its software.
Read more...
---
Is your company still using paper-based maintenance procedures?
KVMTech IT in Manufacturing
To better manage compliance and calibration services, it is critical to choose a solution with global asset compliance at the core.
Read more...
---
Digital transformation in mining
Endress+Hauser South Africa IT in Manufacturing
The mining industry is in a prime position to benefit from the adoption of digital technology across its operations.
Read more...
---
Get full value from factory floor data with data sciences
Omron Electronics IT in Manufacturing
Valuable information needs to be extracted from the data and presented to the right audience, at the right time and in the right way.
Read more...
---
Collaboration in the automation ecosystem
EPLAN Software & Services IT in Manufacturing
Data created in the engineering process must be shared with everyone involved in the process.
Read more...
---
Unwired unleashes new possibilities
RJ Connect Industrial Wireless
In situations where it is hard to wire or reconfigure industrial operations, wireless LANs (WLANs) provide an ideal alternative.
Read more...
---
Siemens' software for digital transformation of automotive design
Siemens Digital Industries IT in Manufacturing
Model-based development process and systems are used in Japan and globally to adapt to the biggest automotive transformation in 100 years.
Read more...
---
Is track and trace through the factory a waste of time?
Iritron IT in Manufacturing
Modern track and trace solutions are purpose-built to introduce as little disruption to the existing production process as possible, while also being flexible enough to cater for plants that range from fully manual to fully automated.
Read more...
---