printer friendly version
New network management solution
May 2020
IT in Manufacturing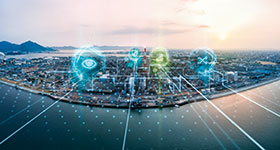 Industrial networks are growing more and more complex. Powerful industrial networks are no longer defined by hardware alone – the right network management is essential. The Sinec software family offers users scalable software solutions to meet their needs in networks of various sizes in the area of operational technology (OT), from initial commissioning of network components, monitoring, and management to using network services for the necessary infrastructure at a central level.
With the new Sinec software family, Siemens offers a range of functions in the field of network management. The Sinec software family meets the diverse requirements of a modern industrial network and helps users to overcome the challenges of digitalisation, such as the ever-growing number of network devices as well as the security and clarity of increasingly complex networks. Alongside the Sinec NMS (network management system), two additional Sinec tools – Sinec INS and Sinec PNI – offer even more options for comprehensive network management.
The new Sinec INS (infrastructure network services) is a software tool for central network services. It provides customers with a quick and easy overview of all network services via a unified user interface. The tool offers general network services, which specifically benefit OT. Using Sinec INS, the OT can create an autonomous network – independent of IT services – and the network can for example be hosted in an OT data centre. This includes various servers such as DHCP (IP address management), Syslog (collection of events in the network), NTP (time management), Radius (authentication in the network) and TFTP (for firmware updates on network components).
The new Sinec PNI (primary network initialisation) commissioning tool enables the quick and easy initialisation of Scalance and Ruggedcom network components. Controllers can also be initialised. This expansion of the Sinec family portfolio to include the Sinec PNI tool offers convenient basic initialisation and ensures the availability of network components.
Both new tools are ideal additions to the efficient Sinec NMS. The new version V1.0 SP1 of Sinec NMS can also be used to manage security-related aspects in the network. This includes, for example, firewall and NAT (network address translation) management with device-specific rules as well as the policy-based configuration of the network infrastructure and Syslog client. Firewall components can be configured conveniently and efficiently from a central point. Sinec NMS offers a local documentation function via audit trails, which document user activities automatically with a time stamp. This means that audit log entries can be traced without problems. This saves time and effort during investigations and can be used to prove the revision security of data. For further analysis, this audit log information can be forwarded to a central location via the Syslog interface in Sinec NMS (as a Syslog client). In addition, Sinec NMS V1.0 SP1 can be used to centrally monitor, manage and configure tens of thousands of devices in networks of different sizes and with varying segmentation.
Sinec software solutions take industrial networks forward. Users benefit from greater security and convenience in their network management throughout the entire lifecycle and in every industry. As a result, more network components can be managed in less time, which saves both effort and money.
For more information contact Jennifer Naidoo, Siemens Digital Industries, +27 11 652 2795, jennifer.naidoo@siemens.com, www.siemens.co.za
Credit(s)
Further reading:
Creating specific SensorApps
June 2020, SICK Automation Southern Africa , IT in Manufacturing
Create individual SensorApps without programming skills and solve new automation tasks easily. Starting at the end of the year, this will all be possible in the SICK AppStudio, part of the SICK AppSpace 
...
Read more...
---
Mobile robots speed production at new smart factory
June 2020, Omron Electronics , IT in Manufacturing
Showcasing flexible production in real life, a new 'Smart Factory' in Norway uses a variety of robots in a system developed and implemented by system integrator Intek Engineering. A dozen industrial 
...
Read more...
---
SICK's solutions for the administration of digital twins
June 2020, SICK Automation Southern Africa , IT in Manufacturing
In order to access the virtual representation of the sensor and its data, SICK Automation uses LiveConnect to deliver a standardised connection from an edge gateway to SICK Asset Hub. This visualises 
...
Read more...
---
Tools keep HVACR professionals on the cutting edge
June 2020, Danfoss , IT in Manufacturing
Danfoss has announced that Refrigerant Slider, its popular P/T calculation app that has over 2 million downloads, will transform into Ref Tools, an essential, all-in-one mobile app for air conditioning 
...
Read more...
---
An example of control and automation using IIoT, edge computing and the cloud
June 2020, Absolute Perspectives , IT in Manufacturing
Countries are looking towards more sustainable, cleaner energy solutions. Renewable sources of energy such as solar, wind and biogas are very promising, but the transition cannot happen overnight. It 
...
Read more...
---
Turbocharger for IIoT
June 2020, Turck Banner , IT in Manufacturing
Managed high-speed switch offers data throughput, fast link-up times and secure industrial Ethernet networks.
Read more...
---
Five actions for your business and community to prepare for the digital revolution
June 2020 , IT in Manufacturing
We propose five key areas companies should focus on in 2020, so as to increase its digital maturity as well as that of the communities it sources from and supplies.      
1. Understand your digital maturity 
...
Read more...
---
The IIoT powered village
June 2020, RJ Connect , IT in Manufacturing
Creating power solutions that brighten the lives of remote communities.
Read more...
---
How smart technology is transforming the industrial world
June 2020 , IT in Manufacturing
Whether you call it Industry 4.0, the Industrial Internet of Things (IIoT), or Smart Manufacturing, the power of technology is being felt throughout the industrial world and fundamentally changing value 
...
Read more...
---
Simplifying machine setup
June 2020, Siemens Digital Industries , Motion Control & Drives
Strausak Mikroverzahnungen specialises in the manufacture of high-precision machinery used in the watchmaking and apparatus manufacturing industries. To enable the continued precise machining of parts 
...
Read more...
---