printer friendly version
VLT drive saves energy at AEL blasting
May 2020
Motion Control & Drives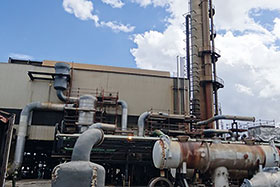 AEL (African Explosives Ltd.) Intelligent Blasting's nitric acid plant saves R3,6 million on annual operating costs thanks to an upgrade from direct-on-line operation to VLT drive control of electric pumps and motors.
The AEL Intelligent Blasting nitric acid plant in Johannesburg supplies other AEL divisions serving mining operations with chemicals and explosives, nationally and internationally. The nitric acid plant has improved its reliability by upgrading the process water cooling system, and reduced energy consumption by 500 kWh hourly in the process.
For many years, motors and pumps in the process cooling water (PCW) system operated direct-on-line. With the upgrade, AEL Intelligent Blasting aimed to improve efficiency and reliability by introducing AC drive motor control. It chose VLT AQUA Drive FC 202 and VLT HVAC Drive FC 102 drives from Danfoss, based on their ability to ensure stable operation despite unreliable mains power supply. These drives offer automatic energy optimisation and kinetic backup features to support highly efficient and reliable plant operation.
During the upgrade, there was no disruption of operations as pre-installation of all equipment was performed with wires run to and from the motor control centre. The final connections were made during a planned shutdown for a catalyst change-out.
Variable speed control with fast payback time
Since the upgrade, AEL Mining Services has been able to reduce the electricity consumption from the two fans by 200 kWh combined and by another 300 kWh on the pump motors. The total savings on operating costs based on an average electricity charge of 85 c/kWh, is roughly (200 + 300) x 8560 hr x 0,85 = R3,6 million.
The remarkable payback time of only 18 months reflects the vast improvement in process cooling water efficiency enjoyed by AEL Intelligent Blasting.
For more information contact Lynne McCarthy, Danfoss, +27 11 785 7628, mccarthyl@danfoss.com, www.danfoss.co.za
Credit(s)
Further reading:
Incledon launches latest Tekflo couplings
June 2020 , Motion Control & Drives
Incledon, a leading provider of quality fluid conveyance products and solutions, recently launched a new range of universal couplings, adding to its current range of Tekflo-branded products based on quality, 
...
Read more...
---
Tools keep HVACR professionals on the cutting edge
June 2020, Danfoss , IT in Manufacturing
Danfoss has announced that Refrigerant Slider, its popular P/T calculation app that has over 2 million downloads, will transform into Ref Tools, an essential, all-in-one mobile app for air conditioning 
...
Read more...
---
AGVs for automated production
June 2020, SICK Automation Southern Africa , Motion Control & Drives
Automated and flexible production processes are the answer to increasing quantities, smaller batch sizes, and high production speeds. Automated guided vehicle (AGVs) systems and their smaller relatives, 
...
Read more...
---
Simplifying machine setup
June 2020, Siemens Digital Industries , Motion Control & Drives
Strausak Mikroverzahnungen specialises in the manufacture of high-precision machinery used in the watchmaking and apparatus manufacturing industries. To enable the continued precise machining of parts 
...
Read more...
---
Energy efficiency for improved process control
May 2020, Bearing Man Group t/a BMG , Motion Control & Drives
BMG's Vacon 100 AC drives have been designed to save energy, optimise process control and improve productivity in many sectors, including processing, mining and minerals, industrial HVAC, marine and water, 
...
Read more...
---
Low-friction bearings for EV drivetrains
April 2020, SKF South Africa , Motion Control & Drives
Bearings, although buried deep within the vehicle, are on the front line in contributing to drivetrain efficiencies and delivering reliability for automotive manufacturers. Breakthroughs in technologies 
...
Read more...
---
SEW-Eurodrive solution for new brick and block plant
May 2020, SEW-Eurodrive , Motion Control & Drives
SEW-Eurodrive's HandlingKinematics application module allows for machine control at a higher level by means of a lower-level configurable control unit (CCU) for carrying out precision path movements. 
...
Read more...
---
Zest adds geared motors to product range
May 2020, Zest WEG Group , Motion Control & Drives
A range of WEG geared motors with benefits including efficiency and reliability will soon be available to customers in South Africa and the rest of the continent from Zest WEG. According to national sales 
...
Read more...
---
Gearmotors for electrified monorail system
April 2020, SEW-Eurodrive , Motion Control & Drives
A leading systems integrator for the automotive industry has adapted a Maxolution electrified monorail system (EMS) and 23 HK Series gear units for overhead trolley systems, from SEW-Eurodrive, for a 
...
Read more...
---
SKF bares the truth about bearings
Technews Industry Guide: Maintenance, Reliability & Asset Optimisation 2020, SKF South Africa , Motion Control & Drives
Correct equipment care is crucial to ensure optimal performance and reliability.
Read more...
---