Socomec's Digiware system deployed in Sandton
October 2018
Electrical Power & Protection

printer friendly version
ElectroMechanica (EM) has supplied the Socomec Digiware system to a large South African corporation's head office in Sandton, where it is being used for electrical metering in compliance of a Green Star rating.
EM is the sole distributor of Socomec's metering offering and was contracted as a hardware supplier in this regard. Product manager Artur Socha explains that the system can cover a large number of metering points, is highly accurate, and also allows for significant space-saving in the electrical panels. The solution needed to be flexible and modular, and ultimately be able to translate data back to the building's power metering and building automation system software.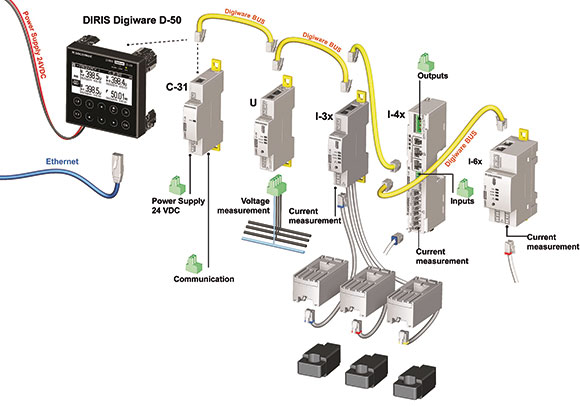 The total number of metered points exceeds 1500, from LV main distribution down to sub distribution board level. The metering of all power distribution units in the data centre was also included in the scope, thus adding to the overall requirement of providing metering hardware with a small installation footprint within the panels.
The Digiware system comprises technological innovations that revolutionise metering, bringing a high degree of flexibility to installations and making connection and configuration easy. These innovations combine to deliver performance in terms of accuracy and functionality. This makes it an effective solution for metering consumption, and measuring and monitoring the quality of electrical energy in industrial or commercial applications requiring a large concentration of points with a small footprint. "These were the main reasons that the system was selected for this mega-project," comments Socha.
The 12 000 square metre building is located in the heart of Sandton and in 2017, it received a five-star Green Star rating from the Green Building Council of South Africa, making it one of the largest new-build projects to receive this rating to date.
For more information contact Karen Zotter, ElectroMechanica, +27 11 249 5000, karenz@em.co.za, www.em.co.za
Credit(s)
Further reading:
Compact soft starters for control of three-phase motors
February 2019, ElectroMechanica , Electrical Power & Protection
Soft starters limit the inrush current, improving overall stability of the power supply and reducing transient voltage drops, which may affect other loads in a network. They are ideal for applications 
...
Read more...
---
Forward-thinking municipality uses pumps to generate electricity
February 2019 , Electrical Power & Protection
A technical team serving the requirements of the Drakenstein municipality in the Western Cape has designed one of the country's largest pump and turbine stations to be used for water reticulation to the 
...
Read more...
---
How to optimise power quality in critical applications
February 2019, Schneider Electric South Africa , Electrical Power & Protection
As global energy consumption continues to rise, energy is becoming more decentralised and decarbonised. While demand is estimated to increase by 70% through 2040, 50% of new energy generation capacity 
...
Read more...
---
Compact DIN rail power supply
February 2019, Accutronics , Electrical Power & Protection
TDK Corporation has announced the introduction of the TDK-Lambda brand DRF960-24-1 DIN rail mount AC-DC power supply, rated at 24 V 40 A (960 W) with a 60 A (1440 W) peak for 4 seconds. The product has 
...
Read more...
---
Power supply protects against hour-long power failures
February 2019, Siemens Digital Factory & Process Indust. & Drives , Electrical Power & Protection
Siemens has upgraded its Sitop PSU8600 power supply system with the addition of new supplementary modules to transform it into an uninterruptible DC power supply. To achieve this, the new DC UPS module 
...
Read more...
---
Rockwell Automation expands power range
February 2019, Rockwell Automation , Electrical Power & Protection
Rockwell Automation has expanded the power ranges and capabilities of TotalForce technology for its Allen-Bradley PowerFlex 755T AC drives. The drives now offer an expanded power range, helping engineers 
...
Read more...
---
Pre-assembled panel systems for pumping applications
January 2019, ElectroMechanica , System Integration & Control Systems Design
A complete range of robust pre-assembled irrigation and solar pump panel systems are available from ElectroMechanica (EM) for a wide range of pumping applications. "These solutions are designed not only 
...
Read more...
---
Compact contactor solutions
January 2019, Zest WEG Group , Electrical Power & Protection
Engineered to provide a compact contactor solution, the WEG CWB range of devices offers a width space saving of up to 18%. Developed in two frame sizes, the contactors meet a range of industrial and domestic 
...
Read more...
---
RS Components expands current transformer range
January 2019, RS Components SA , Electrical Power & Protection
RS Components has announced availability of a range of RS Pro current transformers targeting a wide range of applications including process control, motor control, utility power monitoring, control panels, 
...
Read more...
---
Efficient lighthouse operation in the modern age
December 2018, Horne Technologies , Electrical Power & Protection
In a lighthouse the structures may appear old and dignified, but the technology inside is modern and robust. Low operating costs, availability and long maintenance intervals are the decisive criteria 
...
Read more...
---