printer friendly version
How lighting solutions support lean manufacturing processes
November 2023 Editor's Choice Industrial Wireless
The philosophy of lean principles is a big trend in the pharmaceutical industry. It emphasises using time and resources as efficiently as possible in order to reduce waste and focus on value-added activities.There are many ways in which time and resources can be wasted in the pharmaceutical factory. For example, ineffective error proofing and quality inspection procedures can result in product contamination and recalls, leading to wasted material production time. In addition, communication throughout the factory can take up significant time and resources unless there is a solution in place to streamline messages.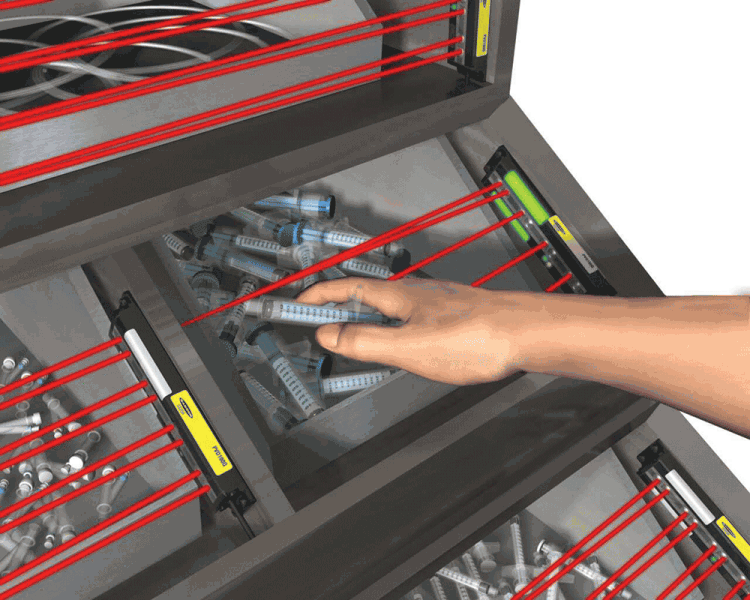 A long-term solution to the challenge of waste must allow manufacturers to not only increase efficiency in the short term, but also learn from inefficiencies and make data-driven adjustments for continuous improvement. Here are four examples of how lighting solutions can help increase efficiency by addressing common sources of wasted time and resources in pharmaceutical manufacturing.
Inspection lighting
Reliable manufacturing of pharmaceutical products requires comprehensive inspections. It is extremely important to identify particulates or foreign substances of any size to avoid contamination and product recall. Often, this is accomplished by visual inspections, since automated inspection systems are not always feasible. But even manual inspections are prone to error, especially if lighting conditions are not ideal for visual verification.
Since many of the particulates are extremely small, it is important to have bright and highly uniform illumination in inspection stations, so operators can effectively verify the quality of products. An example is confirming that there are no contaminants present on an IV bag or glass vial. Fluorescent bulbs tend to flicker from changes in intensity, which can compromise inspection accuracy, and they must be frequently changed. In contrast, bright, uniform LED lights allow operators to detect minute particulates reliably and efficiently, improving quality control and reducing the risk of wasted time and materials.
Pick-to-light sensors
Assembly processes can also be streamlined with the use of light. For example, in kitting applications it is important to include all of the correct parts in each kit. Errors can occur if there are many different parts to remember or if an operator becomes distracted. To reduce the risk of error, pick-to-light sensors can be interfaced with a process controller programmed with the correct assembly sequence in order to guide the assembler to the correct parts in the correct order.
As the assembler takes a part in sequence and breaks the beam, the sensor detects that the part was removed and it sends an output signal to the controller. The controller then verifies if the correct part was taken, and the controller signals the pick-to-light sensor of the next bin in the pick sequence to light up. The system can also be configured to signal the assembler that an incorrect pick has occurred.
A pick-to-light system increases task efficiency by simplifying job training, increasing quality control and reducing the need for rework and inspections. It also speeds the resumption of work after breaks and other distractions.
Indicator lights
Communication can also be a source of wasted time, and the visual factory allows for communication to occur seamlessly. Indicator lights can be used to indicate environmental status information for clean rooms like current temperature and humidity. This allows employees to identify rooms that need attention immediately. They can also be used as visual guidance when assistance is needed on machines. For example, lights can be configured to indicate when a machine requires an action, such as replenishing labels. The use of indicator lights simplifies communication of problems and allows issues to be addressed quickly, so normal operation can resume.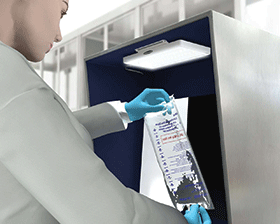 Wirelessly connected lights
To ensure efficient processes throughout the pharmaceutical factory, machine operators must quickly and easily determine the status of machines. Tower lights equipped with wireless communication capabilities display a visual indication of an event for immediate action. They can also transmit wireless alerts to operators outside of the visual range. This helps operational problems to be identified and addressed immediately.
In addition, machine data can be wirelessly transmitted and stored for long-term data logging and analysis. In other words, not only can operators quickly respond to alerts as they occur, but a history of alerts can also be stored and analysed offline for use in overall equipment effectiveness calculations. This data can also be used for predictive maintenance, further saving on costs and time.
In summary, lean manufacturing seeks to reduce wasted time and resources throughout the factory. The right kind of industrial lighting can help increase efficiency and reduce material waste, while ensuring product quality, and compliance with local and international regulations in the pharmaceutical industry.
For more information contact Turck Banner, +27 11 453 2468, brandon.topham@turckbanner.co.za, www.turckbanner.co.za
Credit(s)
Further reading:
Considerations for lighting in manufacturing
Turck Banner Southern Africa Electrical Power & Protection
With so many economical and attractive lighting solutions available, choosing among technologies can be difficult. Industrial users must consider four factors in order to make the best lighting decision: the metrics, the costs, the environment and the people.
Read more...
---
New IO-Link master future-proofs pneumatic valve systems
Emerson Automation Solutions Editor's Choice Pneumatics & Hydraulics
Emerson has introduced a new Class A IO-Link master that provides customers with a cost-effective solution for smart and analogue sensor connectivity on the AVENTICS Series G3 Fieldbus platform.
Read more...
---
Thor's hammer of pneumatic knockers
Neu Matics SA Editor's Choice Pneumatics & Hydraulics
Neu Matics acts as sole distributor for a range of internationally recognised brands, and one of these is the pneumatic knocker from singold.
Read more...
---
The challenge of accurate counting of transparent bottles
Turck Banner Southern Africa Sensors & Transducers
Detecting and counting clear bottles in pharmaceutical, food and beverage applications has been a difficult sensing challenge. The World-Beam QS30 clear object sensor from Turck Banner has been created specifically to detect and count clear objects reliably.
Read more...
---
How to look after your pressure gauge
SA Gauge Editor's Choice Pressure Measurement & Control
Pressure and temperature gauges are very widely used on process plants. Specialising in the design and manufacture of pressure and temperature measuring instruments, SA Gauge believes that all process and ambient factors should be considered when selecting and installing pressure measuring devices. The company recommends that the following guidelines on selection and calibration be followed in order to prevent gauge failure.
Read more...
---
Case History 190: Measurement problem ruins level control.
Michael Brown Control Engineering Editor's Choice Fieldbus & Industrial Networking
The widely held belief in many plants that tuning will solve all base layer control problems is completely fallacious. Bad tuning is generally not the main reason for loops to perform badly. It is important when performing optimisation that all elements in a loop are considered, in addition to the control strategy, before even thinking of tuning.
Read more...
---
Precise part machining
Beckhoff Automation Editor's Choice Fieldbus & Industrial Networking
toolcraft manufactures on behalf of its customers using its 60 CNC machines, and designs, plans and builds turnkey production systems for companies in various industries, having added injection moulding, mould making and additive manufacturing technologies along the way. Robotics is the company's newest technology division. This is why toolcraft relies on PC-based control, including in the production cells, which have seven-axis milling robots for machining components at CNC level.
Read more...
---
Megatrends shaping the auto industry
Editor's Choice IT in Manufacturing
The automotive industry is in the midst of a technology-driven revolution that will not only advance the safety and sustainability of transportation, but also transform how consumers interact with their vehicles and the OEM brands behind them.
Read more...
---
Optical sensing and indication in one device
Turck Banner Southern Africa Sensors & Transducers
The new PVS28 optical and indication sensor provides visual operator guidance, with touchless activation for fast and reliable picking, assembly and fulfilment applications. It features both optical sensing and intuitive indication in one device.
Read more...
---
Monitoring in-line accumulation on a single filer
Turck Banner Southern Africa Sensors & Transducers
Monitoring clear bottles as they are removed from a depalletiser and progress through a single filer can be challenging. The Q5X laser distance sensor from Turck Banner solves this problem.
Read more...
---