printer friendly version
Continuous emissions monitoring in power plants
Technews Industry Guide: Sustainable Manufacturing 2021
Analytical Instrumentation & Environmental Monitoring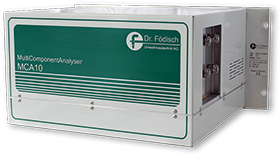 To decide on the suitability of a measuring system, it is important to observe the applicable legal framework. In most countries, the decision is not only about the measurement technology itself, but also about the applicable emission limits and certification ranges. The following case study focuses on continuous emissions monitoring (CEMS) in gas turbines that have to comply with the very low emissions limit values in Europe, and introduces a modern solution based on the MCA 10 gas analyser.
Legal background
Measuring systems applied for CEMS in Europe must be approved according to 15267-3 (QAL1). On closer examination, it becomes clear that numerous suitability-tested emission measurement systems no longer meet the legal requirements due to insufficient existing certification range, or that different principles must be combined. If, in addition, the maintenance interval is included in the comparison for the assessment of the lifecycle, numerous models prove impractical from an operator point of view.
Solution
There are various approaches to procure emission measurement systems in compliance with environmental regulations to ensure that the emission limit value and certification range match. The MCA 10 hot-wet gas analysis system is a particularly competitive solution. Hot-wet means that the entire path of the sample gas – from the sampling point to the measuring cell in the analyser – is constantly heated (usually to185°C). Therefore there is no need for complex, high-maintenance gas conditioning units.
Due to the compact design and optimised internal device cycles, the MCA 10 achieved a certified maintenance interval of six months. If necessary, it is even possible to replace the analyser module completely and continue the measurement without losing much time.
Typical measurements in power plants include CO, NO/NO2, SO2 and O2. Since the MCA 10 is a hot-wet photometer, the moisture content in the exhaust gas is measured continuously anyway.
The MCA 10 multi-component analysis system combines precise measurement technology with excellent long-term stability. It offers a solution for a wide variety of combustion plants, as it simplifies the handling by personnel and the stocking of spare parts.
Credit(s)
Further reading:
Water and wastewater treatment in the digital age
Endress+Hauser South Africa Editor's Choice Analytical Instrumentation & Environmental Monitoring
In these testing times of declining water security, IoT technology has been proven to boost operational efficiency and inform smart investment decisions.
Read more...
---
New webpage showcases natural gas plant analysers
Elemental Analytics News Analytical Instrumentation & Environmental Monitoring
Flagship products include multi-component odorant monitoring, hydrogen sulphide and carbon dioxide measurement, BTEX analysis and saybolt readings.
Read more...
---
Versatile handheld indoor air quality meters
GHM Messtechnik SA Analytical Instrumentation & Environmental Monitoring
Both instruments are easy to handle and compact in design, and can be charged easily with a mobile phone cord.
Read more...
---
Digitally managing energy costs and decarbonisation
Yokogawa South Africa Electrical Power & Protection Analytical Instrumentation & Environmental Monitoring
Real-time data combined with a single, asset-wide digital twin and proprietary analytics capabilities enable automatic opportunity identification and performance gap breakdown.
Read more...
---
Modified atmosphere packaging – making the right choice of gas analysis
Elemental Analytics Analytical Instrumentation & Environmental Monitoring
Modified atmosphere packaging (MAP) is used within the food and pharmaceutical sectors to extend the shelf life of many products that would otherwise deteriorate quickly in the presence of oxygen. It 
...
Read more...
---
Reducing the carbon footprint of milk production
Analytical Instrumentation & Environmental Monitoring
The certified Valio Carbo environmental calculator is used in monitoring the carbon balance of Valio dairy farms. In 2021, more than a thousand of them (about a quarter of all the company's dairy farms) 
...
Read more...
---
Process safety transformed by TDL technology
Elemental Analytics IS & Ex
Servomex has introduced a new advantage to safety systems with its unique line lock technology incorporated into the latest tunable diode laser (TDL) analysers.
Read more...
---
Avoiding South Africa's water crisis
Analytical Instrumentation & Environmental Monitoring
Collaboration and technology can make South Africa a water-secure nation.
Read more...
---
Electrical measurement and process analytics for hydrogen production
Mecosa Analytical Instrumentation & Environmental Monitoring
Knick products optimise the hydrogen production process and electrolyser operation.
Read more...
---
Non-Nuclear online slurry density measurement
Allpronix Analytical Instrumentation & Environmental Monitoring
When a local metal smelting operation had a requirement to remove manual sampling from its slurry line, Allpronix was approached to advise on a solution.
Read more...
---