printer friendly version
The SAIMC Bus Breakfast
April 2002
SAIMC

A full conference room of guests enjoyed three interesting and informative talks on the morning of the last day of Electrex. Hosted by Richard Teagle of Festo, the speakers delivered presentations on their experiences had while working with different industrial data bus systems. The delicious three-course breakfast was enjoyed in stages, during intervals between the presentations, with a question and answer session after the last talk.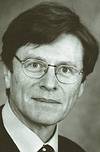 Richard Teagle hosted the event, standing in for Graeme Bell, who had pneumonia
First up was Paulo de Sousa of Ram-Tec Systems, who discussed an application using ASI BUS network connected to a DiviceNet network. An advantage of ASI BUS is that no terminating resistors are required, this making it easier to make quick changes to the sub network. Paulo concluded that no bus system is necessarily better than another and that each application needs to make use of the bus system/s that best suits the different requirements.

Paulo de Sousa
The second speaker was Altus Mostert from SAR Electronics. His application involved an InterBus network on a BMW automotive assembly plant. BMW had made a corporate decision to use InterBus on all its plants, worldwide, as after much deliberation concluded that it was by far the best option for their specific needs. The requirements were low data overhead and the resultant high effective data transfer rate on a network with many devices. The nature of InterBus made possible the virtually instantaneous indication of fault location, and the problem (essentially always a damaged cable/connector) is very quickly rectified. This is particularly crucial in BMW's case, where downtime on a production line brings with it huge financial implications.

Altus Mostert
Finally, Ricky Heiser from AST MSI spoke about his experience with Profibus. One of the deciding factors in this project was the need to have the system completely installed and running within three months. An advantage of Profibus is that the continuous loop structure of the system means that the network cable would have to break in two different places in the loop before any devices would no longer be able to communicate. Ricky pointed out that regardless of the bus systems used, it is important that the system is set up so that all device configuration and diagnostic screens work in a uniform manner. This plays an important part in the installation being easy to configure, operate, maintain and extend.
Ricky Heiser
John Gibbs, Associate Editor
Further reading:
Obituary: Steven James Meyer
January 1957 - January 2022
Technews Publishing (SA Instrumentation & Control) News SAIMC
It is with deep sadness and shock that we announce the sudden death of SA Instrumentation & Control Editor, Steven Meyer. Steven joined Technews in October 2007 in the position of Deputy Editor. His 
...
Read more...
---
SAIMC: From the office of the CEO
SAIMC SAIMC
I trust that you all had a wonderful holiday season and are rested and ready to start another year of hectic activity. For some people, the holidays are the highlight of their year, while for others, 
...
Read more...
---
SAIMC: Johannesburg branch
SAIMC SAIMC
During another full month, the Johannesburg team had the pleasure of hosting the branch year-end function, as well as a technology evening presented by turboTRAIN. The year-end function was a spectacular 
...
Read more...
---
SAIMC: Cape Town branch
SAIMC SAIMC
The Cape Town branch management team would like to thank all members for their support in 2021 and wish everyone all the best for 2022. Presented by by Dhiren Naidoo, the last technical evening 
...
Read more...
---
SAIMC: Durban branch
SAIMC SAIMC
On 3 November the branch was treated to an informative presentation, given by Dewald Smit of Festo, using Zoom as the virtual medium. He provided a well-balanced comparison of the relative advantages 
...
Read more...
---
SAIMC: From the office of the CEO
SAIMC SAIMC
Covid-19, vaccination and 5G are both culprits when it comes to the subject of rumours, false information and scare-mongering. I will not be talking about Covid as this is a highly controversial subject. 
...
Read more...
---
SAIMC: Durban branch
SAIMC SAIMC
The branch held its virtual technology meeting, as always, on the first Wednesday of October. Diogo Fidalgo from R. STAHL South Africa presented on the very interesting topic: HMI and camera solutions 
...
Read more...
---
SAIMC: Johannesburg branch
SAIMC SAIMC
The branch had the good fortune of hosting two technology events this month, but due to the Covid-19 virus threat and the current lockdown situation, the management team has decided to do virtual training 
...
Read more...
---
SAIMC: Vaal branch
SAIMC SAIMC
The branch hosted Kenneth M
c
Pherson from Turck Banner during the month of September, when he presented on the role that IO-Link can and probably will, play in the Industry 4.0 workplace.       Most 
...
Read more...
---
SAIMC: Durban branch
SAIMC SAIMC
The September virtual technology evening was presented by Eric Carter of turboTRAIN, entitled 'Instrumentation fault finding'. He addressed the questions: Why is it problematic? and: What can be done 
...
Read more...
---