printer friendly version
The Jim Pinto Column: Chindia and the workforce legacies
August 2010
News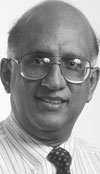 In this new era of globalisation, nations and regions are engaged in a war of ideas and innovation in the pursuit of wealth. Whoever makes things better, cheaper, faster – will win! It takes innovative thinking to stay ahead. Everyone is familiar with the label, 'Made in China' and the expression, 'Chinese copy'. But when will the phrase 'Invented in China' become significant?
China is already the world's largest manufacturer of consumer goods. New Chinese innovations are already brewing, fuelled by their burgeoning, motivated and upwardly mobile middle-class. In the short-sighted drive for short-term profits, American companies are selling off their own proprietary knowledge to China because that is being demanded by the far-sighted Chinese as part of the low price of manufacturing in China.
It will not be long before China leapfrogs, and responds with its own innovations. They have a clear awareness of the need, and are targeting strategic technology arenas – clean tech, bio-tech and ICT. The level of Chinese investment in R&D is expected to overtake that of the US within the next decade. Now even capitalistic American companies have started to invest heavily in Chinese R&D operations.
India, already well known for providing low-cost engineering services, is now ramping up in raw R&D. Major companies like IBM, Microsoft, HP and Oracle, as well as automation companies like Honeywell, Rockwell, Emerson and GE are developing technologies at Indian subsidiaries. Indian software development companies like Infosys, Wipro and others are now shifting their focus to their own innovations.
Meantime, Indian companies recognise the value of innovation, and are quickly ramping up their own new technologies. Many international startups are now using Indian development teams in their business plans. Success begets success, and before long, India too will start selling their innovations to America, Europe and the rest of the world.
In the 1950s Japan was known for cheap consumer products. In just a few decades they outstripped the Europeans, and their GDP is now second only to that of the US.
300 years ago, China and India represented over 50% of the world's wealth; today they are now re-emerging as world leaders. India became independent in 1947, and the New People's Republic of China was established at about the same time (1949).
Now, while the West continues to languish, China and India (or 'Chindia', as some call the two neighbouring countries) continue to grow at annual rates of about 10%. Representing 40% of the world's population they will, within another 30-40 years, rank #2 and #3 (after the USA) in the world GDP rantings. Their own innovations will lead the way.
Future workforce
Automation, plus offshore workers equipped with technology tools, will continue to move up the food chain, steadily encroaching on higher-paying, higher-skilled jobs. So, where and how will the future workforce be employed?
Work in a central place, at a set time, remains only as an old legacy. Technology has brought the freedom and power to access information anywhere, at any time, so that work is becoming un-tethered from central locations. It is becoming more adaptive, more informal and less focused on local hierarchies and pre-organised plans.
Technology facilitates flexible schedules. It reduces, or even eliminates, commuting time and related energy costs. Increasingly, work will become integrated with other facets of life, providing more and broader levels of personal satisfaction.
In the past, human interaction with face-to-face contact seemed to be the most effective. Today, technology makes people much more effective by providing collaborative communications tools. Witness the rise of social networking and collaborative work such as 'wikis' which produce vastly superior results. This is flipping the ratio of individual to collaborative work from the old 80/20 to a new 20/80.
Communication patterns are changing quickly. Asynchronous e-mail provides improved thinking styles – deliberate instead of spontaneous response, with automatic documentation of discussion threads.
Outsourcing will be common, with 'offshoring' immaterial; the best person for the job will do the job, and location will be irrelevant. People will redefine their own jobs, doing work at home and bringing home (child-care and chores) to work. More companies will engage in 'crowd sourcing' – piecing out jobs, or even parts of jobs, to whoever can and wants to do them. The 'labour' market will begin to operate more like match-ups on eBay than advertisements on Monster.com.
The convergence of several trends – declining births, retiring baby-boomers, and expected business growth will create more jobs than there will be workers to fill them. The problem will be exacerbated by the shortage of skilled, educated workers. This is already true in many technical fields.
Problems create their own solutions. The future workforce will be global, distributed, collaborative and connected.
Jim Pinto is an industry analyst and commentator, writer, technology futurist and angel investor. His popular e-mail newsletter, JimPinto.com eNews, is widely read (with direct circulation of about 7000 and web-readership of two to three times that number). His areas of interest are technology futures, marketing and business strategies for a fast-changing environment, and industrial automation with a slant towards technology trends.
Further reading:
From the editor's desk: Automation professionals need communication strategy too
September 2019, Technews Publishing (SA Instrumentation & Control) , News
Catching the eye of a potential customer has become more difficult than ever thanks to the ethos of information promiscuity that defines the 21st century. It's never been easy to stand out in a crowded 
...
Read more...
---
South Africa sets plans in motion with new LNG import terminal
September 2019 , News
State-owned freight logistics firm, Transnet, said on Tuesday that it had signed a cost-sharing agreement with the World Bank's International Finance Corporation (IFC) to conclude a feasibility study 
...
Read more...
---
Emerson completes acquisition of Zedi's software and automation businesses
September 2019, Emerson Automation Solutions , News
Emerson has announced the purchase of Zedi's software and automation businesses. The addition of Zedi's cloud supervisory control and data acquisition (scada) platform will further enable Emerson to help 
...
Read more...
---
ETG conducts first Safety over EtherCAT Plug Fest
September 2019 , News
The EtherCAT Technology Group (ETG) recently held its first Safety over EtherCAT (FSoE) Plug Fest with great success. Numerous manufacturers of EtherCAT safety master and slave devices came to Verl, Germany, 
...
Read more...
---
Endress+Hauser strengthens ­expertise for advanced analysis
September 2019, Endress+Hauser , News
Endress+Hauser has expanded its centre of competence for advanced analysis in Lyon, France. The Group invested €2 million in a new production facility and office space to meet growing demand in the area 
...
Read more...
---
Festo inspires with smart digital solutions at the Automation Expo
September 2019, Festo , News
Festo hosted the first leg of the Automation Expo in Johannesburg at the Sandton Convention Centre, while the second took place in Port Elizabeth at the Boardwalk Convention Centre. Both ended on a high 
...
Read more...
---
AVK Academy gains traction in Africa
September 2019 , News
The Academy, the training arm of AVK Southern Africa, has taken the Group's training into Africa. With training on basic and advanced valve fundamentals recently concluded at Mulonga Water and Sewerage 
...
Read more...
---
WearCheck acquires reliability testing company, boosts services
September 2019 , News
Durban-based condition monitoring specialists, WearCheck, has bought Anglo Field Services (AFS), which adds three new established divisions to the company's comprehensive reliability solutions portfolio, 
...
Read more...
---
Siemens South Africa puts Smart City vision into action
September 2019, Siemens Digital Industries , News
Fourteen months ago, Siemens installed a microgrid at its headquarters in Midrand and data shows it is using 50% less supplied energy, drawing it from solar resources instead. By extracting energy off 
...
Read more...
---
Implementing Industry 4.0 technologies in Africa's manufacturing environment
September 2019 , News
African manufacturers are aspiring to raise their standards and increase the efficiency of their enterprise operations. To discuss the rising prevalence of technology within the industrial realm, the 
...
Read more...
---