printer friendly version
The Jim Pinto Column: Chindia and the workforce legacies
August 2010
News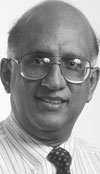 In this new era of globalisation, nations and regions are engaged in a war of ideas and innovation in the pursuit of wealth. Whoever makes things better, cheaper, faster – will win! It takes innovative thinking to stay ahead. Everyone is familiar with the label, 'Made in China' and the expression, 'Chinese copy'. But when will the phrase 'Invented in China' become significant?
China is already the world's largest manufacturer of consumer goods. New Chinese innovations are already brewing, fuelled by their burgeoning, motivated and upwardly mobile middle-class. In the short-sighted drive for short-term profits, American companies are selling off their own proprietary knowledge to China because that is being demanded by the far-sighted Chinese as part of the low price of manufacturing in China.
It will not be long before China leapfrogs, and responds with its own innovations. They have a clear awareness of the need, and are targeting strategic technology arenas – clean tech, bio-tech and ICT. The level of Chinese investment in R&D is expected to overtake that of the US within the next decade. Now even capitalistic American companies have started to invest heavily in Chinese R&D operations.
India, already well known for providing low-cost engineering services, is now ramping up in raw R&D. Major companies like IBM, Microsoft, HP and Oracle, as well as automation companies like Honeywell, Rockwell, Emerson and GE are developing technologies at Indian subsidiaries. Indian software development companies like Infosys, Wipro and others are now shifting their focus to their own innovations.
Meantime, Indian companies recognise the value of innovation, and are quickly ramping up their own new technologies. Many international startups are now using Indian development teams in their business plans. Success begets success, and before long, India too will start selling their innovations to America, Europe and the rest of the world.
In the 1950s Japan was known for cheap consumer products. In just a few decades they outstripped the Europeans, and their GDP is now second only to that of the US.
300 years ago, China and India represented over 50% of the world's wealth; today they are now re-emerging as world leaders. India became independent in 1947, and the New People's Republic of China was established at about the same time (1949).
Now, while the West continues to languish, China and India (or 'Chindia', as some call the two neighbouring countries) continue to grow at annual rates of about 10%. Representing 40% of the world's population they will, within another 30-40 years, rank #2 and #3 (after the USA) in the world GDP rantings. Their own innovations will lead the way.
Future workforce
Automation, plus offshore workers equipped with technology tools, will continue to move up the food chain, steadily encroaching on higher-paying, higher-skilled jobs. So, where and how will the future workforce be employed?
Work in a central place, at a set time, remains only as an old legacy. Technology has brought the freedom and power to access information anywhere, at any time, so that work is becoming un-tethered from central locations. It is becoming more adaptive, more informal and less focused on local hierarchies and pre-organised plans.
Technology facilitates flexible schedules. It reduces, or even eliminates, commuting time and related energy costs. Increasingly, work will become integrated with other facets of life, providing more and broader levels of personal satisfaction.
In the past, human interaction with face-to-face contact seemed to be the most effective. Today, technology makes people much more effective by providing collaborative communications tools. Witness the rise of social networking and collaborative work such as 'wikis' which produce vastly superior results. This is flipping the ratio of individual to collaborative work from the old 80/20 to a new 20/80.
Communication patterns are changing quickly. Asynchronous e-mail provides improved thinking styles – deliberate instead of spontaneous response, with automatic documentation of discussion threads.
Outsourcing will be common, with 'offshoring' immaterial; the best person for the job will do the job, and location will be irrelevant. People will redefine their own jobs, doing work at home and bringing home (child-care and chores) to work. More companies will engage in 'crowd sourcing' – piecing out jobs, or even parts of jobs, to whoever can and wants to do them. The 'labour' market will begin to operate more like match-ups on eBay than advertisements on Monster.com.
The convergence of several trends – declining births, retiring baby-boomers, and expected business growth will create more jobs than there will be workers to fill them. The problem will be exacerbated by the shortage of skilled, educated workers. This is already true in many technical fields.
Problems create their own solutions. The future workforce will be global, distributed, collaborative and connected.
Jim Pinto is an industry analyst and commentator, writer, technology futurist and angel investor. His popular e-mail newsletter, JimPinto.com eNews, is widely read (with direct circulation of about 7000 and web-readership of two to three times that number). His areas of interest are technology futures, marketing and business strategies for a fast-changing environment, and industrial automation with a slant towards technology trends.
Further reading:
From the editor's desk: 4IR could solve South Africa's youth unemployment problem
July 2019, Technews Publishing (SA Instrumentation & Control) , News
From 4-6 June, Africa Automation Fair 2019 attracted some 4500 visitors and 131 exhibitors from seven countries, including Australia, China, Germany, South Africa, South Korea, Switzerland and Taiwan. 
...
Read more...
---
Africa Automation Fair 2019 wraps up with strong growth
July 2019, Reed Exhibitions , News
Key event reflects SA's growing interest in IIoT/4IR.
Read more...
---
4IR in South Africa: SAIMC involved from day one.
Technews Industry Guide: Industrial Internet of Things & Industry 4.0 , News
The Fourth Industrial Revolution (4IR), also known as Industry 4.0, has necessitated that countries develop new policies, strategies and innovation plans to enable an inclusive whole-of-society approach 
...
Read more...
---
Announcing MESA's 2019 award winners
July 2019, MESA Africa NPC , News
MESA International has announced this year's winners of the 12th Annual Outstanding Contribution Award. A new Innovative Service award was also announced in honour of long time community member, Tom Bruhn. 
...
Read more...
---
Robin Briggs appointed managing director of BMG
July 2019, Bearing Man Group t/a BMG , News
Robin Briggs has a passion for strategy and a commitment to driving successful business growth in South Africa's industrial sector. He brings to BMG a wealth of product knowledge, a thorough understanding 
...
Read more...
---
Arca receives prestigious award
July 2019 , News
Arca has been awarded the quality label 'Innovative through Research' for the year 2018/2019 by the German Association for the Promotion of Science and Education (Stifterverband für die Deutsche Wissenschaft). 
...
Read more...
---
PoolSense: set to change the face of pool maintenance forever
Technews Industry Guide: Industrial Internet of Things & Industry 4.0 , News
The automatic pool cleaner changed the face of pool cleaning forever, but maintaining the quality of the water has remained a difficult and expensive task. PoolSense is about to change this. An unobtrusive 
...
Read more...
---
Sensear appoints Extech Safety Systems as authorised distributor in sub-Saharan Africa
July 2019, Extech Safety Systems , News
Extech has partnered with Sensear to distribute its products in sub-Saharan Africa. Sensear is a global leader in digital communication and active listening headsets and earplugs for use in high noise 
...
Read more...
---
R&C Instrumentation receives accreditation from Fluke
July 2019, R&C Instrumentation , News
R&C Instrumentation is pleased to announce that the company has received accreditation from Fluke Process Instruments for its Infrared Temperature Calibration facility. This facility is housed in a climate-controlled 
...
Read more...
---
Test Dynamics launched to represent National brands
July 2019, Test Dynamics , News
Test Dynamics has been appointed to provide continued representation of the National Instruments brand following a decision by National Instruments to pursue a distribution model in southern Africa.
...
Read more...
---