printer friendly version
E-books: a new chapter begins
September 2009
News
The Technews model has always been one of an integrated media partner for our clients and an essential information resource for our readers.
For years we have offered:
* Magazines in print: Traditional paper and ink.
* E-zines: E-mail magazine version of the print articles.
* Websites: All the articles ever published since we established an online presence.
* Buyers' guides in print: Traditional paper and ink.
* Buyers' guides online: A cross-referenced searchable database of suppliers and service providers.
Each of these publications is designed as a forum for suppliers to disseminate their marketing messages to a targeted group of readers who consume the information in the published articles and use the advertisements and buyers' guides as an aid to inform their purchasing decisions.
The model evolved over the years in response to changing market forces and the introduction of new technology. As with many successful strategies the key was the willingness to embrace the new challenges as they emerged, and adapt the company's offering in line with the vision: "How can we best keep our readers informed of the latest trends and developments in the industry?"
Time has now come to start the next chapter and make SA Instrumentation and Control available as an e-Book. The e-Book adds an extra dimension to the company's online presence through its interactive page turning with sound effects, and the fact that readers who prefer their information in digital format now get to view the complete content as it was printed – including the advertisements.
Horses for courses
Many publishing houses are starting to say, albeit somewhat tentatively, that e-Books are the future of reading. This may eventually turn out to be true as products like Amazon's Kindle become more and more sophisticated. For the time being, and particularly in an environment where connectivity is limited and bandwidth expensive, my Technews colleagues and I find it more constructive to think of e-Books as supplemental to their printed counterparts, rather than: 'The demise of the media as we know it.'
For instance, if I am purely looking to obtain facts such as: "On what date was Nelson Mandela released from prison?" I prefer to source my information online. I do this because search engines like Google allow me to find such information quickly and without having to break through layers of unwanted clutter. (Provided I type in a good choice of keywords of course.)
On the other hand, one of my preferred ways to spend holiday time is to stretch out in a deckchair with a favorite book or magazine. At the end of his column this month Jim Pinto explains my motives very eloquently: "One of the primary pleasures of a book is mental solitude; the deep, quiet focus on the author's thoughts and your own."
Advertisers take note, these are also the times I am most susceptible to your messages.
Hence we believe that there is a time and a place for both the electronic and the print formats of our publications. The older generation seems to prefer the traditional medium of print while younger readers tend to spend more time online. The real firestorm is going to start when we take advantage of the opportunities offered by synergy across the media to narrow the gap between generations and bridge the divide between advertisers and consumers better than could be done before.
The SAI&C e-Book can be viewed at: http://instrumentation.co.za/digital
We hope that you enjoy exploring this new medium with us.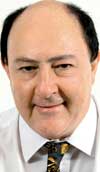 Steven Meyer, editor:
SA Instrumentation & Control
Credit(s)
Further reading:
The IIoT edge is evolving
January 2020, Technews Publishing (SA Instrumentation & Control) , News
In its IIoT context, the edge is traditionally understood to be a kind of half-way point between the plant and the cloud. Physically hard to define, the edge acts as a repository for data collected from 
...
Read more...
---
University of London opens electronics laboratory based on Tektronix solutions
January 2020 , News
Royal Holloway, University of London, has officially opened its new Beatrice Shilling Building which includes state-of-the-art teaching laboratories in partnership with Tektronix, a leading worldwide 
...
Read more...
---
Rockwell Automation named a leader in Manufacturing Execution Systems
January 2020 , News
Rockwell Automation has announced its recognition as a leader in the Gartner Magic Quadrant for Manufacturing Execution Systems for the second consecutive year. Since the 2018 report, Rockwell Automation 
...
Read more...
---
SKF acquires industrial AI company
January 2020 , News
SKF has signed an agreement to acquire Presenso, a company that develops and deploys artificial intelligence (AI)-based predictive maintenance software. Presenso's capability enables production plants 
...
Read more...
---
Bosch Ulwazi hosts 2019 Engineer in Training function
January 2020 , News
Bosch Ulwazi's 2019 Engineer-in-Training (EIT) Conference was recently held in Mt Edgecombe. At this annual event, graduates are given an interactive platform to showcase the knowledge and skills they 
...
Read more...
---
Smart cities embrace 4IR
January 2020, Schneider Electric South Africa , News
Smart cities rely on smart grid technology that includes traditional and renewable energy sources in its mix of power supply. Driven by the advanced technology of the fourth industrial revolution (4IR), 
...
Read more...
---
North American EtherCAT Plug Fest offers opportunities
January 2020 , News
The 2019 North American EtherCAT Plug Fest recently took place in Denver, USA. Numerous well-known manufacturers of EtherCAT devices came together over two days to test the interoperability of their products 
...
Read more...
---
EM Bloemfontein offers accredited training courses
January 2020, ElectroMechanica , News
The Bloemfontein branch of supplier ElectroMechanica (EM) plans to make significant inroads in the Free State region thanks to its fully-equipped training facility, focusing mainly on automation products 
...
Read more...
---
Cummins boosts production at two glass manufacturers
January 2020 , News
Standby power systems from Cummins are providing extra protection at two glass-manufacturing facilities in Lahore, Pakistan, allowing production lines to always be on, and operations to continue seamlessly 
...
Read more...
---
Schneider Electric announces local manufacturing and reduced lead times
January 2020, Schneider Electric South Africa , News
Schneider Electric South Africa has announced that its PIX Easy Air Insulated Switchgear, previously 100% internationally manufactured, will now have a 68% local finishing process, reducing the customer 
...
Read more...
---