printer friendly version
Krohne Profile
April 2000
News
The early days
Krohne, long established in the field of industrial measurement, and well known in our mining, chemical and other industries, was started almost by chance in 1921, after a friend commissioned the founder Ludwig Krohne, to manufacture some simple measuring instruments for him. The Krohne family was more involved in craftsmanship than entrepreneurial activities, but it was probably this family interest in the arts, especially creative painting, which was to later see many innovations and world-firsts coming out of the Duisburg-based company. The first products of the company were variable area flowmeters for gas flow measurements, widely used in industrial furnaces of that era. This type of flowmeter, greatly refined over the years, is still manufactured in Duisburg.
The Krohne business (Ludwig Krohne & Sohn) survived the depression in the 30s, and the first company-owned production shop was constructed in 1936 in Duisburg. Unfortunately World War II soon descended on Europe, and incendiary bombs destroyed this building in 1943, while the son, Karl Krohne, died in another air raid only days before the cessation of hostilities. This was tragically followed by the death of Ludwig Krohne himself just two years later.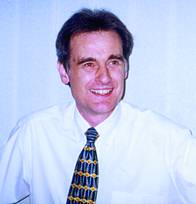 Trevor Lawcett, GM/CEO of Krohne South Africa
Post war growth
It was Ludwig's wife Anna, assisted by members of the Krohne, Rademacher and Dubbick families, who rebuilt the workshop again after the war, and it was she who in 1949 decided to make Kristian Rademacher-Dubbick, her grandson, responsible for the company. Kristian, then only 28, was to oversee the development of Krohne from a workforce of a mere dozen people into the multinational measurement business it has become. Today there more than 1250 employees, of which 550 are still located in the headquarters in Duisburg (in a purpose-built factory opened in 1969) located in a street renamed Ludwig-Krohne-Strasse in honour of the company's founder. While Kristian remains on the board of Krohne, he has relinquished the position of chairman to an engineer, Dr Rolf Theenhaus. The growth of Krohne during the 1950s can be largely attributed to the company's innovative response to the needs of Germany's burgeoning chemical industry during this period.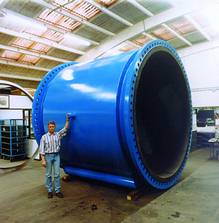 Large bore magnetic flowmeter
As a company Krohne has a long list of firsts to its name, particularly in the fields of flow and level measurement. These acclaims go back to 1953 when Krohne produced the first commercial magnetic flowmeter. 1973 saw Krohne launch the first pulsed DC electromagnetic flowmeter, while the world's first ceramic (sintered aluminium oxide) flowmeter (which could operate in the most corrosive and abrasive environments) appeared in 1982. The 90s have seen many innovations, the latest being the Altosonic V custody transfer flowmeter which can measure rate to better than 0,05%, and is approved by the OIML (the world's legal metrology authority) to 0,15%, all that is legally required. Another relatively recent innovation from Krohne (1997) is the Tidalflux system, which combines magnetic flow and capacitive level technology to allow accurate flow measurement in partially filled pipes, previously a problematic measurement. Tidalflux was presented with the award for "the most innovative product in the water industry" at an international exhibition held in the UK during November 1997.
The company today
The production facilities of Krohne each specialise in different areas of expertise. Duisburg, besides being the head office and centre for research and development, still manufactures variable-area (VA) flow meters, non-contact radar level products and all electronics required for the company's other products. The "Centre of Excellence" for electromagnetic and ultrasonic flowmeters is the Altometer facility in Dordrecht in the Netherlands. This centre is unique in Europe as it can build "Mag" meters up to 3,2 m in diameter, and has a number of calibration rigs traceable to the NMi (Netherlands), one of which can calibrate flowmeters up to 3,2 metres in diameter. More recently this unique 3,2 metre capability has been duplicated at their joint venture company in Shanghai in China, from where Krohne will be supplying flowmeters into that country's massive dam and hydroelectric developments. The plant in the United Kingdom specialises in single straight-tube, and that in the USA, in bent-tube Coriolis massflow meters. Krohne France manufacture all related level products including mechanical and the recently acclaimed time domain reflectometry 'radar' devices.
The expansion of Krohne outside of Germany started in 1961 with the acquisition of Rheometron in Switzerland and Altometer in the Netherlands. Thereafter the company grew rapidly with the creation of production facilities in France, the USA and the United Kingdom. Krohne also followed the route of joint ventures and technology transfer in Japan (1982), India (1982) and China (1986). During 1978 the decision was taken to establish a fully owned subsidiary in South Africa, and Krohne (Pty) Ltd was established. By that time the company through representatives, already had a major share of the local market for flowmeters, particularly in the mining industry, where it continues to lead the market to this day. Krohne continued its international expansion with further joint venture companies in Russia (1992) and Brazil (1996), while numerous wholly owned sales offices were established in other countries, including Austria, Italy, Spain, Hong Kong and Australia
Krohne maintains its leading edge over its competition through encouraging creativity amongst its own development staff, and by maintaining close relationships with local universities, which over the years in collaboration with the company, have developed impressive measurement skills and expertise.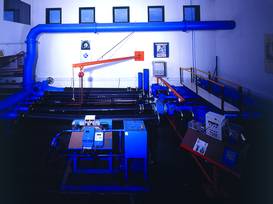 Calibration rig at Krohne, Midrand
The South African company
Krohne had been represented in South Africa since 1967, so the decision to invest here was a sound one based on the company's increasing involvement in mining and other major industries. Further commitment to the Krohne presence in South Africa came with the opening of the new headquarters building in Midrand in 1990, a time when many of its erstwhile competitors were making themselves less visible by creating locally-owned subsidiaries, most of which have now reverted back to the previous principals. While some specialist manufacturing was initially carried out in South Africa, this activity was suspended in 1996. The benefits still remain in that the company retains the expertise to carry out a substantial amount of flowmeter refurbishment, and very important, instrument calibration. While Krohne (Pty) Ltd operates autonomously under General Manager/CEO Trevor Fawcett, the parent has strong board representation including Michael Dubbick, a regular visitor to our country. Michael is the son of Kristian and continues the family tradition of interest in, and sponsorship of the arts.
While the local company's prime focus is on the Krohne range of equipment, it has expanded its value to its customer base by representing some other leading companies who offer complementary measurement products. The principals represented by Krohne in South Africa are Zellweger, Michell, Mettler Toledo, Hycontrol, B.T.G, Ronan, P.T.L Hermann and Trendview. These principals have been responsible for some major achievements whilst with Krohne such as, an NPL (UK) traceable standard humidity calibration system supplied to the National Metrology Laboratory in Pretoria; the detection and location of radioactive material in the transport of scrap metal; Power station and Bio product on line analysis and multi scanning ultra sonic level measurement.
Krohne in South Africa has many notable achievements, and while it still has some way to go in matching the diameters of flowmeters installed by its parent, a milestone was the installation and calibration of massive 2,5 m diameter electromagnetic and ultrasonic flow meters in the Lesotho Highlands Water scheme. These meters, one continuously checking the other, is what determines the payments South Africa makes for the supply of water from this landmark African engineering project.
A major "world-first" installation for Krohne SA was the tank farm level measurement system at Sasol Chemical Industries in Sasolburg. The project, large even by international standards, was part of a total tank inventory transfer scheme with over 100 tanks with heights ranging from 3 to 13 m and capacities from 28 kl to 5Ml. The products to be measured included paraffin, ethanol, creosote and even paraffin slop. Radar level measurement was used using the Krohne patented BM100 technology that uses time domain reflectometry, which can detect both levels and interfaces. In 1998 the BM100 was independently evaluated by Shell Oil, and conclusively showed a +/- 1mm accuracy on both level and liquid interface.
Krohne is proud to have recently achieved of the SABS custody transfer certificate for Krohne Corimass 'G' mass flowmeter due to the completion of the development of a mass-flow test and calibration rig by the AECI in Modderfontein. This rig, the first certified mass-flow based system in Africa (other local flow facilities are volumetric-based) will be used commercially to calibrate the increasing number of mass-flow meters used by industry.
Krohne (Pty) Ltd has a flow calibration laboratory in Midrand, and although this is not accredited, the company is represented on the SANAS Specialist Technical Committee for flow measurement. Comparison of measurement is of great importance to the local company, and this is verified using the accredited facilities of Eskom TSI, Johannesburg City Council or the company's own accredited facility in the Netherlands.
The original focus of Krohne in Germany was on the measurement needs of the chemical industry, Duisburg being located nearby the concentration of this industry, including the now international conglomerate, Bayer. While the chemical industry is still its largest single client, Krohne now services the needs of the mining industry, the water industry, petrochemicals and the general process control industry. In fact anywhere where it is necessary to make measurements of level, flow, or other physical properties on liquid and liquid-like (e.g. slurries) substances. The local company has obviously made major inroads into the pulp and paper industry, local customers including the giants Mondi and Sappi. Amongst its other customers are most of the generation plants of Eskom, the gold, platinum and coal mining industries and more process industry customers including Lever Brothers, Clover SA and AECI.
Krohne southern Africa services its customer base through its head office in Midrand and branches located in Natal, the Free State and the Northern Province, while sub-distributors have been appointed to service Botswana, the Cape, Mpumalanga, Namibia and Sasolburg.
Krohne celebrated 75 years as a privately owned company during 1996, the same year that the current GM of the local operation, Trevor Fawcett, joined the company. The anniversary virtually brought the company's hometown of Duisburg to a standstill, and a major feature, close to the heart of the controlling family, was a major display of works of art. Krohne is a major sponsor of art and a major buyer, with these acquisitions being displayed at its companies throughout the world. In a succinct answer as to why Krohne should collect art, Michael Dubbick, one of the sons of company-builder Kristian, quoted from the 75th Anniversary Brochure. There it states "All these different art trends offer a glimpse of new dimensions of existence, hoped for and longed for, shaped by humans even if not always understood by all". What better axiom could a family owned business, striving for excellence in products and care of its staff, ever hope to have.
"Employees who, whatever their motivation, are able to be influenced and stimulated by creative work, constitute an ever-increasing company asset that will continue to bear fruit in future"
An anomalous post-war perspective
Krohne, which had worldwide revenue of $300 million in 1997 was visited by an MI6 "Instrumentation & Control" team on 6 May 1946. Their report, intended to allow America to make best use of technology existing in Germany in the post war era, stated:
This firm makes a crude form of rotameter that has been supplied mainly to makers of furnaces for heat treatment. The tapered glass tubes for these instruments were obtained from Jena (Schott) in sizes up to about 10 mm bore. Larger sizes were obtained by selection from glass tube makers' scrap. The instruments are crude in style and finish, and display no features of technical interest. The methods of calibration and design are empirical.
Out of this "discard" business, the Krohne and Dubbick families have built a company which is unique in the process control business in that it has maintained a tight market focus and market domination for an extended time and ranks amongst the industry's leaders.
Krohne - Made to measure solutions in flow, level and density
Credit(s)
Further reading:
From the editor's desk: Is additive manufacturing poised to go mainstream?
Technews Publishing (SA Instrumentation & Control) News
As digital manufacturing technology pushes its way further towards the production floor, additive manufacturing (3D printing) is emerging as a viable option to complement the more traditional methods 
...
Read more...
---
Obituary: Steven James Meyer
January 1957 - January 2022
Technews Publishing (SA Instrumentation & Control) News SAIMC
It is with deep sadness and shock that we announce the sudden death of SA Instrumentation & Control Editor, Steven Meyer. Steven joined Technews in October 2007 in the position of Deputy Editor. His 
...
Read more...
---
ESG certified as Level 2 contributor to B-BBEE
News
Invicta Holdings Limited's Engineering Solutions Group (ESG) has achieved recognition as a Level 2 contributor to B-BBEE.
Read more...
---
Abrasive Flow Solutions celebrates its first year of business
News
Abrasive Flow Solutions (AFS) – specialists in the design and manufacture of slurry related valves – celebrates its first year of business.
Read more...
---
Microsatellite production gets a boost in Stellenbosch
TANDM Technologies News
Dragonfly Aerospace is investing in a 3000 square metre design and manufacturing facility in Techno Park, Stellenbosch.
Read more...
---
Danfoss doubles down on energy efficiency
Danfoss News
Danfoss encourages decision makers to act at COP26.
Read more...
---
Zest supplies SA's new gas helium project
Zest WEG Group Africa News
Zest WEG is supplying locally manufactured transformers, switchgear and substations to South Africa's onshore natural gas and helium project, Tetra4.
Read more...
---
Emerson announces commitment to venture capital initiative
Emerson Automation Solutions News
Emerson Ventures to focus on disruptive discrete automation solutions, environmental sustainability technologies and industrial software.
Read more...
---
Valve & Automation's new Secunda Valve Repair Centre
Valve & Automation News
On 1 November 2021, Valve & Automation's Secunda Valve Repair Centre opened at 18 Kingfisher Street, Ext 57, Secunda, Mpumalanga.
Read more...
---
SECO Process Instrumentation appointed East Rand agent for Yokogawa
SECO Process Instrumentation News
SECO Process Instrumentation, a consulting company in the fields of instrumentation, moisture analysers, pneumatics and VSD solutions, has recently been appointed as the East Rand agent for Yokogawa.
Read more...
---