printer friendly version
Pneumatic valve terminals now have greater flexibility
May 2000
Pneumatics & Hydraulics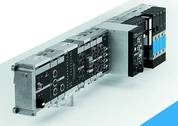 The Allen-Bradley SLC 500 programmable mini-controls from Rockwell Automation have been integrated into three different types of Festo pneumatic valve terminals. These valve terminals can be used as 'standalones' or as subsystems with bus solutions.
Festo valve terminals are capable of being connected via fieldbus to over 80% of control systems available worldwide, including Allen-Bradley controls. The introduction of the SLC 500 embedded solution in the form of a compact, directly programmable valve terminal has further enhanced its capabilities. The control block is available in two different variants and can be used for three different valve terminal types: type 10 with compact performance valves, type 03 with Midi/Maxi valves and type 04/B with ISO valves.
The range covers the entire spectrum of flowrates and pressures used in pneumatics with nominal flowrates ranging from 400 to 4500 l/min and pressure of -0.9 to 10 or 16 bar, depending upon valve type. Pneumatic valve terminals allow for the connection of local peripheries via binary, as well as analog inputs and outputs. A large number of additional binary I/Os can also be connected in a decentralised fashion via Devicenet, AS Interface Master or CP links. The programmable valve terminals use RSLogix under Windows and APS under DOS as well as configuration and diagnosis with Devicenet-Manager. The control block (SB 60) can be used with the valve terminal as an easy to install standalone without bus for the control of autonomous automation units. Used with a bus, the same SB 60 control block is linked up to the data highway DH 485 for communication with other bus users. This communications bus is capable of linking 32 users at a speed of 19,2 kbaud and the Allen-Bradley MMI (man machine interface) provides support in the form of a visualisation system. The Devicenet open bus protocol for up to 64 station addresses is taken advantage of in large, distributed machines or systems. The Devicenet can be configured as an active preprocessing slave, and as an expansion master via the SF 60 control block at the valve terminal, which has been expanded to include the corresponding terminal and a Devicenet scanner.
Pneumatic valve terminals with integrated PLC offer reduced logistics costs, elimination of wiring between PLC, valves and sensor inputs, installation direct to the machine, control of partial processes, link via fieldbus and AS Interface, reduced workload when used as a subsystem, increased system availability and improved clarity during troubleshooting.
Terminals are available with integrated Siemens or Festo PLCs. The SIMATIC Integrated solution (SB/SF 50) allows for linking via Profibus DP. In addition, the SF3 version is available with an integrated Festo PLC, and a master or slave connection to the Festo fieldbus. Programming is easy with KOP or AWL.
Credit(s)
Further reading:
BMG's Hydraforce valves and solutions
April 2021, Bearing Man Group t/a BMG , Pneumatics & Hydraulics
BMG, distributors of the Hydraforce range of proportional valves in southern Africa, works closely with Hydraforce engineers and customers in diverse industries to design and manufacture customised hydraulic 
...
Read more...
---
Tailored technology meets responsive design with the new Festo website
April 2021, Festo South Africa , Editor's Choice
Festo South Africa recently launched its new website to demonstrate the company's continuing commitment to simplifying its customer's lives through innovative service delivery.
Read more...
---
Highly flexible pick and place with digitised pneumatics from Festo
February 2021, Festo South Africa , Pneumatics & Hydraulics
Motion Apps are revolutionising pneumatics by increasing flexibility, energy efficiency and accelerating production processes.
Read more...
---
An easier way to connect
February 2021, Hydrasales , Pneumatics & Hydraulics
Quick-release hydraulic couplings on agricultural equipment have enabled Faster Couplings to provide innovative solutions to meet this sector's needs.
Read more...
---
Protect machines with soft-start valves
February 2021, SMC Corporation South Africa , Pneumatics & Hydraulics
A slow increase in air pressure into a machine at startup helps facilitate a soft start of all downstream components.
Read more...
---
Gimatic expands product range with launch of vacuum product offering
January 2021 , Pneumatics & Hydraulics
New offering gives customers greater flexibility in designing optimal automation systems that aim to increase efficiency & productivity.
Read more...
---
Fibertex offers advanced solutions in filtration for a cleaner environment
November 2020 , Pneumatics & Hydraulics
Fibertex Nonwovens, a leading manufacturer of a comprehensive range of nonwovens and performance-based materials used in diverse industries, has developed advanced filtration solutions that contribute to a cleaner environment.
Read more...
---
Monitoring oil with the power of connectivity
November 2020, Hydrasales , Pneumatics & Hydraulics
The latest innovation in the MP Filtri range of condition monitoring products helps system engineers with the digitalisation of their monitoring processes. It identifies contaminants early in the service 
...
Read more...
---
Advanced new Festo valve portfolio gains immense popularity in industrial automation
November 2020, Festo South Africa , Editor's Choice
Kershia Beharie talks to SA Instrumentation and Control about choosing the right valves for machine applications from the popular Festo range.
Read more...
---
Parker launches the icount LaserCM30
November 2020, Parker Hannifin - Sales Company South Africa , Pneumatics & Hydraulics
Next generation particle contamination monitor with test procedure in less than 90 seconds.
Read more...
---