printer friendly version
Lable sensor improves reliability and requires no user adjustments
April 2000
Sensors & Transducers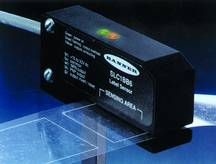 RET Automation now offers Banner Engineering's SLC1 Series label sensor, a high-precision label sensing device that requires no programming or adjustments. Designed to provide accurate detection of labels on web backing, the SLC1 reliably senses the difference between extremely low contrast materials, including clear labels on opaque or clear backing and opaque labels on opaque or clear backing. The SLC1 is a good solution for label-registering applications and label-counting tasks in slitting or rewinding applications.
The SLC1's patent-pending adaptive digital logic (ADL) system enables its high-resolution microprocessor to 'learn' label characteristics, in just 250 ms or the passing of four labels, and provide continuous automatic adjustment of sensing threshold and drift compensation for maximum sensing precision. Users simply place the label web in the sensing slot location marked 'sensing area' and allow the labels to run through the sensor.
The label sensor has a maximum label counting speed of 40 000 labels per minute; web speed of 3660 m per minute. The minimum sensing speed is one label per minute; web speed of 90 mm per minute. It provides a typical registration accuracy of ±0,3 mm at speeds up to 1000 labels per minute.
Green and yellow LEDs indicate Power on and Output on status and flash to alert the user of overloaded output or incorrect detection.
Integral circuitry protects the sensor against reverse polarity, transient voltages, overload, shorted load and low voltage. The output configuration is bipolar, one sourcing (PNP) and one sinking (NPN) open collector transistor. Each output is capable of switching up to 150 mA.
This compact, self-contained, 10 to 350 V d.c. sensor features a heavy-duty machined aluminium housing, with a 1 mm slot and black anodised finish. It has environmental ratings of IP67 and NEMA 6 and operates reliably in temperatures of 5–50°C. The SLC1 is available with a 2 or 9 m attached cable, or an integral five-pin Euro-style quick disconnect fitting.
Credit(s)
Further reading:
Remote monitoring keeps cherries cool
Sensors & Transducers News
The innovative and adaptable nature of the NviroSense system allows for various applications to be added on as per the client's requirements.
Read more...
---
Tiny transmitter for Memosens sensors
Mecosa Sensors & Transducers
In keeping with the use of Memosens sensors in tough environments, the MT201N transmitter is equipped with a sturdy, sealed housing.
Read more...
---
LED strips enhance efficient pick-to-light C-parts management
Turck Banner Editor's Choice Operator Interfaces, Switches & Relays
KEB Automation used Turck's WLS15 strip lights to refine its assistance system for C-parts management into an efficient and failsafe pick-to-light solution.
Read more...
---
Long-range laser distance sensors
ASSTech Process Electronics + Instrumentation Sensors & Transducers
As a result of intensive R&D, these transit time sensors emit very short light pulses in the nanosecond range, with signals that are statistically evaluated to determine the distance to the object.
Read more...
---
Firmware update enhances RFID interfaces for IIoT
Turck Banner Industrial Wireless
A free firmware update makes Turck Banner's IP67 RFID interfaces fit for barrier-free communication in IIoT applications, such as for simple product identification and tracking.
Read more...
---
Sensors train many eyes on FMCGs
VEGA Controls SA Editor's Choice Sensors & Transducers
Profit margins on consumer goods are small, which makes it all the more important for producers to have smooth, efficient operating processes.
Read more...
---
Ultrasonic sensors enable automatic stacking turf harvester
Instrotech Sensors & Transducers
The AutoStack, and now the AutoStack II, use an automated Ultra Steer system to guide the harvester with precision while the operator watches over all aspects of the harvesting process.
Read more...
---
Condition monitoring sensor with IO-Link
Turck Banner Sensors & Transducers
Continuously records humidity and temperature in production and storage areas, and outputs the values via IO-Link or as a switching signal.
Read more...
---
Concentration and viscosity measurements from raw materials to finished products
Sensors & Transducers
Learn more about Anton Paar's various solutions through these seven application reports, which cover just a fraction of the company's portfolio.
Read more...
---
2D/3D profile sensor for weld seam tracking
ASSTech Process Electronics + Instrumentation Sensors & Transducers
Supporting software can evaluate two- and three-dimensional data from smart cameras, vision systems, profile sensors and IPCs with profile sensors.
Read more...
---