printer friendly version
Stop electronic control downtime due to heat, dirt and moisture
April 2000
Enclosures, Cabling & Connectors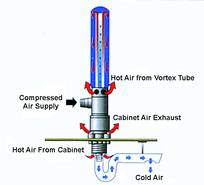 Exair cabinet coolers a low-cost, reliable way to cool and purge electronic control panels. The coolers incorporate a vortex tube to produce cold air from compressed air - with no moving parts. The compact cabinet cooler can be installed in minutes through a standard electrical knockout.
The vortex tube incorporated in the Exair systems is constructed of stainless steel. The wear, corrosion and oxidation resistance of stainless steel assures long life and maintenance-free operation of the systems.
Features of the coolers include:
* Low cost.
* Compact.
* Install in minutes.
* No CFCs.
* No moving parts - maintenance free.
* Mount in standard electrical knockout.
* Maintain NEMA 4 and NEMA 12 integrity.
Compressed air enters the vortex tube powered cooler and is converted into two streams, one hot and one cold. Hot air from the vortex tube is muffled and exhausted through the vortex tube exhaust. The cold air is discharged into the control cabinet through the cold air distribution kit. The displaced hot air in the cabinet rises and exhausts to atmosphere through the cabinet air exhaust at a slight positive pressure. Thus, the control cabinet is both cooled and purged with cool, clean air. Outside air is never allowed to enter the control panel.
The NEMA 4 cabinet cooler (dust-tight, oil-tight, indoor/outdoor service) incorporates a low pressure relief valve for both the vortex tube and cabinet air exhaust. This valve closes and seals when the cooler is not operating, to maintain the integrity of a NEMA 4 enclosure. The NEMA 4X cabinet cooler is constructed of 304 stainless steel for service in corrosive environments.
Selecting the right model
Exair cabinet coolers are available with or without thermostat control. The continuous coolers (models 4200 and 4700 Series) are recommended when constant cooling and a constant positive purge are desirable. The thermostatically controlled systems (models 4300 and 4800 Series) save air by activating the cooler only when internal temperatures approach critical levels. The adjustable thermostat is factory set at 35°C. Thermostatic systems are recommended where heat load fluctuates and continual purge is not required.
Cooling control panels in a glass plant
The problem: Few companies contend with more heat related problems than do glass manufacturers. Control panels in close proximity to molten glass are particularly susceptible. High ambient temperatures caused constant "nuisance tripping" of the circuit breakers. The "quick fix" solution -opening the panel doors - allowed dirt to enter the panels and created a potential safety hazard.
The solution: Exair model 4330 cabinet coolers were installed on each control panel. Cold air was directed through the cold air distribution kit over the circuit breakers. Thermostat control ensured that the coolers would activate only when internal temperatures approached critical levels. The panel doors were closed against dirt infiltration and shock hazard. Downtime was eliminated.
The inherent reliability of the vortex tube operated cabinet cooler was the important advantage in this application. Because they have no moving parts, Exair cabinet coolers are virtually impervious to hostile environments. Glass plants, steel mills, foundries and casting plants are just a few of the facilities benefiting from this simple, yet effective, technology.
Credit(s)
Further reading:
Amphenol circular connectors available from RS Components
RS Components SA Enclosures, Cabling & Connectors
Extensive series of M8x1 D-coded devices delivers best-in-class data and power signal integrity for Ethernet industrial automation applications.
Read more...
---
Pratley's flameproof junction box
Pratley Enclosures, Cabling & Connectors
By combining a flameproof junction box with its Kwikblok terminals, Pratley can prevent arcing across the connections themselves.
Read more...
---
Rittal and Eplan join forces to add value for customers
Enclosures, Cabling & Connectors
By joining forces, sister companies Rittal and Eplan deliver solutions to speed up processes and boost productivity.
Read more...
---
Adjustable cable gland is easy to fit
Pratley Enclosures, Cabling & Connectors
Pratley, produces a uniquely adjustable cable gland that fits any size armouring.
Read more...
---
Legrand's Atlantic stainless steel cabinets
Legrand Enclosures, Cabling & Connectors
Legrand's Atlantic stainless steel cabinets have been designed for safe use in corrosive conditions and in areas requiring a high level of hygiene.
Read more...
---
Clean air for control systems
Enclosures, Cabling & Connectors
RTS Inertial Spin Filters provide an effective maintenance-free solution to dust problems in MCC rooms, transformer rooms, control rooms and other industrial spaces.
Read more...
---
Cable locator for failsafe cable fault diagnostics
Comtest Enclosures, Cabling & Connectors
What sets the UAT-600 Series apart from other underground locators is its CAT IV 600 V safety rating.
Read more...
---
Pratley develops another cable gland world-first
Pratley Enclosures, Cabling & Connectors
Pratley is well-known in the market for producing world-class electrical termination products.
Read more...
---
Legrand's Starfix ferrules, crimping tools and applicators
Enclosures, Cabling & Connectors
Legrand's Starfix ferrules, cable crimping tools and applicators are designed for new installations and renovations in commercial installations, offices and domestic environments.
Read more...
---
Monitoring for control cabinets
Turck Banner Enclosures, Cabling & Connectors
The IM18-CCM is particularly suitable for OEMs wishing to provide basic condition monitoring values in their IT system. It detects critical states of the control cabinet directly in the field.
Read more...
---