printer friendly version
'ABS-brakes'for pnematics
April 2000
Motion Control & Drives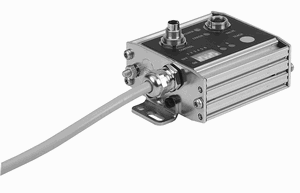 Festo is launching its Smart Soft Stop solution that provides a 50% speed increase of linear movements in pneumatics. With conventional technology, increased speed of operation requires increased acceleration resulting in a build-up of kinetic energy, which has to be controlled and transformed during the deceleration phase without damaging the flow control valves, end position cushioning and shock absorbers. This new system features minimal vibration, self-optimisation, increased productivity and simple installation.
The Smart Soft Stop solution supplies a controlled, opposing air supply before the stroke is completed. A typical, standard rodless drive unit with shock absorbers is capable of 13 double strokes in 20 s. The same drive without shock absorbers or sensors coupled with a linear potentiometer completes 21 double strokes in the same time. It also requires no adjustments and programming to boot. A DGP/L series cylinder, which is equipped with a type MLO-POT linear potentiometer, as well as an MPYE 5/3-way-proportional valve, is required. The controller continuously compares set-point and actual positions at the drive and optimises cylinder movements with the proportional valve.
The load, the cylinder diameter and the stroke are configured at the SPC 10 control unit with six DIP switches. When the teach-in key is activated, the controller memorises the positions for both stops, as well as frictional influence. Changing operating conditions are continuously compensated for by means of powerful adaptive control techniques.
Movement into the end positions is fast, impact-free and quiet, and high cycle frequencies, as well as improved productivity are achieved. The Smart Soft Stop sub-system can be integrated into the control sequence with only two digital inputs and outputs presenting new applications for pneumatics instead of more expensive, end-position-controlled electromechanical axes.
Festo
(011) 971 5500
Credit(s)
Further reading:
ABB robotics offers a taste of the future
ABB South Africa Motion Control & Drives
Food and beverage manufacturers increasingly need more flexibility on their production lines to enable them to adapt to changing consumer tastes and demands.
Read more...
---
BMG extends bearing portfolio
Bearing Man Group t/a BMG Motion Control & Drives
BMG's bearings portfolio has been enriched with the addition of the new RN series, launched recently by leading global bearing manufacturer, Rexnord.
Read more...
---
Omron's Sysmac Studio 3D Simulation Integrated Development Environment boosts productivity
Omron Electronics Motion Control & Drives
Logic, motion, robotics, HMI, vision, sensing, safety and 3D simulation are all integrated within a single platform.
Read more...
---
2-channel EtherCAT motion interface
Beckhoff Automation Motion Control & Drives
Flexible and cost-effective stepper motor terminal with 6 A total current.
Read more...
---
Preconfigured fail-safe circuit from Festo
Festo South Africa IS & Ex
The preconfigured Festo fail-safe circuit is ready to install in the control cabinet as a safe and low-cost alternative when it comes to fail-safe technology.
Read more...
---
Smart positioner from Festo
Festo South Africa Pneumatics & Hydraulics
The latest CMSH pneumatic positioner from Festo boosts high-performance and long service life.
Read more...
---
Conveyor chain for special applications
Bearing Man Group t/a BMG Motion Control & Drives
BMG's comprehensive range of power transmission components incorporates ZMC industrial conveyor chains that offer dependable service in diverse applications, especially in food production.
Read more...
---
BMG'S Nord IE5+ motor generation
Bearing Man Group t/a BMG Motion Control & Drives
BMG and German precision engineers, Getriebebau Nord, entered a partnership agreement in 1996 to assemble, distribute and support Nord Drive Systems throughout southern Africa.
Read more...
---
Festo's life science webinar on gas handling opens up new horizons
Festo South Africa News
How piezo technology more efficiently regulates flow rate and pressure.
Read more...
---
V-belts designed for food applications
Bearing Man Group t/a BMG Motion Control & Drives
BMG supplies a wide range of power transmission components, designed to enhance efficiency and safety in the food and beverage sector.
Read more...
---