printer friendly version
New batch application software
March 2002
IT in Manufacturing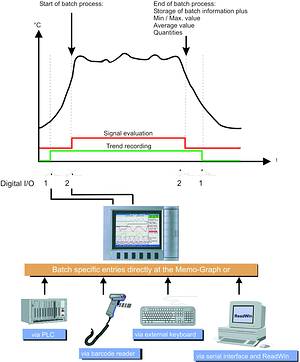 The constantly growing number of batch-dependent processes in various industries, from food and beverage to chemistry or pharmaceutical, has created a need for continuous recording and analysis of measured data. While there are several ways to achieve this objective, cost can often be a stumbling block. Addressing this problem, instrumentation specialist Endress + Hauser has developed a batching application package for its Memo-Graph data recorder intended for measuring almost all batch process parameters needed to ensure optimum quality in manufacturing.
Besides the recording of the signal level (min/max/average), values of the active channels (eg temperature, pressure or level) and quantities (flow), it provides the values required for efficient batch controlling, including duration, start/stop time, name and batch number. With the help of the GLC10xA software package, customers can identify individual process batches, examine and search for historical data, and print charts for further analysis. Using the Memo-Graph serial communications port, process data is retrieved and automatically imported into ReadWin. Additionally, it is possible to record and display analog and digital signals at the same time.
The batch application package for the Memo-Graph functions as a complete library system for all process data gathered.
Endress + Hauser
011 262 8000
Further reading:
What does digitalisation mean for food product safety?
Endress+Hauser South Africa IT in Manufacturing
Product safety remains a vital topic for achieving food security across the globe. To date, many manufacturers still question whether digitalisation can help reduce the effort involved in process optimisation, production monitoring and system installation.
Read more...
---
Digital twins enhance asset productivity in oil and gas applications
IT in Manufacturing
The ability to continue through various production cycles with zero unplanned downtime means that practical efficiencies using digitisation are essential.
Read more...
---
IaaS – paying for the experience but not the assets
Schneider Electric South Africa IT in Manufacturing
Infrastructure-as-a-Service has emerged as a feasible option that maintains crucial infrastructure such as IT, power consumption and business continuity while organisations focus on their core business.
Read more...
---
Siemens extends Xcelerator portfolio
Siemens South Africa IT in Manufacturing
Siemens Digital Industries has announced the release of NX Automation Designer software and NX Industrial Electrical Design software, a new suite of solutions that provide a central design application for industrial, electrical and automation design.
Read more...
---
Intelligent automation for Industry 4.0
IT in Manufacturing
Jumo smartWARE Evaluation is a software solution that allows browser-based process data analysis via customised dashboards.
Read more...
---
Simplifying the management of hybrid IT environments
Schneider Electric South Africa IT in Manufacturing
With the ongoing move towards hybrid cloud environments there comes an extra layer of complexity; nothing is ever as simple as it seems.
Read more...
---
Server engine for increasing machine learning requirements
Beckhoff Automation IT in Manufacturing
TwinCAT Machine Learning offers further inference engine.
Read more...
---
OPC Classic data connectivity notice
Moore Process Controls IT in Manufacturing
During June, Microsoft released a security update that changed how the Windows operating system enforces DCOM security. As a result, OPC communications relying on DCOM may stop working when the Windows changes start to be enforced in 2022.
Read more...
---
The importance of good project management
Iritron IT in Manufacturing
A structured way of organising work can help identify and resolve problems in an efficient manner before the implications have a chance to escalate.
Read more...
---
Experience Eplan Platform 2022
EPLAN Software & Services IT in Manufacturing
Eplan heralds the future of electrotechnical engineering with a focus on ease-of-use for both experienced users and for newcomers to its software.
Read more...
---