printer friendly version
Uniformance process studio
October 2008
IT in Manufacturing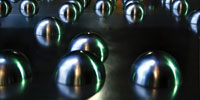 Improve the efficiency of plant data analysis.
Honeywell has announced the launch of Uniformance Process Studio, a new desktop software package that allows plant engineers to more easily analyse process performance. The user-friendly interface includes workflow management applications that enable engineers to build trend graphs and graphics with minimal training or manual configuration.
Uniformance Process Studio is designed for use with Honeywell's Uniformance PHD, which gathers critical data from equipment and instrumentation located throughout a plant. In the event of a plant upset, for instance, users can pull historical data to examine how a certain unit functioned in the moments leading up to the incident and use that information to avoid future upsets.
"Having a keen understanding of how a plant has performed in the past is critical to maximising business results and improving safety, reliability and efficiency," says Ashish Gaikwad, global director of Advanced Solutions for Honeywell Process Solutions. "Uniformance Process Studio was designed to help engineers make sense of this data faster and easier. Engineers can perform basic functions such as trending with only a few mouse clicks so that their time is spent analysing the process, not manipulating the tool."
Ease of use
For engineers, using Uniformance Process Studio for trend analysis is as easy as selecting tags from Uniformance PHD and using a drag-and-drop function to insert them into a trend graph or table. Many commonly used options, such as selecting trend times and sampling methods, are also available through simple drop-down menus. Uniformance Process Studio also provides a variety of trend styles, including single scales, XY correlations and histograms. A multitrend view allows engineers to view the status of numerous trends, making it easy to monitor the status of several processes or pieces of equipment at once.
Interoperability
Additionally, the program's graphics are based on Honeywell's HMIWeb technology, which is also used in Experion Process Knowledge System (PKS). This allows graphics used in Experion to be replicated in Uniformance Process Studio, which eliminates the need for engineers to spend hours building duplicate graphics.
Uniformance Process Studio also allows users to organise information such as tags, trends, graphics and other items on a regular basis in personal and shared workspaces. This makes it easier for users to find relevant information. These workspaces are not limited to plant historian information; users can include Web page links, applications and a variety of documents. With this approach, engineers are not required to constantly switch between Uniformance Process Studio and Internet browsers.
For more information contact Debbie Rae, Honeywell Southern Africa, +27 (0)11 695 8000, debbie.rae@honeywell.com, www.honeywell.co.za
Credit(s)
Further reading:
Safety and cybersecurity convergence goes beyond safety systems
August 2019 , IT in Manufacturing
However, the scope of safety and cybersecurity goes well beyond process safety systems alone. Across the industrial and infrastructure worlds, an increasing number of end users are adopting more sophisticated 
...
Read more...
---
Mobile app configures level transmitters
August 2019, Emerson Automation Solutions , IT in Manufacturing
Emerson has added the Radar Master app for the AMS Trex Device Communicator, making it easier for field technicians to configure Rosemount radar level transmitters. Radar level devices are critical to 
...
Read more...
---
Yapper: pet food goes digital
August 2019 , IT in Manufacturing
Over the past decade, there has been an increase of the 'pet humanisation' trend, which continues to capture the entire world. Pet owners are caring for and spending on their pets as they would do for 
...
Read more...
---
Artificial intelligence in packaging
August 2019, Beckhoff Automation , IT in Manufacturing
Beckhoff Automation's Benjamin Bruns explains how the company has incorporated machine ­learning as a natural extension of its control platform.
Read more...
---
Tracking, genealogy and FIFO solution at Sumitomo Rubber
August 2019, Altron Bytes Systems Integration , IT in Manufacturing
Sumitomo Rubber South Africa (SRSA), manufacturer of the popular Dunlop, Sumitomo and Falken tyre brands, is a division of Sumitomo Rubber Industries (SRI), headquartered in Kobe, Japan. SRI is ranked 
...
Read more...
---
IIoT platforms, not all created equal
Technews Industry Guide: Industrial Internet of Things & Industry 4.0, Altron Bytes Systems Integration , IT in Manufacturing
Having a state-of-the-art architecture based on the most modern technology will not benefit any company unless it is tied to a specific purpose and business outcome.
Read more...
---
Bringing trust to the Internet of Things
Technews Industry Guide: Industrial Internet of Things & Industry 4.0 , IT in Manufacturing
Huge amounts of data are generated by and collected from a wide variety of IoT devices. It is then analysed and actions taken, depending on the results of the analysis. However, if you cannot trust the 
...
Read more...
---
So, what's left for us humans after the machines take over?
Technews Industry Guide: Industrial Internet of Things & Industry 4.0 , IT in Manufacturing
That said, there are some guidelines that can be put in place. An obvious career path exists in being 'on the other side of the code', as it were – being the one who writes the code, who trains the machine, 
...
Read more...
---
Staying ahead of industrial cyber-security threats
July 2019, Parker Hannifin Sales Company South , IT in Manufacturing
The consequences of cyber attacks on businesses can be huge, operation downtime, loss of productivity, proprietary information loss, diminished reputation among customers, business partners and investors and disruption of services.
Read more...
---
Comos version 10.3 saves time
Technews Industry Guide: Industrial Internet of Things & Industry 4.0, Siemens Digital Industries , IT in Manufacturing
Modular engineering with intelligent templates and central data storage.
Read more...
---