printer friendly version
Cabinet coolers
April 2008
Enclosures, Cabling & Connectors
EXAIR cabinet coolers offer a low cost, reliable way to cool and purge electronic control panels. The coolers incorporate a stainless steel vortex tube to produce cold air from compressed air with no moving parts. The compact devices can be installed in minutes through a standard electrical knockout. NEMA 4, 4X and 12 cabinet coolers that match the NEMA rating of the enclosure are available in many cooling capacities for large and small control panels.
How vortex coolers work
Compressed air enters the vortex tube (Figure 1) and is converted into two streams, one hot and one cold. Hot air from the tube is exhausted through the discharge port, while the cold air is directed into the cabinet. The displaced warm air in the cabinet rises and exits to atmosphere through the cabinet air exhaust at a slight positive pressure. Thus, the control cabinet is both cooled and purged with cool, clean air.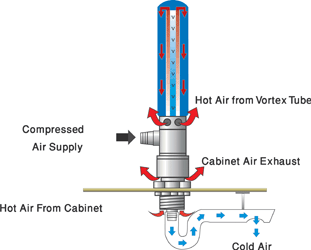 Figure 1
According to EXAIR heat exchangers, heat pipes and refrigerant coolers all have filters that can clog. Left unattended, mechanical failure of the cooler is likely resulting in overheating inside the enclosure and possible equipment failure. Vortex coolers have no moving parts to wear out and do not require constant monitoring. All models are UL listed and available in a large number of styles and capacities.
Thermostat control limits compressed air use by operating the cooler only when the enclosure reaches predetermined levels. Most plants have their compressor running continuously, by using a vortex cooler energy savings are achieved through utilising a machine that is already consuming electricity instead of using products which would require additional power.
Typical applications are found in the food and pharmaceutical industries with capacities ranging from 160 to 700 kilo calories per hour.
Credit(s)
Further reading:
Fire safety approval for halogen-free TPE cables
Enclosures, Cabling & Connectors
This is the first time Underwriters Laboratories has recognised that halogen-free TPE cables can also meet fire protection requirements in industry.
Read more...
---
Small terminal blocks for maximum benefits
Phoenix Contact Enclosures, Cabling & Connectors
The range of terminal blocks in miniature format from Phoenix Contact can be conveniently wired and mounted in various ways, in even the narrowest of spaces.
Read more...
---
Heavy-duty connectors in various colours
Phoenix Contact Enclosures, Cabling & Connectors
The housings can be ordered in batches as small as 1, and individual interfaces can be easily configured and conveniently ordered online.
Read more...
---
Supplements for splice boxes with patented pigtail tray
Phoenix Contact Enclosures, Cabling & Connectors
Phoenix Contact is supplementing the compact splice/distributor boxes in the FDX 20 series for DIN-rail mounting with additional types of fibres and couplings.
Read more...
---
How to achieve sustainable manufacturing
Omron Electronics Enclosures, Cabling & Connectors
The industry faces the mammoth task of developing sustainable alternatives, minimising waste while saving energy and using alternative energy sources.
Read more...
---
Compact installation connectors for up to 20 A
Phoenix Contact Enclosures, Cabling & Connectors
Depending on the conditions and standards applicable on site, users decide whether to release the connector by hand or by using a bladed screwdriver.
Read more...
---
Connectors for the evolving world of test and measurement
Spectrum Concepts Enclosures, Cabling & Connectors
Instrumentation employed to test new products needs to become more advanced to keep up with the rapidly increasing technology in these products.
Read more...
---
Pluggable system solution for control cabinet-free automation
Beckhoff Automation Enclosures, Cabling & Connectors
Beckhoff's MX-System provides maximum efficiency for machine builders, control cabinet manufacturers and end-users.
Read more...
---
Cost-effective electrical termination solutions for the construction industry
Pratley Enclosures, Cabling & Connectors
It is important not to compromise on quality in favour of cost, especially for safety-critical termination parts like cable glands and junction boxes.
Read more...
---
Compact emergency stop button
Anglo Allied Engineering Enclosures, Cabling & Connectors
Bernstein has brought out a smaller version of its safety rope limit switch, adding an extra layer of safety to the operation of machines and conveyor belts, with greater space saving and versatility.
Read more...
---