printer friendly version
Signal conditioning modules
July 2005
Electrical Power & Protection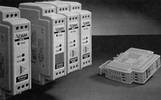 The ADAM-3000 Series are cost-efficient, field configurable, isolation-based, signal conditioners. The modules are easily installed to protect instruments and process signals from the harmful effects of ground loops, motor noise, and other electrical interferences.
Featuring optical isolation technology, the modules provide three-way (input/output/power) 1000 V d.c. isolation. Optical isolation provides accuracy and stability over a wide range of operations at minimal power consumption.
The input/output range for the ADAM-3000 modules can be configured through switches located inside the module. The modules accept voltage, current, thermocouple or RTD as input, and pass voltage or current as output.
Thermocouple inputs are handled by the built-in input thermocouple linearisation circuitry and a cold junction compensation function. These ensure accurate temperature measurement and accurate conversion of information to the voltage or current output.
The ADAM-3000 modules use a 24 V d.c. power rail, which can be acquired from adjacent modules, greatly simplifying wiring and maintenance. The I/O configuration switches are located inside the modules. To reach the switches, one removes the modules from the DIN-rail bracket by sliding the modules downward.
The modules are easily mounted on a DIN-rail, and signal wires can be connected through screw terminals. The screw terminals and input/output configuration switches are built inside the industrial grade plastic casing. With simple two-wire input/output cables, wiring is easy and reliable in harsh industrial environments.
Applications include:
* Signal isolation.
* Signal transmitters.
* Thermocouple/RTD/strain gauge measurements.
* Signal amplifiers.
* Noise filtering.
Credit(s)
Further reading:
Five tips to manage energy use while staying at home
May 2020 , Electrical Power & Protection
Covid-19 continues to impact many aspects of our lives. Many are now required to stay at home in an effort to curb the spread of the pandemic. One of the many implications of staying at home will be the 
...
Read more...
---
Holistic approach to energy security
April 2020 , Electrical Power & Protection
As South Africans settle into the routine and inconvenience of load shedding and planning their activities around shifting electricity supply, it is businesses that are taking the biggest hit through 
...
Read more...
---
Save energy costs with highly-efficient Delta VFDs
April 2020, ElectroMechanica , Electrical Power & Protection
Customers can realise significant savings on their total energy costs by replacing older motor starters with energy-efficient Delta variable frequency drives (VFDs), distributed locally by ElectroMechanica 
...
Read more...
---
Utility made easy
April 2020, Schneider Electric South Africa , Electrical Power & Protection
In recognition of the growing demand for reliable power provision, Schneider Electric strives to assist network operators to deliver electricity safely and efficiently. The company's Advanced Distribution 
...
Read more...
---
Specialised transformers for renewable energy projects
April 2020, Zest WEG Group , Electrical Power & Protection
Zest WEG's local transformer manufacturing facility has supplied 36 specialised photovoltaic (PV) transformers to a solar energy generation plant in the Northern Cape. According to sales team leader, 
...
Read more...
---
Meeting the needs of the mining industry
April 2020, Varispeed (Div of Hudaco Trading) , Electrical Power & Protection
Both above and below ground, Varispeed keeps the interests of its customers top of mind, all the time. The company was recently approached by a platinum mine in South Africa to assist with a robust application. 
...
Read more...
---
Game-changing electrical accessories
April 2020, Schneider Electric South Africa , Electrical Power & Protection
In a world where products are moving from standardised to customised, today's consumers want high quality products that meet their specific requirements. Electrical accessories are no exception and Schneider 
...
Read more...
---
EnI Electrical delivers at the sharp end of African contracts
March 2020, Zest WEG Group , Electrical Power & Protection
Usually the last contractor on site, electrical instrumentation and control (EC&I) specialist EnI Electrical puts extra effort into helping clients around Africa meet their scheduled start-ups. With 
...
Read more...
---
In-house testing of transformers
March 2020, Zest WEG Group , Electrical Power & Protection
The recent installation of an impulse voltage generator at Zest WEG's transformer manufacturing facility in Heidelberg will allow in-house testing of transformers, saving time and money for customers. According 
...
Read more...
---
Sulphate and chloride monitoring
March 2020, Microsep , Electrical Power & Protection
Chlorides and sulphates cause pitting and stress corrosion in expensive power plant components, such as turbines and boilers, leading to extensive maintenance and unplanned shutdowns. Monitoring these 
...
Read more...
---