printer friendly version
Signal conditioning modules
July 2005
Electrical Power & Protection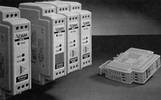 The ADAM-3000 Series are cost-efficient, field configurable, isolation-based, signal conditioners. The modules are easily installed to protect instruments and process signals from the harmful effects of ground loops, motor noise, and other electrical interferences.
Featuring optical isolation technology, the modules provide three-way (input/output/power) 1000 V d.c. isolation. Optical isolation provides accuracy and stability over a wide range of operations at minimal power consumption.
The input/output range for the ADAM-3000 modules can be configured through switches located inside the module. The modules accept voltage, current, thermocouple or RTD as input, and pass voltage or current as output.
Thermocouple inputs are handled by the built-in input thermocouple linearisation circuitry and a cold junction compensation function. These ensure accurate temperature measurement and accurate conversion of information to the voltage or current output.
The ADAM-3000 modules use a 24 V d.c. power rail, which can be acquired from adjacent modules, greatly simplifying wiring and maintenance. The I/O configuration switches are located inside the modules. To reach the switches, one removes the modules from the DIN-rail bracket by sliding the modules downward.
The modules are easily mounted on a DIN-rail, and signal wires can be connected through screw terminals. The screw terminals and input/output configuration switches are built inside the industrial grade plastic casing. With simple two-wire input/output cables, wiring is easy and reliable in harsh industrial environments.
Applications include:
* Signal isolation.
* Signal transmitters.
* Thermocouple/RTD/strain gauge measurements.
* Signal amplifiers.
* Noise filtering.
Credit(s)
Further reading:
Enabling IIoT connectivity for virtual power plants
December 2019, RJ Connect , Electrical Power & Protection
The power grid has seen many changes that have enabled the integration of power from distributed energy sources (DERs).
Read more...
---
DIN rail power supply for demanding applications
December 2019, ElectroMechanica , Electrical Power & Protection
Automated production systems require power supplies with high stability and safety protection. DIN rail power supply series for such demanding applications are available from Delta Electronics, distributed 
...
Read more...
---
Dry-type transformers go mainstream
December 2019 , Electrical Power & Protection
The uptake of dry-type transformers in South Africa is now well beyond 'niche' applications, with local specialist Trafo Power Solutions installing a range of sizes across various sectors. "In recent 
...
Read more...
---
Robust embedded power supply series
December 2019, RS Components SA , Electrical Power & Protection
RS Components (RS) has announced the availability of a new series of AC-DC embedded switch-mode power supplies (SMPS) from TDK-Lambda. The cost-effective RWS-B series of AC-DC industrial power supplies 
...
Read more...
---
Ultra-compact soft starter with protection
December 2019, Vepac Electronics , Electrical Power & Protection
The Tele Christian P4.0/RL/TP/IC electronic soft starter is, with all of its integrated functionality, designed for ultra-compact installation. It helps to reduce wiring material, installation time and 
...
Read more...
---
Latest power monitoring device
November 2019, ElectroMechanica , Electrical Power & Protection
A new panel-mounted power monitoring device (PMD) from Socomec has been launched locally by ElectroMechanica (EM). The Socomec DIRIS A-40 has been designed for measuring, monitoring, and reporting electrical 
...
Read more...
---
WEG IE3 compliant motor control and protection
October 2019, Zest WEG Group , Electrical Power & Protection
The increased move towards the use of IE3 electric motors has made it increasingly important that the most appropriate starting method be selected to ensure optimum performance. With this move it is essential 
...
Read more...
---
Electronic monitoring devices from EM
October 2019, ElectroMechanica , Electrical Power & Protection
A comprehensive range of electronic monitoring and timing devices in different formats for ease of use and retrofit purposes is available from ElectroMechanica (EM). The ElectroDev units are suited to 
...
Read more...
---
Integrated earth leakage protection
October 2019, Schneider Electric South Africa , Electrical Power & Protection
Schneider Electric has announced the introduction of integrated earth leakage protection for its Compact NSX and NSXm moulded circuit breaker ranges. "The award-winning Compact NSX moulded case circuit 
...
Read more...
---
Batteries in motive power applications
October 2019, Comtest , Electrical Power & Protection
When discussing motive power applications, the initial thought is that their batteries must be similar to transportation batteries. After all, this equipment is 'motive' just like a car or truck. However, 
...
Read more...
---