printer friendly version
AutomationDirect introduces programmable automation controller
October 2011
PLCs, DCSs & Controllers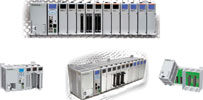 The Productivity3000 PAC is AutomationDirect's newest generation of industrial controllers that combines features and capabilities of a PC-based control system with that of a typical PLC. Productivity3000 is a modular, rack-based system of up to 116 000 I/O points with local, expansion and remote I/O bases and a full line-up of discrete, analogue and specialty I/O modules. The high-performance CPU has 50 Mb memory, fast scan times and seven communication ports.
The P3-550 CPU features a 4 line x 10 character LCD, ideal to display system alarms and information or user-defined messages. Seven onboard communications ports support USB, Ethernet and serial devices. A USB plug-and-play connection is available for programming and online monitoring. The USB local expansion port supports up to four additional I/O bases, while a dedicated Ethernet remote I/O expansion port can connect up to 32 remote base groups; each remote group supports up to four additional local bases, for over 116 000 maximum I/O. AutomationDirect's GS series of AC drives can also be networked to the CPU directly from this port. An additional USB port allows users to log data from the system into a removable USB drive, as well as transfer projects to and from the CPU. A second Ethernet port supports programming, monitoring, e-mail and Modbus TCP network communications. One RS232 and one RS485 serial port can communicate via Modbus or ASCII protocols for local networking or custom device interfaces.
Two power supplies (AC and DC) are available, both provide isolated 24 VDC, 5 VDC, and 3,3 VDC to the Productivity3000 bases. I/O bases are available in 3, 5, 8, and 11-slot models; any combination of I/O modules may be installed in a base without power budget considerations. Over 35 I/O modules capture and control a wide range of field signals, including up to 64-point DC I/O, 16-point AC I/O, and analogue voltage, current or temperature. The patent-pending LCD interface built into each analogue module displays field signal levels as well as module and signal faults. Hot swappable I/O support allows exchange of modules or complete remote bases without interrupting the process.
The P3-RS remote slave module features a 4 line x 10 character LCD display and communications ports for serial devices. Up to 32 P3-RS remote slaves can be connected to a single P3-550 CPU for a remote I/O network. The CPU can be programmed and monitored remotely through one of the USB ports on this module.
For wiring most I/O modules, pre-wired ZIPLinks wiring systems are available to eliminate the need for hand wiring modules to terminal blocks. Five ZIPLink module types are available: feed-through, fuse, relay, sensor input, and pigtail cable.
The free downloadable ProductivitySuite programming software features tag name-based programming for better documentation management and more seamless integration with HMIs. The data is stored in true database format so it can be searched, filtered and sorted;.a .csv file can be imported to update the tags, or the file created every time the project is saved can be imported into other databases, such as the C-more HMI configuration file. The onboard program documentation feature stores the program, tag database and all program comments to the CPU so the information is available to any PC connected to the system. Run-time editing allows logic edits without stopping the executing program.
The software can perform hardware auto-discovery and configuration, including local and remote bases and I/O, plus GS series AC drives. The user can also configure the system offline by dragging and dropping bases and modules. After configuration is complete, modules are electronically keyed to prevent incorrect replacement.
Powerful processes in the programming environment reduce development time. Timesavers include combined ladder logic and function block programming, task management that minimises scan time, advanced instructions that simplify complex tasks, and an exhaustive Help file that covers both hardware and software topics.
DataWorx P3K data logging software is available to provide an easy and inexpensive way to collect data from the Productivity 3000 PAC by connecting it to enterprise database systems. Report-by-exception operation eases network traffic by sending information only when needed. It also allows the device complete control to store data to a computer database or to store it locally if the network is down.
For more information contact Winston Ilsley, Directlogic Automation, +27 (0)12 654 6212, winston@directlogic.co.za, www.directlogic.co.za
Credit(s)
Further reading:
Becker Mining's upgraded chairlift PLC panels increase safety
November 2020, Becker Mining South Africa , PLCs, DCSs & Controllers
Becker Mining South Africa recently launched a new upgraded chairlift PLC panel that enhances the reliability of Becker chairlift systems, which are used to transport personnel on mines throughout the world.
Read more...
---
Open PLCnext Technology ecosystem
January 2021, Phoenix Contact , PLCs, DCSs & Controllers
With the new PLCnext Control AXC F 3152 controller, Phoenix Contact now provides a high-performance Axioline controller based on the open PLCnext Technology ecosystem.
Read more...
---
New Modicon IIoT-ready controller
September 2020, Schneider Electric South Africa , PLCs, DCSs & Controllers
The Modicon M262 is IIoT-ready, designed and delivered with intuitive direct cloud connectivity and no gateways are required for OEMs to design solutions for performance demanding applications.
Read more...
---
Modular mid-range PLC series
June 2020, ElectroMechanica , PLCs, DCSs & Controllers
The Delta compact modular mid-range AS series PLCs, available locally from ElectroMechanica (EM), is a high-performance, multi-purpose controller designed for all kinds of automated equipment. The series 
...
Read more...
---
Fishery relies on Siemens process management
December 2019 , PLCs, DCSs & Controllers
The fishery in Steinach, Switzerland, breeds fish species which are under threat so that they can be released into domestic waterways in the canton of St. Gallen. The quality and temperature of the water, 
...
Read more...
---
Meet the Future: Edge Programmable Industrial Controllers
November 2019, Opto Africa Holdings , PLCs, DCSs & Controllers
All controls engineers are familiar with PLCs and PACs (programmable automation controllers). Both have been used and improved over many years, incorporating capabilities that used to be found only in 
...
Read more...
---
Precise control in joining applications
October 2019, ASSTech Process Electronics + Instrumentation , PLCs, DCSs & Controllers
Digiforce is the trusted name when comprehensive monitoring of press-fit, joining, riveting and caulking processes is needed. The models 9306 and 9310 are being successfully used in innumerable applications 
...
Read more...
---
The powerful Festo modular control system CPX-E
Technews Industry Guide: Industrial Internet of Things & Industry 4.0, Festo South Africa , PLCs, DCSs & Controllers
Designed as an EtherCAT master and motion controller with protection to IP20, the powerful automation system CPX-E for factory and process automation with NE21-specific certifications is becoming the 
...
Read more...
---
Rockwell strengthens industrial control system security
July 2019, Rockwell Automation , PLCs, DCSs & Controllers
Communications between industrial control devices have minimal protection today. This leaves them vulnerable to threats like malicious tampering and incidental system changes that can stop production 
...
Read more...
---
Siemens extends the Simine ­portfolio
June 2019, Siemens Digital Industries , PLCs, DCSs & Controllers
Siemens has extended the Simine portfolio for high-pressure grinding mills (HPGR) to include a new controller. Plug-and-play functionality makes the load share controller available for immediate use. 
...
Read more...
---