printer friendly version
Enhanced extrusion courtesy Control Techniques
October 2011
Motion Control & Drives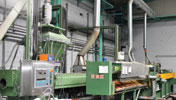 A switch from DC to AC drives at European recycling company Govaerts Recycling of Belgium has resulted in major maintenance savings with the bonus of a dramatic cut in production noise. The new high-tech extrusion lines have at their heart modular Unidrive SPMA drives from Control Techniques.
With five production lines, Govaerts Recycling has an annual output of around 8000 tons of high quality plastic and rubber products for street and park furniture, decking and flooring. When the company's five DC driven production lines were facing the need of refurbishment, owner Eddy Govaerts could not find suitable replacements, so set out to build his own.
Granules of polyofines are blown into the weigh and mixing section, mixed with colouring pigments and other additives to give the mechanical qualities required. This is extruded at 200°C and injected into special moulds. The moulds are cooled, the profiles ejected and then cut to length to produce a wide range of recyclable products.
"Our first extruder lines had DC motors and drives," says Govaerts. "We bought an off-the-shelf extruder in 1996 to make our first planks and boards for horse stables, but it was not very successful, required many modifications and proved very unreliable. With our wealth of in-house experience in mechanical engineering and automation, we decided to make our own, and with huge success."
Govaerts Recycling opted for an original concept, four 37 kW water cooled AC motors are all directly connected to the shaft of the gearbox giving total power of 148 kW, but with a saving in size of 70% that eliminates the drive belts and improves overall efficiency by 10%. This new assembly is almost maintenance free with no belts or couplings to fail, no air filters, no lubrication and no protection covers required. "Perhaps most surprising," adds Govaerts, "is how quiet it is. At full power, the noise is only 40 dbA, about the same as a domestic dishwasher."
The line's PLC monitors the motor and water temperature as well as vibration levels. In order to provide a facility for the high level of overload generally required on extruders, each line has two Control Techniques modular, heavy duty 110 kW Unidrive SPMA AC drives – every drive feeds two motors.
The units that make up the SPM range can be used to implement most types of system. The separation of the power circuit into rectifier and drive stages enables elegant and compact active input configurations to be implemented, while the modular nature of the power circuit allows drive systems to be constructed in non-standard enclosures. Configurable in five operating modes – open and closed loop, vector, servo and regenerating – the range is complemented by plug-in module options that extend the on-board PLC with specialist feedback and communication modules.
Govaerts likes the Unidrive SPMA solution because it only requires the user to keep one small module in stock as spare and not a costly drive. The drive has an LCD keypad for text information and incorporates a plug-in Profibus network card for communication with the Beckhoff PLC. The Safe Torque Off function is used to give absolute security for maintenance personnel with a large braking resistor mounted on the top of the cabinet for emergency braking. All of the drives are mounted in air conditioned containers. "Each component in the machine is selected for round the clock service," says Govaerts. "You cannot buy a machine like this from an OEM because they build to cost. We designed our machine to give the lowest total life cycle cost – long life, low downtime, low maintenance and low energy.
"That is why we select the very best components with the very best value/price ratio. At Govaerts Recycling our philosophy is high quality, quick response, fast deliveries and excellent service. We select only suppliers who have those same qualities, that is why we partnered with Control Techniques. We like that they have the power and resources of a large global group with the spirit and service of a small family company."
Govaerts Recycling products are used in applications including street furniture, park benches, stable flooring and decking for terraces around pools and spas.
For more information contact Bill Tedd, Control Techniques, +27 (0)11 462 1740, bill.tedd@emerson.com, www.controltechniques.co.za
Credit(s)
Further reading:
Sawmills and sugar mills underpin growth for SEW-Eurodrive
October 2019, SEW-Eurodrive , Motion Control & Drives
Ageing sawmills and sugar mills in KwaZulu-Natal represent a significant growth opportunity for SEW-Eurodrive to introduce its latest energy-efficient technology. This is an increasing trend as both the 
...
Read more...
---
Smart devices for Ex areas: Unbelievably simple mistakes that prevent control.
September 2019, Michael Brown Control Engineering , Editor's Choice, Motion Control & Drives
I am often astounded by finding really basic problems with controls in plants, which have operated that way for years. These problems are so basic that one can only wonder at how these controls could 
...
Read more...
---
DLM V-Drives
September 2019, Dupleix Liquid Meters (DLM) , Motion Control & Drives
DLM V-Drives control the latest generation of permanent magnet and standard induction motors. DLM offers the AMC (advanced motor control) and EPC (efficient pump control) V-Drives, which are available 
...
Read more...
---
Complete drive solutions to boost efficiency and cut costs
September 2019, SEW-Eurodrive , Motion Control & Drives
The importance of the sugar industry in KwaZulu-Natal to SEW-Eurodrive as a key growth area for its complete drive solutions was underscored when it exhibited at the Congress of the South African Sugar 
...
Read more...
---
RS announces drive controller kit
September 2019, RS Components SA , Motion Control & Drives
RS Components has announced the launch of the K4 Drive System Development Kit (K4DSDK) from ebm-papst, one of the world's leading manufacturers of high-efficiency fan and motor drive products. Targeting 
...
Read more...
---
Feed mill project relies on SEW-Eurodrive
August 2019, SEW-Eurodrive , Motion Control & Drives
SEW-Eurodrive has supplied 120 geared motors to Dalein Agriplan for a customised 100 tph feed mill for a major beef producer in the Free State. This is not only one of the largest single projects undertaken 
...
Read more...
---
Dust solutions for conveyor systems in bulk handling
August 2019 , Motion Control & Drives
BLTWorld works closely with ScrapeTec, to offer advanced solutions for conveyor systems used in the handling of materials with excessive dust. "AirScrape, TailScrape and DustScrape have been developed 
...
Read more...
---
Case History 167: Test your analytical capabilities
July 2019, Michael Brown Control Engineering , Editor's Choice, Motion Control & Drives
Answer to the question at the end of Case History 166 (
www.instrumentation.co.za/8690r
) In the last Case History article, I suggested you try and see what was not so good about a level control, which 
...
Read more...
---
BMG drives sewage and effluent management
July 2019, Bearing Man Group t/a BMG , Motion Control & Drives
BMG supplies a range of drives designed specially for optimum efficiency in sewage treatment applications. "Nord drives, which consist of Unicase helical shaft mount geared motors, have special features 
...
Read more...
---
Bauer motors for water treatment plants
July 2019 , Motion Control & Drives
According to Bearings International (BI) electric motors product manager Lewis Hiepner, the arduous operating conditions at water-treatment plants mean that the motors specified not only have to be high-efficiency, 
...
Read more...
---