printer friendly version
AEL prepares for a blast
September 2009
IT in Manufacturing

There are few industries that demand more focused attention than the manufacture of explosives. Reliability, accuracy, safety and predictability are top of the agenda for the manufacture of detonators since they start the explosion process and are responsible for its timing and precision. AEL saw the need for a raw material and product tracking solution that would eliminate process variability while providing traceability into the composition of product batches.
Background
At the Initiating Systems Automated Plant (ISAP), AEL manufactures detonator assemblies consisting of raw materials, delay powders, delay elements, tubes and shock tubes.
Previously, the batch tracking of raw materials and products used in the manufacture of detonators was done with a paper-based system which was prone to human error. It was time for a change and with the business objectives of improving customer relations and AEL's competitiveness as well as consolidating the use of raw materials the company decided that a greater degree of automation was desirable.
Any chosen solution would also have to meet the operational requirements of improving product quality (stop faulty products in their tracks), tracking back from the customer into the batch process to determine the cause of any product failure, decrease human error and assist in the evaluation of the properties and performance of raw materials used in production.
Solution selection
AEL chose system integrator Advansys for the implementation because of previous experience and their wide knowledge of the Wonderware product range. AEL had previously selected Wonderware's Production Events Module (today part of the Wonderware Equipment Operations Module) to capture realtime process data, link the batch process to execution and to provide detailed batch data reports for analysis.
The Production Events Module would track what material was consumed and produced by the process and would work in conjunction with Wonderware's Historian, System Platform (Galaxy Repository, Industrial Application Server) and dual-redundant Application Object Servers.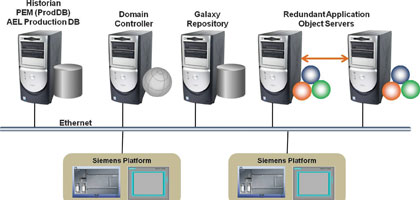 Topology of the new raw material and product tracking system at AEL
Implementation
"In my opinion, the ability to develop templates which suit most of the tracking functions needed as well as their re-usability are two of the most outstanding features of the underlying ArchestrA technology," says Advansys engineer Braam Venter. "Another highlight was the ease of use and the ability to integrate with the Historian .NET components."
Advansys used a top-down approach that included addressing the operator interfaces which consisted of existing WinCC Flexible touch panels that could only communicate with the PLC. This meant that all the operator instructions had to be routed through the PLC, which led to the development of standard screens with text fields to view messages from the Industrial Application Server. The ability to manage text messages and HMI data from within the Industrial Application Server reduced implementation and commissioning times.
Realtime process data is captured at each production event and this can then be used to analyse if a certain batch is faulty. A production database was implemented for raw material inputs for the production personnel as well as formula management for the various delay powder recipes. This database is used as a scanner interface between the Industrial Application Server and the scanners at various production screens.
"The Industrial Application Server is used to drive the production processes via a PLC and WinCC Flexible touch panels," explains Venter. "The relevant data is then logged in a ProdDB (PEM database). Formulae and raw material data are stored in a production database. A production website has been developed for raw material and formula inputs as well as tracking information. A SAP interface table had to be designed for communicating product quantity produced and consumed."
A database connection .net object was developed by Advansys to ease the integration with the production database. A scanner driver was written to read UDP packets from the scanner RS232 to UDP converters. This scanner driver then updates the production database with the scanned data.
Benefits
* AEL now has an accurate tracking system on which the company and its customers can rely.
* Improved competitive positioning.
* No more paperwork means less human error and improved operator confidence.
Conclusion
The new raw material and product tracking system at AEL's Initiating Systems Automated Plant is helping the company maintain its century-old formula of agility in dealing with market and technological developments. Accurate and rapid backtracking is helping to pinpoint and isolate problem areas faster than ever before and to continuously improve on product quality while minimising waste and evaluating raw material specifications. The new tracking system is helping to keep the wheels of industry turning more effectively at a time when it needs it most.
For more information contact Deon van Aardt, Wonderware Southern Africa, 0861 WONDER, deon@wonderware.co.za, www.wonderware.co.za
Credit(s)
Further reading:
Predictive analytics for artificial lifts
September 2020, Emerson Automation Solutions , IT in Manufacturing
Machine learning and artificial intelligence applications in artificial lift systems have seen a growth in importance recently and are no longer a nice to have, but essential tools for well optimisation.
Read more...
---
Making Machine-as-a-Service a reality
September 2020, RJ Connect , IT in Manufacturing
Using cloud-based software, machine builders can access their machines anytime, allowing connections to be set up to link the machine builders and their clients.
Read more...
---
Validation goes digital
September 2020, Siemens Digital Industries , IT in Manufacturing
CVal allows customers in the pharmaceutical industry to produce digital, auditable plant documentation through efficient data handling across all disciplines using a central database and object orientation.
Read more...
---
The Eight Commandments to digitising your shop floor workforce
September 2020 , IT in Manufacturing
Digitise your shop floor workforce and bundle insights, examples and lessons learned from PwC's experience in digital transformation into eight practical commandments.
Read more...
---
The digital twin explained
August 2020, Yokogawa South Africa , IT in Manufacturing
The digital twin defined
A digital twin is a virtual, digital copy of a device, system, or process that accurately mimics actual performance in real time, is executable, can be manipulated, and allows 
...
Read more...
---
Aguru trials Safe-Trace Contact Tracing at Adcock Ingram
August 2020 , IT in Manufacturing
Aguru Business Solutions (Aguru), a company specialising in automation and digital transformation advisory and project management services, has successfully completed a Proof of Concept (PoC) trial of 
...
Read more...
---
The Fourth Industrial Revolution
July 2020 , IT in Manufacturing
Read more...
---
Smart engineering directly in the cloud
June 2020, Beckhoff Automation , IT in Manufacturing
PC-based control is an open, central control platform that integrates a full range of machine functionality and optimally supports the implementation of highly efficient IoT-based automation strategies. 
...
Read more...
---
Creating specific SensorApps
June 2020, SICK Automation Southern Africa , IT in Manufacturing
Create individual SensorApps without programming skills and solve new automation tasks easily. Starting at the end of the year, this will all be possible in the SICK AppStudio, part of the SICK AppSpace 
...
Read more...
---
Mobile robots speed production at new smart factory
July 2020, Omron Electronics , IT in Manufacturing
A dozen industrial robots, each in individual workstations or cells, perform different steps in the manufacturing process. However, to attain the high efficiency, safety, and convenience of a modern 
...
Read more...
---