printer friendly version
AEL prepares for a blast
September 2009
IT in Manufacturing

There are few industries that demand more focused attention than the manufacture of explosives. Reliability, accuracy, safety and predictability are top of the agenda for the manufacture of detonators since they start the explosion process and are responsible for its timing and precision. AEL saw the need for a raw material and product tracking solution that would eliminate process variability while providing traceability into the composition of product batches.
Background
At the Initiating Systems Automated Plant (ISAP), AEL manufactures detonator assemblies consisting of raw materials, delay powders, delay elements, tubes and shock tubes.
Previously, the batch tracking of raw materials and products used in the manufacture of detonators was done with a paper-based system which was prone to human error. It was time for a change and with the business objectives of improving customer relations and AEL's competitiveness as well as consolidating the use of raw materials the company decided that a greater degree of automation was desirable.
Any chosen solution would also have to meet the operational requirements of improving product quality (stop faulty products in their tracks), tracking back from the customer into the batch process to determine the cause of any product failure, decrease human error and assist in the evaluation of the properties and performance of raw materials used in production.
Solution selection
AEL chose system integrator Advansys for the implementation because of previous experience and their wide knowledge of the Wonderware product range. AEL had previously selected Wonderware's Production Events Module (today part of the Wonderware Equipment Operations Module) to capture realtime process data, link the batch process to execution and to provide detailed batch data reports for analysis.
The Production Events Module would track what material was consumed and produced by the process and would work in conjunction with Wonderware's Historian, System Platform (Galaxy Repository, Industrial Application Server) and dual-redundant Application Object Servers.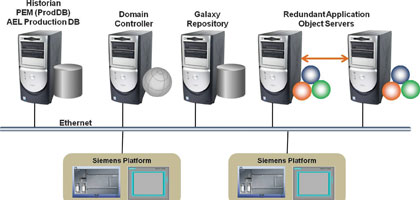 Topology of the new raw material and product tracking system at AEL
Implementation
"In my opinion, the ability to develop templates which suit most of the tracking functions needed as well as their re-usability are two of the most outstanding features of the underlying ArchestrA technology," says Advansys engineer Braam Venter. "Another highlight was the ease of use and the ability to integrate with the Historian .NET components."
Advansys used a top-down approach that included addressing the operator interfaces which consisted of existing WinCC Flexible touch panels that could only communicate with the PLC. This meant that all the operator instructions had to be routed through the PLC, which led to the development of standard screens with text fields to view messages from the Industrial Application Server. The ability to manage text messages and HMI data from within the Industrial Application Server reduced implementation and commissioning times.
Realtime process data is captured at each production event and this can then be used to analyse if a certain batch is faulty. A production database was implemented for raw material inputs for the production personnel as well as formula management for the various delay powder recipes. This database is used as a scanner interface between the Industrial Application Server and the scanners at various production screens.
"The Industrial Application Server is used to drive the production processes via a PLC and WinCC Flexible touch panels," explains Venter. "The relevant data is then logged in a ProdDB (PEM database). Formulae and raw material data are stored in a production database. A production website has been developed for raw material and formula inputs as well as tracking information. A SAP interface table had to be designed for communicating product quantity produced and consumed."
A database connection .net object was developed by Advansys to ease the integration with the production database. A scanner driver was written to read UDP packets from the scanner RS232 to UDP converters. This scanner driver then updates the production database with the scanned data.
Benefits
* AEL now has an accurate tracking system on which the company and its customers can rely.
* Improved competitive positioning.
* No more paperwork means less human error and improved operator confidence.
Conclusion
The new raw material and product tracking system at AEL's Initiating Systems Automated Plant is helping the company maintain its century-old formula of agility in dealing with market and technological developments. Accurate and rapid backtracking is helping to pinpoint and isolate problem areas faster than ever before and to continuously improve on product quality while minimising waste and evaluating raw material specifications. The new tracking system is helping to keep the wheels of industry turning more effectively at a time when it needs it most.
For more information contact Deon van Aardt, Wonderware Southern Africa, 0861 WONDER, deon@wonderware.co.za, www.wonderware.co.za
Credit(s)
Further reading:
Industrial Ethernet switches reflect ongoing evolution at the IIoT 'thin edge'
January 2020 , IT in Manufacturing
Today's digital transformation strategies require data connectivity throughout the architecture to fulfil the quest for improved operations.
Read more...
---
RS Components introduces 4ZeroBox IIoT development system
January 2020, RS Components SA , IT in Manufacturing
RS Components has introduced the 4ZeroBox IIoT unit from Italian manufacturer TOI. 4ZeroBox is the hardware component of TOI's 4ZeroPlatform, a plug-and-play data gathering, processing and reporting system 
...
Read more...
---
IFS study reveals AI investments looming on the business horizon
January 2020 , IT in Manufacturing
Global enterprise applications company, IFS, has announced the findings of a research study into the attitudes and strategies towards artificial intelligence (AI) among business leaders. The study polled 
...
Read more...
---
New Mindsphere app from Siemens
January 2020, Siemens Digital Industries , IT in Manufacturing
With Predictive Services for Drive Systems, Siemens presents a standardised extension to local service agreements. Based on the new Mindsphere Predictive Service Assistance app, it makes maintenance more 
...
Read more...
---
Schneider Electric brings digital competence to mining applications
January 2020, Schneider Electric South Africa , IT in Manufacturing
Schneider Electric is dedicated to the deployment of digital technologies in mining to address the rising pressures on business sustainability and reduced energy consumption. "The organisation has invested 
...
Read more...
---
Micromine assists mining operations in the Industry 4.0 era
January 2020 , IT in Manufacturing
Global trends such as Industry 4.0 are transforming the traditional methods deployed to extract ore from rock. Mining operations are instead looking at innovations such as automated drilling in high risk 
...
Read more...
---
11th annual MESA Africa conference
January 2020 , IT in Manufacturing
I recently attended the MESA conference held at the Zulu Inyala Country Manor.
Read more...
---
Digital twin allows process simulations
December 2019, Siemens Digital Industries , IT in Manufacturing
The high-tech company Grenzebach's portfolio includes the simulation of material flow in complex plants in the glass industry, which it achieves using Siemens simulation solutions. Together, the two companies 
...
Read more...
---
Game-changing digital solutions for mines
December 2019, SKF South Africa , IT in Manufacturing
With digitalisation creeping into the mining industry and transforming day-to-day operations, this sector is enhancing its Industry 4.0 operation and process compliancy. As a preferred supplier of premium 
...
Read more...
---
Protect critical infrastructure and manufacturing plants
December 2019 , IT in Manufacturing
As manufacturers around the world analyse and embrace the importance of being more connected to the IIoT, cybersecurity experts caution that the benefits of being interconnected come with a warning, and 
...
Read more...
---