printer friendly version
First Viznet application launched in South Africa
July 2005
SCADA/HMI
Specialised Data Application Solutions (S-DAS) is Adroit Technologies' first OEM Viznet industrial information portal partner in South Africa. S-DAS is using the Viznet framework for the rapid development and deployment of realtime applications. With the new Adroit Technologies product written for the .NET framework, S-DAS are free to concentrate on the value-add portion of the application while the Viznet industrial information portal takes care of all the connectivity, security and distribution.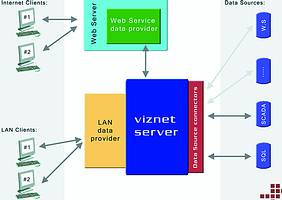 VIZNET logical deployment diagram
S-DAS offers business information solutions to customers with remote and mobile business assets throughout Africa. The company's focus is to provide end-to-end telematics across a wide range of applications including agriculture, utilities, container security management and mobile asset monitoring fields.

S-DAS Data centre
Diverse range of IT complexity
Historically, a major challenge for telematics solution providers lay in presenting and disseminating business information to a diverse range of customers. From farmers with limited IT knowledge, a single computer, no formal network facilities and analog dial-up to the Internet to large corporates with very specific solution requirements and complex networks structures across vast geographic areas.
A further challenge lay in offering end-to-end telematic solutions across such a wide range of applications and the cost usually implied in developing and implementing customised solutions, particularly on the software side.
"In telematics every customer's requirement is unique. Although customisation can occur in field hardware, the majority of customisation takes place in the software in visual components such as maps, tables, graphs, and so on. With legacy software it is expensive to change code and achieve this level of customisation," says Bokkie Fourie, managing director of S-DAS.
Derived from the diverse monitoring and control requirements of three different applications, namely, centre pivots (in agriculture), container security and utilities, S-DAS found a suitable solution partner in recently launched Viznet. Using Viznet, S-DAS were able to provide solutions for these distinct problems facing their clients.
Centre Pivots Farmers wanted the ability to remotely monitor operational and security parameters and control the centre pivots. Using Viznet in combination with other technologies, S-DAS developed a platform from which farmers can monitor and control their assets either via a cellular phone or an Internet connected PC.
Container Security S-DAS developed this solution for a client offering services to shipping companies and international customs departments. To prevent smuggling of contraband, the solution monitors and reports breaching of cargo containers.
To accomplish this, data is collected from containers via satellite. It is combined and visualised in Viznet with data from other disparate sources from various organisations and clients over a wide geographic area. Ultimately the solution is hosted on a number of Viznet servers, located on different continents displaying information as if obtained from a single data source.
Utilities Requirements for this solution included security monitoring, access control and household electricity consumption. From a single control room operators can monitor the security of utility enclosures, manage access control of maintenance personnel as well as have access to actual electricity consumption of individual households in specific geographic areas. The capabilities of Viznet will also allow other users within the client organisation to access data from their own PCs through the smart client interface.
To meet these disparate requirements, S-DAS were looking for a supervisory control and data acquisition (scada) type solution for remote applications with an annuity income model (a monthly Service Level Agreement) where development and interfacing could be done on a .NET platform. The company found exactly what they were looking for in the Viznet Industrial Portal.
Using Adroit's new visualisation environment, S-DAS developed monitoring, process systems, and process control capability to meet all three of the disparate application requirements with capabilities for monitoring, control and event notification on the Viznet platform.
Viznet's innovative visualisation framework is built on Microsoft .NET technology. It is a unique user interface (UI) environment providing a rich integrated development environment (IDE) that is easy to use, employing simple drag and drop functionality, while retaining exceptional functionality, such as multiple language support, levels and layers, .NET scripting, and vector graphics being some of the features supported by graphic forms.
"In Viznet we have such a powerful solution that we do not need to look elsewhere. Developers with a C# background can build a solution very quickly. It is a rapid development and rapid deployment capabilities built on the Windows .NET framework," says Fourie.
The association of data to visual controls is done using a simple drag and drop approach or using scripting, reducing the time to build integrated interfaces quickly and easily. From within a script users can access and manipulate data and graphics components as the architecture exposes all properties and makes them available to the scripting engine, VB.NET and C# are amongst the languages supported.
For S-DAS, Viznet met their two major selection criteria, namely, the product is able to hook onto disparate data sources, enabling S-DAS to combine telemetry data with other sources, such as CRM and financial information, to develop a solution on the front end, and secondly, its ability to provide data and solution hosting.
Using Viznet, S-DAS now offers solutions that collects data at remote assets, reports it in realtime, and presents the data as valuable business information on the customer's PC.
As a telematics solution provider, S-DAS's 'technology agnostic' strategy allows them to collect data from disparate assets using various hardware interfaces and transmitting data via different communications platforms including GSM, satellite, RF and terrestrial networks.
Referred to as small data packet applications (SDPA), this collected data is transmitted or received in discrete packets - usually via wireless communications platforms (eg, GSM or satellite), and hosting and management of the collected data is executed in SQL databases within a secure server environment.
With the Viznet Industrial Portal, S-DAS is able to cut maintenance costs by eliminating the need to sustain different products. The single software solution platform also enables rapid development and deployment of customised solutions to clients across various network platforms including the Internet, LAN and/or WAN environments, thereby enabling remote access to data across disparate data sources, and cutting development costs and time for systems integrators.
Credit(s)
Further reading:
Will the IIoT kill scada, or lift it to new heights?
Technews Industry Guide: Industrial Internet of Things & Industry 4.0, Adroit Technologies , SCADA/HMI
Dave Wibberley, managing director, Adroit Technologies, shares his views on where scada is headed in the era of the Industrial Internet of Things.
Read more...
---
Bridging the gap to the Industrial Internet of Things
Technews Industry Guide: Industrial Internet of Things & Industry 4.0, Adroit Technologies , IT in Manufacturing
The Adroit Enterprise IIoT platform is a customisable software platform that enables users to deploy and integrate cloud-based sensor data with normal telemetry data using protocols such as MQTT, Sigfox 
...
Read more...
---
Adroit brings M2M, IoT and IIoT to the industrial world
June 2019, Adroit Technologies , Industrial Wireless
Combining the new IIoT capability with GIS interfaces, situational awareness and alarm management data, all can use the big data and analytical processing capability of Adroit's standard scada Intelligence software package to derive greater insights and value from their processes.
Read more...
---
Collaborative robots
Africa Automation Fair 2019 Preview, Cobots , SCADA/HMI
Cobots is showcasing its range of collaborative robots. These robots make it simple and affordable for humans and machines to work together without a safety cage. Cobots can easily be implemented in small 
...
Read more...
---
Factory automation solution
Africa Automation Fair 2019 Preview, Adroit Technologies , IT in Manufacturing
As the official authorised distributor for Mitsubishi Electric's Factory Automation, Adroit Technologies is profiling a range of products including PLCs, drives, HMIs and robots. These together make possible 
...
Read more...
---
Adroit chooses Sigfox for smart water project
May 2019, Adroit Technologies , IT in Manufacturing
Adroit Technologies has chosen the Sigfox IoT network for a large municipal Smart Water IoT project. Managing director, Dave Wibberley, states that the company is excited about being involved in this 
...
Read more...
---
Machines that manage real-time resources
Africa Automation Fair 2019 Preview , SCADA/HMI
iBOS Industrial is changing the way we maintain and respond to machine level events with technology that effectively manages real-time resources (people) from the machine level.    Health and safety, 
...
Read more...
---
New benchmark scada software platform
March 2019, Adroit Technologies , SCADA/HMI
MAPS 4, the latest scada solution for control and visualisation from Adroit Technologies, extends connectivity options, adds user tools and increases the scope of its built-in functionality. The result 
...
Read more...
---
Operator guided solutions
December 2018, Adroit Technologies , IT in Manufacturing
At parts assembly production sites, where parts are picked from stock, it is almost inevitable that picking mistakes will occur. As parts become more complex and their component types increase, the problem 
...
Read more...
---
Inductive Automation's I­gnition technology offers potential to ­disrupt the market
July 2018 , SCADA/HMI
'Ignition by Inductive Automation' is an industrial software platform with a variety of modules that can be combined to create custom HMI, scada and MES solutions.
Read more...
---