printer friendly version
Electrex 2002 scores through co-location
April 2002
News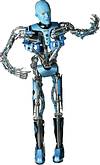 Simply stated, the inaugural co-location from 13–15 March of four synergistic events in Reed Industrial Exhibition's portfolio was a resounding success. For the first time, Electrex 2002 (South Africa's international process control and automation exhibition) was run concurrently with the Fluidtrans and Airtech, Logistics and Frigair trade exhibitions at Gallagher Estate in Midrand, in what was billed as 'the largest gathering of industrialists on show on the African continent'.
"The results indicate that the event lived up to its billing; the response from both visitors and exhibitors was very positive," said Reed Industrial Exhibitions GM Tom McCafferty. "The decision to co-locate was prompted by an analysis of visitor data collected at previous versions of these exhibitions. Demographics showed that these exhibitions were attracting, by and large, the same buyers and decision makers. "We were convinced that by co-locating the shows, as opposed to hosting them as standalone events, all exhibitors were likely to benefit from higher attendance."
That contention was borne out by interim visitor statistics collected at the various registration points: At close to 8000, overall attendance was higher than previously recorded, but what was even more significant was the fact that 42,4% stated that they were there to visit all four shows. "Exhibitors reported that the crossover interest among buyers was high, opening new business opportunities for them in unexpected areas," said McCafferty.
Of the visitors that indicated their specialist interest, more than 32% stated that they were there to attend Electrex 2002. "That means that 74% of all visitors toured Electrex," he said. The 'quality' of visitors to Electrex was also high, with 77,22% stating that they either made (40,9%) or directly influenced (36,32%) their companies' purchasing decisions. While most of the visitors were drawn from Gauteng (78%), buyers from the other eight provinces were very evident, with particularly sizable contingents having travelled from Mpumalanga, KwaZulu-Natal, the North West Province and the Western Cape.
There was also a significant international presence, with 30 foreign countries represented. These included, Angola, Australia, Botswana, Cyprus, Denmark, England, Eritrea, France, Germany, Ghana, Israel, Italy, Japan, Kenya, Lesotho, Malawi, Mauritius, Mozambique, Namibia, Rwanda, Scotland, Singapore, Swaziland, Sweden, Taiwan, Thailand, Uganda, USA, Zambia and Zimbabwe.
Electrex visitors were drawn from a broad spectrum of the economy, but the largest contingents represented manufacturing/engineering (20,6%); automation & control suppliers (11,08%); mining/minerals processing/quarries (10,9%); measurement & instrumentation suppliers (7,87%); and the chemical/plastic/fertiliser industry (7,41%). Products that they were chiefly interested in seeing included, instrumentation (45,52%); process control (42,77%); maintenance (26,28%); process measurement (22,87%); computer technology (22,62%); SCADA (22,24%); and test & measurement equipment (21,7%).
"The success of this combined event augurs extremely well for future co-locations," said McCafferty. "We will be analysing the data very carefully to improve the mix even further for the next time."
Tom McCafferty, Reed Exhibitions
011 886 3734
Electrex 2002 stand award winners:
Best Large Stand - Siemens
Highly Commended - Alpret
Best Medium Stand - Moore Process Controls
Highly Commended - AGE of Africa
Best Small Stand - Varispeed
Highly Commended - Keops Isis
Electrex 2002 exhibitor comments
Overall, exhibitors were very positive, with the majority commenting favourably about the crossover interest among industrial buyers.
Alan Wynn; Vega Electronics:
"Electrex has been very, very good. We have got some really good leads, and a lot of the visitors are looking for specific solutions. I believe the co-location is really working."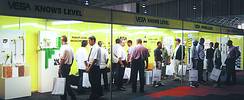 Rodney Topham; RET Automation:
"We have seen some good quality visitors, engineers from Daimler Chrysler, Sasol and others. Our objectives are to raise market awareness and build our brand and we will probably achieve that. I think the co-location is great."
Hannes Ackermann; Siemens:
"The show has gone very well for us; we have had a quite surprising number of enquiries, especially for our automation and switchgear products. There have definitely been quality visitors - MDs and technical directors. We have definitely achieved our show objectives."

Rob MacKenzie & Carl Reiche; Phoenix Contact:
"It has been a good show; our visibility has been increased. The quantity and quality of leads we have generated is good. We have had definite enquiries from people that were looking for specific solutions, which will help us to consolidate and increase our turnover. The co-location has definitely worked, and it has probably had a positive impact on the visitors as well."

Alex Leggat, Adroit Technologies
"We enjoyed exciting response from show visitors for the launch of our new Proudly South African image and generated a fair number of leads."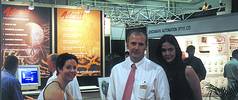 Jackie Lockhart, Circuit Breaker Industries
"Electrex 2002 was the first time that Circuit Breaker Industries and Mitsubishi Electric have exhibited together since CBI was appointed official distributors of factory automation, motor control and switchgear. There was much positive feedback regarding the two companies, and it was an excellent brand building exercise. Thank you to all at 3-D Design and Reed Exhibitions for a very successful show!"

The robot at Electrex
The electropneumatic representation of a human being, Tron-X, was brought to South Africa to showcase the unique capabilities of Festo's proprietary technologies - in valves, servo-pneumatics, and electronic controls - has successfully aroused public curiosity as to how the robot actually operates.
Tron-X' unique character lies in the methods used to emulate the movements of the human body. Developing a control system capable of providing coordinated execution of various commands was the first step in creating the impressive phenomenon, as it allows the robot's active joints to behave in a similar fashion to natural biological systems. Just like the human body, many different joints have to interact and cooperate to perform a task as simple as shaking hands.
Within this control system, Festo SPC-200 servo-pneumatic controllers provide a closed-loop control function, while Festo MPYE proportional pneumatic valves ensure precise response from the cylinders. Linear converters are fitted to the robot's body parts to deliver feedback signals, thereby allowing closed-loop control, employing the latest nonlinear model adaptive techniques. State-variables of velocity, acceleration and deceleration are user-settable and are limited to give realistic movement.
The control system feeds digital signals to the CP-valves, where type EG pin cylinders convert the signals into high-speed synchronised mouth- and eye movements. Type DSNU double-acting cylinders make individual finger movement possible.
Manufactured from stainless steel, most of Tron-X' weight is concentrated in its upper and lower torso. Here, larger DSW cylinders ensure fluent movement, again controlled by MPYE proportional valves.
Richard Teagle, MD Festo
011 971 5500
Further reading:
From the editor's desk: Is additive manufacturing poised to go mainstream?
Technews Publishing (SA Instrumentation & Control) News
As digital manufacturing technology pushes its way further towards the production floor, additive manufacturing (3D printing) is emerging as a viable option to complement the more traditional methods 
...
Read more...
---
Obituary: Steven James Meyer
January 1957 - January 2022
Technews Publishing (SA Instrumentation & Control) News SAIMC
It is with deep sadness and shock that we announce the sudden death of SA Instrumentation & Control Editor, Steven Meyer. Steven joined Technews in October 2007 in the position of Deputy Editor. His 
...
Read more...
---
ESG certified as Level 2 contributor to B-BBEE
News
Invicta Holdings Limited's Engineering Solutions Group (ESG) has achieved recognition as a Level 2 contributor to B-BBEE.
Read more...
---
Abrasive Flow Solutions celebrates its first year of business
News
Abrasive Flow Solutions (AFS) – specialists in the design and manufacture of slurry related valves – celebrates its first year of business.
Read more...
---
Microsatellite production gets a boost in Stellenbosch
TANDM Technologies News
Dragonfly Aerospace is investing in a 3000 square metre design and manufacturing facility in Techno Park, Stellenbosch.
Read more...
---
Danfoss doubles down on energy efficiency
Danfoss News
Danfoss encourages decision makers to act at COP26.
Read more...
---
Zest supplies SA's new gas helium project
Zest WEG Group Africa News
Zest WEG is supplying locally manufactured transformers, switchgear and substations to South Africa's onshore natural gas and helium project, Tetra4.
Read more...
---
Emerson announces commitment to venture capital initiative
Emerson Automation Solutions News
Emerson Ventures to focus on disruptive discrete automation solutions, environmental sustainability technologies and industrial software.
Read more...
---
Valve & Automation's new Secunda Valve Repair Centre
Valve & Automation News
On 1 November 2021, Valve & Automation's Secunda Valve Repair Centre opened at 18 Kingfisher Street, Ext 57, Secunda, Mpumalanga.
Read more...
---
SECO Process Instrumentation appointed East Rand agent for Yokogawa
SECO Process Instrumentation News
SECO Process Instrumentation, a consulting company in the fields of instrumentation, moisture analysers, pneumatics and VSD solutions, has recently been appointed as the East Rand agent for Yokogawa.
Read more...
---