printer friendly version
Unleash the power? To switch off, or not to switch off
February 2002
Electrical Power & Protection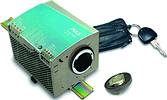 Reducing the range of the power supply models held in stock can be difficult. Some of the characteristics simply cannot be combined in one model such as, for example, a power range between 50 and 1000 W and an output voltage range of between 5 V and 48 V, without the efficiency level dropping through the floor...
But these seem to be more or less the only unfulfilled wishes from the power supply specialist PULS regarding the new SilverLine SL20.310 (24-28 V/480 W) and SL10.300 (24-28 V/240 W) power supplies. Actually, the Munich-based firm has now succeeded in combining two fundamentally different load types in one unit and giving the user the choice - depending upon the application - as to what he wishes to do with the 'power': In the event of an overload should power be unleashed for as long as is required? - or, in the event of an overload, is it better to control it? - in other words to switch off the unit until it is reactivated externally.
The new units do indeed have two fundamentally different overload characteristics, either of which may be selected by the user via a plug-in jumper (with easy external access): the OVL continuous mode and the fuse mode.
If the jumper is inserted in the position for OVL continuous mode, the power supply initially activates its 20-25% power boost in the event of an overload. This means that if the load is satisfied with approximately 1,2 times the rated current for approximately one minute, the unit's output voltage does not decrease; if additional loads are operated in parallel there will be no drop in supply voltage.

Adjustable: Via the right jumper – with easy access on the underside of the unit – one can choose between OVL fuse mode and OVL continuous mode. The left jumper is used to activate the even load distribution between PSUs in parallel mode
If this current is still insufficient for the load - a machine, a motor or a DC/DC converter for example - or the load needs longer to start up, the power supply gives way and unleashes the power. It delivers more current: Up to 28 A on the SL20, up to 18 A on the SL10, whilst simultaneously reducing the output voltage in order to protect itself from overheating. With regards to parallel loads, it is important to note that a control unit running off the same supply might now also identify the overload status and perhaps interrupt normal operation; if it is possible that this operating status may arise, then in this case, one should operate any control unit via its own dedicated power supply. In contrast to other units, however, PULS power supplies do not switch off even in the event of a continuous overload and will not be damaged. This means users can also start heavy loads that draw a very high starting current but, during operation, need far less power, often removing the need for an oversized power supply.
Positioning the jumper in the OVL fuse mode gives the unit an internal electronic automatic fuse on the secondary side monitoring the output voltage. If the unit is overloaded the output voltage falls below its nominal value; if this status is retained for more than 5 s the fuse is triggered, switching off the output completely. The unit only starts to deliver power again if it is reset externally; the unit status is indicated externally by a flashing red LED. The unit is reset either via a reset button on the front of the unit or by the power supply being disconnected from the mains for about one minute.
The second option also enables the power supply to be reset via a logic control as required, with the help of contactors. According to information from PULS development engineers, they are thinking about installing a corresponding logic input. In addition, they are also considering an option for switching the unit from OVL continuous mode to fuse mode, whilst it is in use, via an external logic or on a remote controlled basis. This will enable, for example, a motor to be initially started without a fuse preventing this from happening, but during operation, it will be reliably protected via the internal automatic fuse. The new concept thus offers completely new and highly attractive prospects.
Incidentally, although the integrated electronic fuse operates on the basis of a different principle to external automatic fuses, it responds just as quickly as those and is considerably more reliable. Even an automatic circuit breaker with the fast Z characteristic only responds in fractions of a second if the current passing through it reaches 2-3 times the fuse value. At a lower current, the response time of these automatic circuit breakers also extends from several seconds, up to the minute range and creates a very wide response spread on the basis of the thermodynamic principle.
By contrast, the internal fuses on the two new SilverLine power supplies monitor the output voltage of the power supply and switch them off if this output voltage falls below the pre-set rated voltage for more than 5 s; the spread here is minimal and is more likely to be caused by temperature influences than component tolerances.
In addition to the switchable overload characteristic, the new SilverLine power supplies also have a new feature on the primary side: Although they are three-phase units they are equipped with internal input fuses, obviating the need to also have automatic fuses on the primary side. In other words, you can now completely operate the power supplies without any external fuses. And this facility is available worldwide, even in the USA with the endorsement of the UL - thanks to what is undoubtedly the most comprehensive approvals package on the market (incl CB Scheme and even EN 60204!)
So, back to the question: How can a company reduce the wide range of power supplies that it has to keep in stock?
PULS believes that regardless of the overload response required, the requirements may be met within a performance category with one single model, particularly since a whole range of additional features are geared towards achieving this objective - without driving the cost much higher.
Features include the three-phase, wide-range input (3-phase AC 400...500 V) which, at full output performance on the SL10.300 and half output performance on the SL20.310, is able to permanently withstand the loss of one phase without damage, problem-free parallel operation with even load distribution between power supplies (including load surges). Dimensions are compact, with proven, sturdy mechanics.
Credit(s)
Further reading:
Cut the complexity of panel design
September 2019, ElectroMechanica , Electrical Power & Protection
A low-voltage electrical distribution system design to reduce the complexities often associated with panel design is available from leading local supplier ElectroMechanica (EM). Quadro+ from Hager combines 
...
Read more...
---
Ultra slim DIN rail power supplies
September 2019, Vepac Electronics , Electrical Power & Protection
XP Power has announced the DSR range of AC-DC DIN rail power supplies approved for industrial control systems and information technology equipment applications. These versatile supplies provide reliable 
...
Read more...
---
Oil dielectric RF termination loads
September 2019, Comtest , Electrical Power & Protection
For maximum process repeatability and consistency, modern plasma applications require precise RF power regulation and control. A key component in ensuring accurate and repeatable RF power delivery to 
...
Read more...
---
Outsmarting the DC switch arc
August 2019, Phoenix Contact , Electrical Power & Protection
Trouble-free switching even of higher DC loads up to 250 VDC and 10 A can be realised by means of selecting a special coupling relay, preferably with blowout magnet.
Read more...
---
Movidrive for screen filters
August 2019, SEW-Eurodrive , Electrical Power & Protection
An industrial water filtration specialist that has used gearmotors from SEW-Eurodrive for many years has adopted its Movidrive inverters with CMP servo motors and customisable iPOS software for its latest 
...
Read more...
---
Fast payback on steam cogeneration
August 2019, Zest WEG Group , Electrical Power & Protection
Fast payback on steam turbine cogeneration systems makes this power source an attractive option across numerous industries. This is according to Leandro Magro, manager steam turbines at Zest WEG Group, 
...
Read more...
---
Power-factor correction to cut ­energy costs
August 2019, ElectroMechanica , Electrical Power & Protection
Power-factor correction is a mechanism to reduce operating costs associated with electricity consumption. Some of the key advantages here are reduced kVA charges, improved plant efficiency and network 
...
Read more...
---
Battery monitoring for power utilities
August 2019, Comtest , Electrical Power & Protection
Comtest now offers the Midtronics Cellguard ELS+ electrolyte level monitoring system, an innovative solution for power utilities' critical power reliability. This customer-driven product assures reliable 
...
Read more...
---
Motor repair in Zambia keeps mine pumping
August 2019 , Electrical Power & Protection
Marthinusen & Coutts' Cleveland Engineering Services Division, a division of Actom, recently teamed up with the Marthinusen & Coutts Kitwe facility in Zambia to rehabilitate medium voltage pump motors 
...
Read more...
---
Dry-type transformer excels on mobile process plant
August 2019 , Electrical Power & Protection
Four dry-type transformers from Trafo Power Solutions have been proving their worth on a mobile process plant at a Sierra Leone mine. So successful have they been that the customer has ordered six more 
...
Read more...
---