printer friendly version
Pressure measurement technology in hygienic and sterile environments
July 2001
Pressure Measurement & Control
Pressure transmitters for the food and pharmaceutical industry must meet the most demanding hygienic and aseptic requirements. Perfectly flush ceramic diaphragms enable optimal cleaning and provide operational reliability and high quality measurement.
In spite of the differences in the production and processing of foodstuffs and in the preparation of pharmaceuticals, these processes have basic things in common with regard to hygiene and sterilisation. Milk, beer and juices on the one hand and medicines and vaccines on the other require vastly different processing methods but they all must ensure that the product is not damaged and that its original properties are retained. The hygienic concept determines not only the microbial content of the product but also its biological quality. The layout of the production facility must therefore guarantee that microorganisms cannot propagate and that production and cleaning can be carried out reliably under reproducible conditions.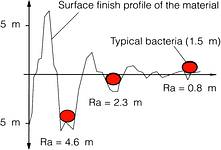 With surface finishes below ca. 1 µm, it is difficult for relevant bacteria to get a 'mechanical' grip on the surface of a material
Perfectly flush
The purpose of CIP cleaning is to overcome the electrostatic and mechanical binding energy of deposited pollutants. The energy needed to remove such deposits is provided through chemical, mechanical and thermal means. Within certain limits, these methods are interchangeable. Pressure transmitters with perfectly flush mounting and high surface quality are of great significance in the food and pharmaceutical industry. Nevertheless, they are not yet the standard. Commonly design constraints result in pressure transmitters being used that have a measuring cell set back and therefore not completely flush.
But the special oil-less, ceramic-capacitive pressure transmitters D84 and D94 for food and pharmaceutical applications are making an impact in this area. Thanks to their flush design, they behave as if they were a part of the polished vessel wall. The surface finish of the parts contacting the medium has an Ra roughness value less than 0,7 mm. The applied, FDA approved form seals of Viton or EPDM assure absolute gapless fitting, and allow inspection and, if necessary, easy replacement by the user.
In CIP cleaning processes, temperatures up to ca. 80°C are common, whereas in SIP processes hot steam up to ca. 140°C is applied, giving rise to pressures up to 250 kPa (2,5 bar). Besides water, acids (to remove mineral deposits, eg milk incrustation, boiler scale) and caustic solutions (to soak and dissolve organic substances, eg proteins, fats), surfactants (to reduce surface tension and hold foreign matter in suspension) are also used. Typical cleaning agents are, for example, nitric acid, phosphoric acid, sulphuric acid, hydrochloric acid, sodium hydroxide and chlorinated lye, mixed in different concentrations and at different temperatures. It follows that pressure transmitters must be chemically resistant against a large number of different products, cleaning agents and disinfectants.
At first glance, resistance to abrasion does not seem to be very important here. However, a remarkable phenomenon came to light in, of all things, a mixing vessel for nut chocolate: the metal diaphragm of the pressure transmitter simply dissolved in the chocolate! The processing of nut chocolate proved to be a really 'rough business'. The viscous mass containing nut fragments is so abrasive that even stainless steel walls, and of course also the metallic diaphragms of pressure transmitters, are eroded.

Absolutely flush-mounting pressure transmitters for the foodstuffs and pharmaceuticals industries
Sapphire ceramic
For this problem, ceramic was the only solution: 10 times harder than steel, the ceramic diaphragm can withstand the micro erosion caused by liquids and pastes that act practically like grinding pastes. This ceramic material, called 'sapphire ceramic', was developed especially for application in the food and pharmaceutical industry. The Certec cell, made from this material, meets all the abovementioned demands. The basic material consists of 99,99% pure aluminium oxide (Al2O3) and is formed, with the addition of sintering additives, under high pressure and temperature.
Since the manufacturing process itself has a decisive effect on the properties of the end product, only a thorough understanding of ceramic manufacture makes it possible to build sensors for this kind of application. Ceramic is an ideally elastic material, is essentially free of hysteretic effects and has excellent long-term stability. These are properties that definitely cannot be taken for granted in oil-filled systems with metallic diaphragms.

Part-section showing the absolutely flush-mounting food-industry-quality process connection of an alpha-ceramic pressure transformer
Housing technology
One topic that is often underrated is housing technology, which is also a basic requirement for such applications. A common problem is condensation inside the housing of the pressure transmitter. During high-temperature cleaning processes, the air inside the housing of the pressure transmitter expands and is forced out through a filter. If a cold medium is then filled into the vessel, a suction effect (caused by the decreasing volume of the cooling air in the housing) at the filter occurs, pulling ambient air back into the housing. Depending on the humidity of the ambient air, a greater or lesser amount of moisture gets into the housing and, due to temperature fluctuations, is deposited as condensed water. The consequences are drift of the measuring cell (due to moist air in the condenser of the measuring cell) and condensed water in the electronics, ie on the terminals and plug connections. The greater the differences in temperature and the higher the humidity of the ambient air, the more serious the problem. This can only be solved by reducing the internal volume of the housing and providing special housing compartments. These design features, however, are insufficiently elaborated in the Protection Class definition, since it only outlines protection against water seepage into the instruments.
One practical solution is the IP66 housing of the D series, which has a minimised internal volume and a two-compartment construction providing separate chambers for connection terminals and electronics. It guarantees safe use of the instruments in wet areas and reliable operation under all process conditions, eg under extreme temperature fluctuations. A watertight sealing plug between the terminal and electronics compartments precludes a total failure of the pressure transmitter.
Another solution is offered by the IP 68 housing version, which has minimal internal volume and external ventilation. This version is a good choice for areas of the facility plagued by extreme humidity, water or dirt, or in areas where, for example, steam jet cleaning is done. The necessary ventilation of the pressure transmitter is directed through capillary lines built into the electrical cables. This system provides optimal protection.
To adapt the instruments to existing process connections, a variety of different versions are available, eg SMS, Tri-Clamp, DIN 11851, DIN 11864, etc. The aseptic process connections are a special feature designed to also take the hygienic requirements during installation into account.
Measuring technology
The pressure transmitters have additional features like full vacuum resistance, 100-fold overload resistance of 1 MPa (10 bar) in a measuring range of 10 kPa (0,1 bar), integrated self-monitoring of electronics and measuring cell, and measuring precision better than 0,1%. They are suitable for product temperatures from -40 to +100°C (140°/h) and have long-term stability better than 0.1% per year. The pressure transmitters are available with different electronics versions. The standard version is the HART-compatible, 4 to 20 mA two-wire system. For integration in field bus systems, the version with Profi-PA interface is also available. Both versions can be operated with the adjustment software VVO (Vega Visual Operating).
Vega Instruments SA
(011) 958 1901
Further reading:
Correct choice of diaphragm seal for a pressure gauge or transmitter
September 2021, SA Gauge , Pressure Measurement & Control
This isolation is achieved by using a pressure-sensitive diaphragm made from a material resistant to the process medium and enclosed in a system fitted to the base of the instrument. The space between 
...
Read more...
---
Pressure switches with metal bellows
September 2021, WIKA Instruments , Pressure Measurement & Control
What advantages do pressure switches with metal bellows offer and what is the basis for these?
Read more...
---
Miniature pressure sensor
August 2021, ASSTech Process Electronics + Instrumentation , Pressure Measurement & Control
Measuring just 14 mm in diameter, the new weFluxmicro pressure sensor from Wenglor meets the challenges presented by confined mounting spaces.
Read more...
---
Clean and colourful
September 2021, VEGA Controls SA , Pressure Measurement & Control
VEGA has completed its measurement technology portfolio for hygiene-sensitive processes with two new compact instrument series comprising pressure sensors and level switches.
Read more...
---
Robust pressure transmitters with IO-Link
July 2021, Turck Banner , Pressure Measurement & Control
Pressure transmitters from Turck Banner's PT1000/2000 series are now also available with an IO-Link interface and two programmable switching outputs.
Read more...
---
Ultrasonic sensor for PL d applications
July 2021, Pepperl+Fuchs , Pressure Measurement & Control
Pepperl+Fuchs has expanded its factory automation portfolio and acquired the USi safety ultrasonic sensor from Mayser, a renowned supplier of products and system solutions, many of which are relevant to safety engineering.
Read more...
---
Digital pressure gauge with IO-Link
July 2021, Instrotech , Pressure Measurement & Control
Instrotech now offers Kobold's new MAN-SC/LC intelligent digital pressure gauge with IO-Link
Read more...
---
High-performance precision manometers
May 2021, GHM Messtechnik SA , Pressure Measurement & Control
Greisinger recently launched its new handheld and fine handheld manometers, namely the G 1107 (fine) and G 1113 series, both of which offer fast performance and high accuracy.
Read more...
---
Diaphragm seal systems with Tri-Clamp
April 2021, WIKA Instruments , Pressure Measurement & Control
In sanitary applications, diaphragm seal systems ensure a safe and precise monitoring of the process pressure. WIKA therefore also offers welded units of diaphragm seal and measuring instrument with Tri-Clamp 
...
Read more...
---
Handheld manometers with precision
March 2021, GHM Messtechnik SA , Pressure Measurement & Control
Greisinger recently launched its new handheld and fine handheld manometers, namely the G 1107 (fine) and G 1113 series, both of which offer fast performance and high accuracy.
Read more...
---