printer friendly version
Kobold optimises gas burner maintenance
Technews Industry Guide: Maintenance, Reliability & Asset Optimisation 2020
Maintenance, Test & Measurement, Calibration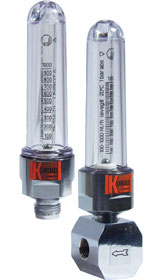 Whenever the flow of gases needs to be adjusted or monitored, Kobold's model UTS variable area flowmeter for monitoring gas burners offers a solution. This compact measuring instrument can be placed at various locations, precisely where required. Recently, the company was tasked with optimising gas burner production line monitoring in order to achieve a 'No Product Rejection' status.
The task
Lighting machine manufacturers generally require several small and one large annual maintenance sessions on their production lines. This means shutting down (completely dismantling) the production lines. All failures are to be fixed, broken or worn parts replaced, burners and valves refurbished and production lines reassembled.
It is only after such maintenance, that production restarts. Each production phase of the renewed line must be resynchronised, each burner reset at the correct temperature and the entire production process adjusted in order to manufacture the highest-quality product. This requires not only precision but is time consuming and involves a significant quantity of reject product. The time consumed and the wasted goods cost money, which may result in a serious competitive disadvantage in the market.
Kobold's UTS solution
Production lines are equipped with UTS type variable area flow meters: one built into each gas circuit for burner control. Retrofitting of machines without major modification, even with 10-20 flowmeters, is easy due to UTS's compact design and small footprint. When a production line produces a perfect product, the process values are recorded. Following the next shutdown, and before starting, all burners are set up to the recorded values. It takes only a few seconds then to set each burner for optimal operation. Production can then be restarted in a short time and the quality of first finished product is always perfect. Total investment is returned after only a few maintenance cycles. Other typical examples include monitoring engines and the supply of laboratory equipment with different gases.
Credit(s)
Further reading:
Measure bearing vibration and temperature
June 2020, Comtest , Maintenance, Test & Measurement, Calibration
Vibration in rotating machinery is merely the back and forth movement, or oscillation, of a machine and components, such as drive motors, driven devices (pumps, compressors, etc.), and the bearings, shafts, 
...
Read more...
---
Bently Nevada's condition monitoring and protection system
June 2020 , Maintenance, Test & Measurement, Calibration
Why Orbit 60? Why Now?
Bently Nevada prides itself on a history of machine protection and condition monitoring solutions. With over 60 years of innovation, over 100 000 rack monitoring systems, and 
...
Read more...
---
C-Gap replaces current methods of CSS measurement
June 2020 , Maintenance, Test & Measurement, Calibration
Developed by Mintap, based in Perth, Western Australia, the Closed Side Setting (CSS) measurement device – the C-Gap – is now available through South African-based Control Systems Rustenburg. C-Gap offers 
...
Read more...
---
Wireless machine monitoring
June 2020, SKF South Africa , Maintenance, Test & Measurement, Calibration
SKF has teamed up with connectivity expert LumenRadio to create a new wireless monitoring system, measuring vibration and temperature. The SKF Enlight Collect IMx-1 System combines SKF's knowledge in 
...
Read more...
---
Ratchet P-Clamp from HellermannTyton
June 2020 , Maintenance, Test & Measurement, Calibration
When a heavy-duty equipment manufacturer asked HellermannTyton to devise the most effective way to attach and remove cables for additional equipment, nobody imagined that a well-trodden path would lead 
...
Read more...
---
Detect plant maintenance requirements
May 2020, ifm - South Africa , Maintenance, Test & Measurement, Calibration
The new smart ifm position sensors provide signals to alert operators before problems become critical. High resolution allows the sensors to detect even small changes in the switching area. In addition 
...
Read more...
---
BMG's products for welding fume extraction
May 2020, Bearing Man Group t/a BMG , Maintenance, Test & Measurement, Calibration
BMG's Tools & Equipment division has introduced a range of specialist products, systems and services to assist industry to create a healthy and safe work environment, by reducing the risks associated 
...
Read more...
---
Covid-19 early detection strategy
May 2020, Instrotech , Sensors & Transducers
Instrotech would like to make it known that it has a specialised early detection system on offer, that allows for fast, non-contact screening and identification of school learners, tertiary students and 
...
Read more...
---
Electromagnetic flowmeter upgrade
May 2020, Instrotech , Flow Measurement & Control
Instrotech has announced that the Kobold magnetic inductive flowmeters MIM and MIS have been upgraded and further developed as follows: Kobold MIM, for measuring and monitoring of conductive liquids, 
...
Read more...
---
Pressure-relief safety helmets
April 2020, RS Components SA , Maintenance, Test & Measurement, Calibration
RS Components has added the 3M SecureFit X5000 and X5500 Series safety helmets to its health and safety product portfolio. SecureFit helmets incorporate 3M's patented pressure diffusion technology, which 
...
Read more...
---