printer friendly version
Utility made easy
April 2020
Electrical Power & Protection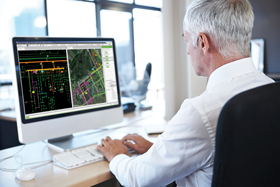 In recognition of the growing demand for reliable power provision, Schneider Electric strives to assist network operators to deliver electricity safely and efficiently. The company's Advanced Distribution Management System (ADMS) is a fully integrated smart control system which bridges operational technology (OT) with information technology (IT) to provide utilities with a modern solution for electrical network management, control, monitoring, optimisation and planning. The ADMS features six modules for the seamless operation of power systems:
• Remote control and dynamic network monitoring and management (scada)
• Advanced mathematical model, simulations, analysis, optimisation and planning of distribution network (DMS).
• Advanced mathematical model, simulations, analysis, optimisation and planning of transmission network (EMS).
• Comprehensive workflow of unplanned and planned outages (OMS).
• Control and management of generation units (PCS).
• Distribution Energy Resource Management (DERMS).
"In a world where reliable power provision is paramount, the electricity market is moving towards integrated sophisticated software products to meet customer demands," says Taru Madangombe, vice president of Power Systems, Anglophone Cluster for Schneider Electric. "Our Advanced Distribution Management System embodies the convergence of IT and OT to offer an end-to-end solution for network managers, offering real-time situational awareness and smart control."
A truly integrated system
Schneider Electric's ADMS provides one unified IT platform, one user interface, one database, and one network model (from low voltage up to extra high voltages). Additionally, the solution offers one place for all system configuration and administration, and maintenance procedures and processes.
ADMS from Schneider Electric benefits utilities and the customers they serve by improving operations and enabling the delivery of reliable power. The system helps utilities improve safety, reliability and power quality, leading to improved customer service. With ADMS, peak demand and power system losses can be reduced. Additionally, better utilisation of network facilities can be achieved, meaning fewer investments need to be made while still maintaining quality network operation.
Easy to use
The Microsoft Windows based system allows for easy administration and standardised deployment within the company's existing infrastructure, making adoption easy. For field crews on the move, ADMS also offers a Field Client mobile application deployed on iPads, touchpads, touchbooks or standard laptops, offering both online and offline modes. This gives the field crew the same awareness (network, incident and calls visualisation) and the same data as the control centre user.
Flexible and configurable
Schneider Electric ADMS scales to cover the smallest to largest networks with high performance. One example is the outage management component, which is highly flexible and configurable to the utilities' business processes and distribution size. It can be used for the management of planned and unplanned work in the distribution utilities, including outages, switching, hazards, maintenance and all other jobs required by distribution daily operation.
"We believe that ADMS will become the pervasive platform for utility and power management. It will facilitate the management of end-to-end processes in and around the control room and will be instrumental in the process of IT/OT transformation," concludes Madangombe.
For more information contact Tracey Ganas, Schneider Electric SA, +27 11 254 6400, tracey.ganas@se.com, www.se.com/za
Credit(s)
Further reading:
Electrical certificate of compliance (COC) for instrumentation: non-hazardous installations
June 2020, Everest Equipment & Control , Electrical Power & Protection
An instrument and control installation's scope of work often never makes a request for a certificate of compliance: it is assumed to be an electrical function and hence many installations are non-compliant. 
...
Read more...
---
Five tips to manage energy use while staying at home
May 2020 , Electrical Power & Protection
Covid-19 continues to impact many aspects of our lives. Many are now required to stay at home in an effort to curb the spread of the pandemic. One of the many implications of staying at home will be the 
...
Read more...
---
Holistic approach to energy security
April 2020 , Electrical Power & Protection
As South Africans settle into the routine and inconvenience of load shedding and planning their activities around shifting electricity supply, it is businesses that are taking the biggest hit through 
...
Read more...
---
Save energy costs with highly-efficient Delta VFDs
April 2020, ElectroMechanica , Electrical Power & Protection
Customers can realise significant savings on their total energy costs by replacing older motor starters with energy-efficient Delta variable frequency drives (VFDs), distributed locally by ElectroMechanica 
...
Read more...
---
Specialised transformers for renewable energy projects
April 2020, Zest WEG Group , Electrical Power & Protection
Zest WEG's local transformer manufacturing facility has supplied 36 specialised photovoltaic (PV) transformers to a solar energy generation plant in the Northern Cape. According to sales team leader, 
...
Read more...
---
Meeting the needs of the mining industry
April 2020, Varispeed (Div of Hudaco Trading) , Electrical Power & Protection
Both above and below ground, Varispeed keeps the interests of its customers top of mind, all the time. The company was recently approached by a platinum mine in South Africa to assist with a robust application. 
...
Read more...
---
Game-changing electrical accessories
April 2020, Schneider Electric South Africa , Electrical Power & Protection
In a world where products are moving from standardised to customised, today's consumers want high quality products that meet their specific requirements. Electrical accessories are no exception and Schneider 
...
Read more...
---
Schneider Electric introduces Asset Advisor for critical assets
Technews Industry Guide: Maintenance, Reliability & Asset Optimisation 2020, Schneider Electric South Africa , IT in Manufacturing
Schneider Electric has announced the availability of EcoStruxure Asset Advisor for electrical distribution and critical data centre assets, as part of the company's EcoStruxure IoT-enabled system architecture 
...
Read more...
---
EnI Electrical delivers at the sharp end of African contracts
March 2020, Zest WEG Group , Electrical Power & Protection
Usually the last contractor on site, electrical instrumentation and control (EC&I) specialist EnI Electrical puts extra effort into helping clients around Africa meet their scheduled start-ups. With 
...
Read more...
---
In-house testing of transformers
March 2020, Zest WEG Group , Electrical Power & Protection
The recent installation of an impulse voltage generator at Zest WEG's transformer manufacturing facility in Heidelberg will allow in-house testing of transformers, saving time and money for customers. According 
...
Read more...
---