printer friendly version
Save energy costs with highly-efficient Delta VFDs
April 2020
Electrical Power & Protection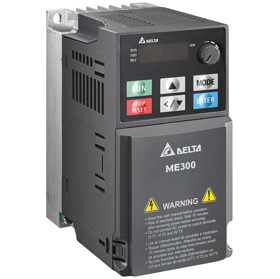 Customers can realise significant savings on their total energy costs by replacing older motor starters with energy-efficient Delta variable frequency drives (VFDs), distributed locally by ElectroMechanica (EM). This has the added benefit of assisting Eskom in reducing consumption in order to alleviate strain on the national grid.
"Energy is always a factor to consider, and should never be taken for granted. We all know the importance of energy efficiency, and the volatility of the supply chain due to the recent spell of load shedding. So now more than ever customers should be thinking about energy efficiency," comments EM product manager, William Cameron.
Delta VFDs feature ease-of-use and reliability, which makes them ideal for markets as diverse as refrigeration, agriculture and manufacturing. "Agriculture is probably the area where we can see growth, not just in the short to medium term, but long term as well. Farmers are under pressure to save where they can, and using industrial control systems to maximise efficiency is a proven way to optimise," Cameron explains.
In addition, Delta's range of control products such as PLCs and HMIs can integrate seamlessly with the VFD range. Using standard I/O or fieldbus solutions, Delta control equipment has a host of special instructions or drivers to assist the user in integrating the drive to a larger network with ease. This greatly reduces development time and, ultimately, cost.
One of Delta's high-end VFDs, the C2000 series, is a high performance Field-Orientated Control (FOC) AC drive. This drive is extremely versatile, with a real built-in PLC, numerous control options, over 300 parameters, predesigned application features, and a large LCD HMI keypad. With a power range from 0,75 to 500 kW (400 V), and a host of optional accessories, it is truly a powerful partner in industry.
Commenting on new developments for 2020, Cameron reveals that EM's much-anticipated updated catalogue will feature a host of new products, including an extended drive range to expand its footprint even further in the market.
For more information contact Karen Zotter, ElectroMechanica, +27 11 249 5000, karenz@em.co.za, www.em.co.za
Credit(s)
Further reading:
Electrical certificate of compliance (COC) for instrumentation: non-hazardous installations
June 2020, Everest Equipment & Control , Electrical Power & Protection
An instrument and control installation's scope of work often never makes a request for a certificate of compliance: it is assumed to be an electrical function and hence many installations are non-compliant. 
...
Read more...
---
Five tips to manage energy use while staying at home
May 2020 , Electrical Power & Protection
Covid-19 continues to impact many aspects of our lives. Many are now required to stay at home in an effort to curb the spread of the pandemic. One of the many implications of staying at home will be the 
...
Read more...
---
EM launches 2020 catalogue with 450 new products
April 2020, ElectroMechanica , News
ElectroMechanica has launched the latest edition of its biannual product catalogue. The catalogue covers a broad range of new developments across each of the various categories. "We place the same emphasis 
...
Read more...
---
Holistic approach to energy security
April 2020 , Electrical Power & Protection
As South Africans settle into the routine and inconvenience of load shedding and planning their activities around shifting electricity supply, it is businesses that are taking the biggest hit through 
...
Read more...
---
Utility made easy
April 2020, Schneider Electric South Africa , Electrical Power & Protection
In recognition of the growing demand for reliable power provision, Schneider Electric strives to assist network operators to deliver electricity safely and efficiently. The company's Advanced Distribution 
...
Read more...
---
Specialised transformers for renewable energy projects
April 2020, Zest WEG Group , Electrical Power & Protection
Zest WEG's local transformer manufacturing facility has supplied 36 specialised photovoltaic (PV) transformers to a solar energy generation plant in the Northern Cape. According to sales team leader, 
...
Read more...
---
Meeting the needs of the mining industry
April 2020, Varispeed (Div of Hudaco Trading) , Electrical Power & Protection
Both above and below ground, Varispeed keeps the interests of its customers top of mind, all the time. The company was recently approached by a platinum mine in South Africa to assist with a robust application. 
...
Read more...
---
Game-changing electrical accessories
April 2020, Schneider Electric South Africa , Electrical Power & Protection
In a world where products are moving from standardised to customised, today's consumers want high quality products that meet their specific requirements. Electrical accessories are no exception and Schneider 
...
Read more...
---
EnI Electrical delivers at the sharp end of African contracts
March 2020, Zest WEG Group , Electrical Power & Protection
Usually the last contractor on site, electrical instrumentation and control (EC&I) specialist EnI Electrical puts extra effort into helping clients around Africa meet their scheduled start-ups. With 
...
Read more...
---
In-house testing of transformers
March 2020, Zest WEG Group , Electrical Power & Protection
The recent installation of an impulse voltage generator at Zest WEG's transformer manufacturing facility in Heidelberg will allow in-house testing of transformers, saving time and money for customers. According 
...
Read more...
---