printer friendly version
Oval wheel flowmeters
April 2020
Flow Measurement & Control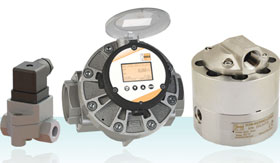 Instrotech has on offer three Kobold oval wheel flowmeters that give precise flow measurement for all viscous, non-abrasive clean liquids and can be used in a number of diverse applications, such as measurement of fuel consumption for small aircraft, motor boats and mobile power generators. Applicable media are viscous, non-abrasive, clean liquids like petroleum and other fuels (including diesel), oil and grease, ink and pastes and chemicals.
The low cost, compact stainless steel body of the DOE measures fuel consumption for OEM customers, offering different pulse output options, including one to measure pulsating flow from peristaltic pumps. Temperature measurement enables appropriate electronics to compensate for changing densities of the liquids of up to 1000 cP and the unit is accurate to +1% of readings under reference conditions.
The DON is a high end, positive displacement flowmeter, with two oval geared rotors that measure a constant volume per rotation within a precisely machined measuring chamber. With each rotation, a constant volume of liquid is measured. The rotation of the oval gears is sensed via magnets embedded in the rotors and transmits a high resolution pulse output. This signal can be processed externally via a remote display controller or PLC, or other available accessory options attached to the flowmeters. The DON can be used for liquids with different viscosities of up to 1000 cP and higher on request and is accurate to +0,2% of readings.
DON-H for high pressure features measuring ranges from 0,5 to 40 l/min with a maximum pressure of 400 bar and a maximum temperature of 120°C.
Credit(s)
Further reading:
Mini oval wheel flowmeter
April 2020, Instrotech , Flow Measurement & Control
Instrotech now offers another space miracle from Kobold for OEM customers. With an all stainless steel body and temperature measurement for fuel consumption, the DOE offers different pulse output options, 
...
Read more...
---
Flow measurement in slurry processes
April 2020, Automation & Control Solutions , Flow Measurement & Control
Emerson's Rosemount MS Slurry Sensor with the Rosemount 8782 Slurry Transmitter is a slurry magnetic flow meter specifically designed for high noise and slurry applications for use in the oil and gas, 
...
Read more...
---
Inspection system for coronavirus detection
April 2020, Instrotech , Temperature Measurement
The coronavirus and other diseases are highly infectious and transferred by sick people or contaminated objects. Globally, aircraft are one way that this virus is quickly exported worldwide. China, the 
...
Read more...
---
Kobold optimises gas burner maintenance
Technews Industry Guide: Maintenance, Reliability & Asset Optimisation 2020, Instrotech , Maintenance, Test & Measurement, Calibration
Whenever the flow of gases needs to be adjusted or monitored, Kobold's model UTS variable area flowmeter for monitoring gas burners offers a solution. This compact measuring instrument can be placed at 
...
Read more...
---
Thermal flow measurement with IO-Link
March 2020, GHM Messtechnik SA , Flow Measurement & Control
Honsberg has launched the new Omniplus-F thermal flow sensor measurement device enabling users to use only one device for applications which previously required three. Additionally, it has a uniquely 
...
Read more...
---
Temperature measurement on ultra-thin glass
March 2020, Instrotech , Temperature Measurement
Touch displays, such as for smartphones and tablets, use ultra-thin glass that brings special challenges for temperature measurement technology during their manufacturing. For this application, Optris 
...
Read more...
---
Economical magnetic-inductive flowmeters
March 2020, Instrotech , Flow Measurement & Control
Instrotech now offers Kobold's MIK, a compact, magnetic-inductive flowmeter, combining a large measuring range and six different measuring tube sizes – perfect for users with smaller to medium-sized measuring 
...
Read more...
---
Slurry magnetic flowmeter platform
March 2020, Automation & Control Solutions , Flow Measurement & Control
The new Rosemount Slurry Magnetic Flowmeter Platform is Emerson's answer to the demands of high noise applications. The platform is made up of the MS magnetic flowmeter sensor for slurry applications, 
...
Read more...
---
Simple and convenient flow measurement
March 2020, ASSTech Process Electronics + Instrumentation , Flow Measurement & Control
Two new devices from Jumo provide simple and convenient magnetic-inductive flow measurement for a variety of media and processors. Jumo flowTrans MAG S10 is designed for standard industrial applications 
...
Read more...
---
Compact flow sensor with IO-Link
February 2020, Turck Banner , Flow Measurement & Control
Turck has introduced the FS+ flow sensor, another product from its fluid sensor series. The sensor is protected in a robust stainless steel housing, together with a one-piece translucent front cap and 
...
Read more...
---