printer friendly version
Using infrared to detect the invisible
March 2020
Sensors & Transducers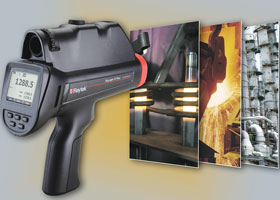 Both preventive and predictive maintenance programmes rely on regular inspections of the critical assets that comprise a plant or facility. These inspections range from visual inspections to non-destructive testing performed using a variety of instrumentation. While the methods vary, all inspections require plant personnel to visit each of the systems, machines or equipment within the plant to anticipate the need for preventive or corrective maintenance.
Many maintenance engineers consider infrared non-contact thermometers not only indispensable for such inspections, but possibly the most important tools in their everyday work. By scanning surfaces with these temperature inspection tools, users can quickly locate hot and cold spots, which could be indications of underlying problems, and focus their maintenance efforts on exactly what needs repairing. Defective components are often classified according to the severity of the problem, which takes into account the absolute temperature of the component, the difference in temperature from the component to its environment, or the difference to other components in similar load situations. Handheld infrared thermometers provide a quick, safe and accurate way to collect this data. By comparing the results of inspections over time, changes in the temperature of objects can be detected and analysed to determine if failure is likely.
Mechanical systems
Most mechanical systems generate some thermal energy during normal operation, and temperature monitoring can evaluate their operating condition. One of the biggest problems in mechanical systems is excessive temperature. This heat can be generated by friction, lubrication degradation, coolant loss, or blockages. Regular temperature monitoring of machinery components enhance the ability to predict failure and plan corrective action before a costly shutdown, equipment damage, or personal injury occurs. Temperature checks should be performed regularly to locate hot spots or heat imbalances on, for example, drives and motors, bearings and transmissions, as well as hydraulic components, pumps, pulleys, and conveyors. Electrical equipment has similar demands. Bus bars with loose or oxidised joints, for example, will rapidly exhibit higher than normal operating temperatures due to electrical resistance.
Infrared inspection
However, simply finding heat does not necessarily mean that a problem is present. To evaluate the presence of hot spots, the operating load and acceptable heat ranges must be known, as specified by the equipment manufacturers. However, normal inspection methods alone cannot always detect the slight temperature variations that indicate the start of a problem. This is where infrared inspection enters the picture – knowing the precise temperature is, in some cases, an absolute decision-making requirement. With tools such as handheld infrared thermometers, users can accurately measure small variations in surface temperature, taking into account all the variables of proper temperature measurement, such as emissivity and reflected temperature. Using infrared thermometers allows sound decision making about corrective maintenance repairs on the plant.
The Raytek range of handheld infrared thermometers, provide more than a temperature reading on a display, they include many features to support maintenance inspections, with models that include data logging, flexible display options and audible Hi /Low alarms to indicate temperatures above and below acceptable ranges.
Credit(s)
Further reading:
Reliable laser measurement sensor
June 2021, Turck Banner , Sensors & Transducers
Turck Banner's Q4X600 features reliable sensing over a wide range of distances.
Read more...
---
Air humidity/temperature sensor with IO-Link
June 2021, Turck Banner , Sensors & Transducers
The combination of the two measured variables in a single device makes the CMTH-M12 ideal for use in condition monitoring systems.
Read more...
---
Sensors from ifm electronic monitor industrial cooking processes
June 2021 , Sensors & Transducers
The pasta cooker from Staedler Automation is accurately controlled using sensors from ifm electronic to ensure product quality remains at a high level.
Read more...
---
Temperature measuring in steel processing
June 2021, R&C Instrumentation , Temperature Measurement
Accurate and reliable temperature measurement is a part of efficient metal processing and steel manufacturing.
Read more...
---
Memosens 2.0: simple, safe and connected for future-proof applications
June 2021, Endress+Hauser South Africa , Sensors & Transducers
Memosens 2.0 represents the next, future-proof step in the evolution of Endress+Hauser's Memosens technology, while maintaining all of the familiar and well-established advantages.
Read more...
---
Networked beer tanks delight both landlords and breweries
May 2021, Instrotech , Sensors & Transducers
Smart transmitters trigger automatic reorders when tanks levels run low.
Read more...
---
High-temperature pyrometer with Bluetooth
May 2021, R&C Instrumentation , Temperature Measurement
Raytek has added Bluetooth capability to the Raynger 3i Plus handheld pyrometer.
Read more...
---
Zutari introduces handheld 3D scanning technology
May 2021 , Sensors & Transducers
The scanner is an example of an innovative technology known as simultaneous localisation and mapping.
Read more...
---
PMD Profiler ensures error-free construction of car bodies
April 2021, ifm - South Africa , Sensors & Transducers
A particular challenge emerged in the production of Ford Kuga. The actual work step involves welding a small, completely flat reinforcing sheet onto a larger assembly.
Read more...
---
Compact radar sensor
April 2021, Turck Banner , Sensors & Transducers
Turck Banner's T30R offers more robust detection capabilities and longer range than ultrasonic solutions in a similar package size.
Read more...
---