printer friendly version
Using infrared to detect the invisible
March 2020
Sensors & Transducers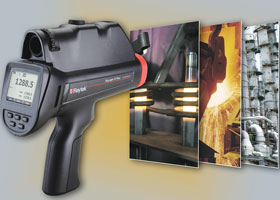 Both preventive and predictive maintenance programmes rely on regular inspections of the critical assets that comprise a plant or facility. These inspections range from visual inspections to non-destructive testing performed using a variety of instrumentation. While the methods vary, all inspections require plant personnel to visit each of the systems, machines or equipment within the plant to anticipate the need for preventive or corrective maintenance.
Many maintenance engineers consider infrared non-contact thermometers not only indispensable for such inspections, but possibly the most important tools in their everyday work. By scanning surfaces with these temperature inspection tools, users can quickly locate hot and cold spots, which could be indications of underlying problems, and focus their maintenance efforts on exactly what needs repairing. Defective components are often classified according to the severity of the problem, which takes into account the absolute temperature of the component, the difference in temperature from the component to its environment, or the difference to other components in similar load situations. Handheld infrared thermometers provide a quick, safe and accurate way to collect this data. By comparing the results of inspections over time, changes in the temperature of objects can be detected and analysed to determine if failure is likely.
Mechanical systems
Most mechanical systems generate some thermal energy during normal operation, and temperature monitoring can evaluate their operating condition. One of the biggest problems in mechanical systems is excessive temperature. This heat can be generated by friction, lubrication degradation, coolant loss, or blockages. Regular temperature monitoring of machinery components enhance the ability to predict failure and plan corrective action before a costly shutdown, equipment damage, or personal injury occurs. Temperature checks should be performed regularly to locate hot spots or heat imbalances on, for example, drives and motors, bearings and transmissions, as well as hydraulic components, pumps, pulleys, and conveyors. Electrical equipment has similar demands. Bus bars with loose or oxidised joints, for example, will rapidly exhibit higher than normal operating temperatures due to electrical resistance.
Infrared inspection
However, simply finding heat does not necessarily mean that a problem is present. To evaluate the presence of hot spots, the operating load and acceptable heat ranges must be known, as specified by the equipment manufacturers. However, normal inspection methods alone cannot always detect the slight temperature variations that indicate the start of a problem. This is where infrared inspection enters the picture – knowing the precise temperature is, in some cases, an absolute decision-making requirement. With tools such as handheld infrared thermometers, users can accurately measure small variations in surface temperature, taking into account all the variables of proper temperature measurement, such as emissivity and reflected temperature. Using infrared thermometers allows sound decision making about corrective maintenance repairs on the plant.
The Raytek range of handheld infrared thermometers, provide more than a temperature reading on a display, they include many features to support maintenance inspections, with models that include data logging, flexible display options and audible Hi /Low alarms to indicate temperatures above and below acceptable ranges.
For more information contact R&C; Instrumentation, +27 11 608 1551, info@randci.co.za, www.randci.co.za
Credit(s)
Further reading:
Profiling in paint cure ovens
April 2020, R&C Instrumentation , Temperature Measurement
Datapaq's solution for monitoring temperatures in furnaces, ovens and dryers.
Read more...
---
Suspended solids sensor
April 2020, Morton Controls , Sensors & Transducers
Morton Controls, in partnership with Quadbeam, has introduced the Stormwater and Wastewater sensor, the SWW, the newest suspended solids sensor/turbidity meter available. Quadbeam has created an incredibly 
...
Read more...
---
New fibre-optic pyrometer
April 2020, R&C Instrumentation , Temperature Measurement
As part of their Endurance range, Raytek and Ircon combined, have introduced the Endurance fibre-optic infrared thermometer. These pyrometers have an external sensor head attached via a fibre-optic 
...
Read more...
---
Modular image processing solution
April 2020, ASSTech Process Electronics + Instrumentation , Sensors & Transducers
ASSTech offers the latest VisionSystem2D from Wenglor. This is a modular image processing system developed for all vision applications. The system consists of up to 16 digital cameras, lenses with various 
...
Read more...
---
3D sensors for automation of robot grippers
April 2020, ifm - South Africa , Sensors & Transducers
Gripper navigation
The 3D sensor detects the object position, even when objects are moving and transmits it to the robot control. The system can detect rectangular, round and irregular shapes and transmit 
...
Read more...
---
4-wire performance in a compact housing
April 2020, ASSTech Process Electronics + Instrumentation , Sensors & Transducers
Randburg instrumentation specialist, ASSTech, now includes in its product range the new Jumo dTrans T06 Junior multifunction 4-wire transmitter that offers great performance for a wide range of applications. The 
...
Read more...
---
Modular LED signal towers
April 2020, RS Components SA , Sensors & Transducers
RS Components has launched the RS PRO range of preassembled, prewired and modular LED signal towers, providing OEM automation engineers and maintenance buyers with a cost effective means of visually signalling 
...
Read more...
---
Turbidity sensor with IO-Link
March 2020, Morton Controls , Sensors & Transducers
Digitisation has branched into industry under the keyword Industry 4.0. IO-Link offers significant advantages when it comes to reliably controlling the entire system technology in process control with 
...
Read more...
---
Expert opposed-mode sensor
March 2020, Turck Banner , Sensors & Transducers
The new QS18E offers superior ambient light immunity to prevent unintentional triggering and prevents the sensor from being tricked by ambient light sources, such as a lightbulb, flashlight, or other 
...
Read more...
---
Wenglor's light band technology
March 2020, ASSTech Process Electronics + Instrumentation , Sensors & Transducers
Based on a continuous, homogenous light band, Wenglor's new retro-reflex sensors can reliably detect objects with irregular or asymmetrical shapes, for example in the field of intralogistics. With three 
...
Read more...
---