printer friendly version
Legrand's high-performance UPS systems
March 2020
Electrical Power & Protection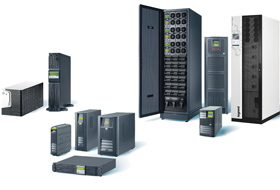 Legrand's advanced uninterruptible power supply (UPS) systems ensure maximum continuity of service of essential electrical equipment, by providing reliable performance in terms of power and backup time, particularly during electrical network disturbances like load-shedding. An environmentally responsible approach to constantly changing global markets encompasses ongoing technological developments of the product portfolio, in terms of energy efficiency, quality power supply, optimum safety and enhanced aesthetics.
According to the company, innovative design, advanced electronic components and thorough testing of each unit, ensures dependability, energy efficiency and safety of the new UPS system. High performance batteries and an efficient charging system significantly extend battery life by up to 50%.
Three ranges
Legrand's UPS systems, which provide superior power efficiency, encompass three ranges – Line Interactive, Conventional and Modular.
Line Interactive UPS systems comprise units from 600 VA up to 3 kVA single phase. This range is ideal for small office and home use.
Conventional UPS systems, for power from 0,8 kVA to 800 kVA, in single and three-phase, offer the commercial sector safe, efficient and innovative solutions, including reliable electrical redundancy. The design of this range offers flexibility in semi-modularity, whereby the autonomy and power can be expanded as required.
Legrand's compact and lightweight Modular series, from 1,25 kVA to 800 kVA, is a flexible 3-phase system, comprising individual single-phase modules that can be added to existing configurations to increase the power supply or backup time.
An advantage of a 3-phase power supply system with single phase loads is that in the event of a failure of one of the modules, there is no loss of power. Power continues to be distributed over the other modules which are still operational. The modular functionality of the batteries enables the removal of faulty units, or to increase the autonomy by adding batteries as required.
A range of communications accessories has been designed for managing and configuring the UPS, as well as for remote control of the system. Communication and supervision software for accessing the operating parameters of the UPS and for carrying out full diagnostics and the configuration of specific functions is also available.
Credit(s)
Further reading:
Electrical certificate of compliance (COC) for instrumentation: non-hazardous installations
June 2020, Everest Equipment & Control , Electrical Power & Protection
An instrument and control installation's scope of work often never makes a request for a certificate of compliance: it is assumed to be an electrical function and hence many installations are non-compliant. 
...
Read more...
---
Five tips to manage energy use while staying at home
May 2020 , Electrical Power & Protection
Covid-19 continues to impact many aspects of our lives. Many are now required to stay at home in an effort to curb the spread of the pandemic. One of the many implications of staying at home will be the 
...
Read more...
---
Legrand and EDS-UPS partnership
April 2020, Legrand , News
Legrand has appointed Engineering Data Systems SA (EDS UPS) as official Legrand uninterruptible power supply (UPS) systems partners. EDS UPS, with strong technical capabilities in servicing and supporting 
...
Read more...
---
Holistic approach to energy security
April 2020 , Electrical Power & Protection
As South Africans settle into the routine and inconvenience of load shedding and planning their activities around shifting electricity supply, it is businesses that are taking the biggest hit through 
...
Read more...
---
Save energy costs with highly-efficient Delta VFDs
April 2020, ElectroMechanica , Electrical Power & Protection
Customers can realise significant savings on their total energy costs by replacing older motor starters with energy-efficient Delta variable frequency drives (VFDs), distributed locally by ElectroMechanica 
...
Read more...
---
Utility made easy
April 2020, Schneider Electric South Africa , Electrical Power & Protection
In recognition of the growing demand for reliable power provision, Schneider Electric strives to assist network operators to deliver electricity safely and efficiently. The company's Advanced Distribution 
...
Read more...
---
Specialised transformers for renewable energy projects
April 2020, Zest WEG Group , Electrical Power & Protection
Zest WEG's local transformer manufacturing facility has supplied 36 specialised photovoltaic (PV) transformers to a solar energy generation plant in the Northern Cape. According to sales team leader, 
...
Read more...
---
Meeting the needs of the mining industry
April 2020, Varispeed (Div of Hudaco Trading) , Electrical Power & Protection
Both above and below ground, Varispeed keeps the interests of its customers top of mind, all the time. The company was recently approached by a platinum mine in South Africa to assist with a robust application. 
...
Read more...
---
Game-changing electrical accessories
April 2020, Schneider Electric South Africa , Electrical Power & Protection
In a world where products are moving from standardised to customised, today's consumers want high quality products that meet their specific requirements. Electrical accessories are no exception and Schneider 
...
Read more...
---
Legrand offers 24/7 healthcare support to the elderly and those in lockdown
April 2020, Legrand , News
Legrand's integrated healthcare solutions, which provide 24-hour support for the elderly and those in lockdown who need help, encompass a range of alarm and call systems, designed for safe and reliable 
...
Read more...
---