printer friendly version
Sulphate and chloride monitoring
March 2020
Electrical Power & Protection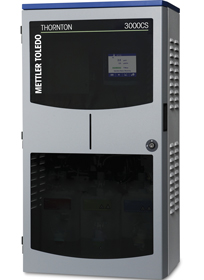 Chlorides and sulphates cause pitting and stress corrosion in expensive power plant components, such as turbines and boilers, leading to extensive maintenance and unplanned shutdowns. Monitoring these ions at low ppb levels is therefore a key measurement in power plant chemistry.
Mettler Toledo's 3000CS sulphate and chloride analyser can provide online ppb level detection of chlorides and sulphates in power plant water to control corrosion and minimise damage.
Online, ppb-level chloride and sulphate monitoring
The innovative 3000CS analyser uses microfluidic capillary electrophoresis, an ionic separation technology, to directly measure trace levels of harmful sulphate and chloride ions. With online measurements every 45 minutes, the analyser automatically performs direct chloride and sulphate measurements in pure water and power cycle chemistry samples, for immediate detection of any contamination. The most important point in the cycle is at the turbine inlet, to ensure that only acceptable levels of chlorides and sulphates enter with the steam into the turbine.
Low cost of ownership compared to offline methods
Typically, chloride and sulphate measurements are done with offline technologies, such as ion chromatography and inductively coupled plasma. The 3000CS provides accurate chloride and sulphate measurements continuously, delivering a rapid return on investment by eliminating the need for costly internal or external laboratory tests.
Easy to maintain with ISM predictive diagnostics
The unit features semi-automatic calibration and an intuitive touchscreen interface. ISM (intelligent sensor management) technology provides diagnostics that predict when maintenance or replacement of consumables will be required.
Credit(s)
Further reading:
Schneider Electric redefines power distribution through digitalisation
March 2021, Schneider Electric South Africa , Electrical Power & Protection
Introducing MasterPact MTZ next generation low-voltage breaker with embedded Class 1 metering to save time and energy.
Read more...
---
Customised dry-type transformers from Trafo
March 2021 , Electrical Power & Protection
A focus on application engineering allows Trafo Power Solutions to supply customised dry-type transformers for a range of sectors including renewable energy.
Read more...
---
#EnergyEfficiency – the buzzword for 2021
February 2021, Danfoss , Electrical Power & Protection
Danfoss Drives South Africa recently concluded a campaign of webinars, with energy efficiency as the main topic, in the mining energy and extraction sector.
Read more...
---
Compact universal DC power supplies
January 2021, Beckhoff Automation , Electrical Power & Protection
The three new PS power supply series from Beckhoff comprises 18 single-and three-phase DIN-rail mountable power supply units that are compact and supply output currents from 2,5 to 40 A.
Read more...
---
Simple acquisition of energy consumption values
November 2020, Phoenix Contact , Electrical Power & Protection
By developing the new components of the EMpro product family, Phoenix Contact has found a solution that satisfies most energy data gathering applications.
Read more...
---
Using infrared thermometers in electrical maintenance
January 2021, R&C Instrumentation , Electrical Power & Protection
Non-contact, infrared thermometers enable checks to be carried out without the risk of electric shocks or the need to shut down the facility.
Read more...
---
When not just any battery will do
January 2021 , Electrical Power & Protection
One of the country's most sought after battery brands, GSS batteries, is changing its name to better reflect its outstanding features.
Read more...
---
Siemens Energy turbines generate low-emission power
November 2020 , Electrical Power & Protection
Siemens Energy helps Total achieve low-emission goals for largest LNG project in Africa.
Read more...
---
Maintaining battery backup systems
November 2020, Comtest , Electrical Power & Protection
Standby battery backup systems play a critical role in keeping essential operations functional in the event of a utility outage.
Read more...
---
Electrical loggers for energy savings
October 2020, Comtest , Electrical Power & Protection
Fluke energy loggers deliver a complete picture to reduce energy costs and improve the bottom line.
Read more...
---