printer friendly version
In-house testing of transformers
March 2020
Electrical Power & Protection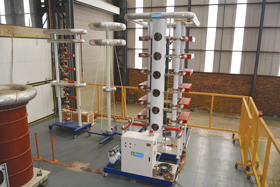 The recent installation of an impulse voltage generator at Zest WEG's transformer manufacturing facility in Heidelberg will allow in-house testing of transformers, saving time and money for customers.
According to Ronaldo Bertoldi, engineering manager at the facility, the substantial investment in this specialised equipment positions Zest WEG well for growth within South Africa and the rest of the continent.
"The impulse generator is strategic equipment for us, providing an important service, especially for our larger customers," Bertoldi says. "Where the transformer size is larger than the 72,5 kV class, impulse testing is a routine test as per IEC 60076-3. Customers have an option to do an impulse test in lower voltage classes as a type test."
An impulse generator produces short, high-voltage surges to test the strength of electric power equipment against lightning and switching surges. It comprises multiple capacitors that are first charged in parallel through charging resistors by a high-voltage, direct-current source. These are then connected in series and discharged through a test object by a simultaneous spark-over of the spark gaps.
Sales team leader Stuart Brown highlights that the acquisition makes the Zest WEG transformer manufacturing facility one of only a handful of local OEMs with this testing facility in-house. This enhances local engineering capacity and entrenches global standards.
"Major energy utilities will often require that suppliers have this capability," says Brown.
"It is therefore a valuable resource as we expand the range of our transformers up to 50 MVA, 132 kV units."
Bertoldi emphasises that impulse testing is important to establish that transformers can withstand surges on the network induced by lightning. "In particular, it tests whether the transformer's insulation is capable of withstanding such faults," he adds. "In a country like South Africa, where lightning flash density is high, this is a vital exercise."
The impulse generator will also allow Zest WEG's transformer facility to test its own new product prototypes. These are continuously developed with the technical support and shared resources of WEG's research and development facilities in Brazil.
Credit(s)
Further reading:
#EnergyEfficiency – the buzzword for 2021
February 2021, Danfoss , Electrical Power & Protection
Danfoss Drives South Africa recently concluded a campaign of webinars, with energy efficiency as the main topic, in the mining energy and extraction sector.
Read more...
---
Compact universal DC power supplies
January 2021, Beckhoff Automation , Electrical Power & Protection
The three new PS power supply series from Beckhoff comprises 18 single-and three-phase DIN-rail mountable power supply units that are compact and supply output currents from 2,5 to 40 A.
Read more...
---
Simple acquisition of energy consumption values
November 2020, Phoenix Contact , Electrical Power & Protection
By developing the new components of the EMpro product family, Phoenix Contact has found a solution that satisfies most energy data gathering applications.
Read more...
---
Using infrared thermometers in electrical maintenance
January 2021, R&C Instrumentation , Electrical Power & Protection
Non-contact, infrared thermometers enable checks to be carried out without the risk of electric shocks or the need to shut down the facility.
Read more...
---
When not just any battery will do
January 2021 , Electrical Power & Protection
One of the country's most sought after battery brands, GSS batteries, is changing its name to better reflect its outstanding features.
Read more...
---
Siemens Energy turbines generate low-emission power
November 2020 , Electrical Power & Protection
Siemens Energy helps Total achieve low-emission goals for largest LNG project in Africa.
Read more...
---
Maintaining battery backup systems
November 2020, Comtest , Electrical Power & Protection
Standby battery backup systems play a critical role in keeping essential operations functional in the event of a utility outage.
Read more...
---
Electrical loggers for energy savings
October 2020, Comtest , Electrical Power & Protection
Fluke energy loggers deliver a complete picture to reduce energy costs and improve the bottom line.
Read more...
---
Power supply components and services for marine applications
October 2020 , Electrical Power & Protection
Vert Energy works closely with the marine and offshore sector offering the supply of quality branded components and the support of a comprehensive repair and maintenance service.
Read more...
---
Mines reduce fire hazards
August 2020 , Electrical Power & Protection
Underground mines in southern, central, and west Africa have been seeing the safety benefits of dry-type transformers from Johannesburg-based Trafo Power Solutions. According to managing director 
...
Read more...
---