printer friendly version
EnI Electrical delivers at the sharp end of African contracts
March 2020
Electrical Power & Protection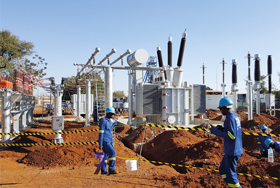 Usually the last contractor on site, electrical instrumentation and control (EC&I) specialist EnI Electrical puts extra effort into helping clients around Africa meet their scheduled start-ups.
With decades of experience in mining and industrial projects on the continent, the Zest WEG group company understands the challenges that developers face, Russell Drake, general manager operations at EnI Electrical, says that among other mining projects, it is currently involved in a large copper mine expansion in Zambia.
"Large project implementation is complex, and is often made more challenging by the logistical constraints that many African projects face," he adds. "There are invariably delays at various stages, which places more pressure on the EC&I; contractor, who must in many ways 'complete' the roll-out."
EnI Electrical works extensively with project houses and directly for mining companies, and is a preferred supplier to many of them. A key reason is the proactive attitude that underlies its depth of technical expertise.
Calvin Fisher, EnI Electrical overhead lines manager, emphasises the importance of on-time completion, combined with reliable electricity supply: "With the various issues that may delay stages of a project, there is usually growing urgency as the deadline date approaches. This is normally when EnI Electrical enters the project, so we are accustomed to working under extreme pressure. Our dynamic team actively looks for ways to advance the work, especially when the previous phases may not be quite ready for us to begin."
He notes that the team often does not have all the site access they need, so it requires some innovation to push the job along.
"We may even collaborate with other contractors if we have spare resources, for example, to help them complete their work so that we can start ours," he adds. "Our focus is on being part of the solution, and this is an approach that really helps clients meet their deadlines."
The linking up of electrical infrastructure, connections and equipment is one of the final stages to allow any project to start operating. In this role, EnI Electrical installs a wide range of electrical infrastructure including medium and low voltage cable reticulation, motor control centres, lighting, earthing protection and energy management systems.
Its control and instrumentation work ranges from process instrumentation and plant automation, to custom control stations and fibre or copper networks. The company also designs and installs overhead power lines up to 161 kV and substations.
"Our permanent bases in countries like Zambia and Ghana with significant in-country investment in technical assets underpins the efficiency of our work," says Drake. "We understand our working environment very well, so we can quote accurately and fairly. This is vital to eliminate variance, which can be disruptive to the client and the project."
EnI Electrical's experience and technical capability gives it the confidence to present the most cost effective solutions to clients, which provides certainty and reduces overall project risk. "We also take pride in developing local capacity in the countries where we are based," elaborates Drake. Operating from locally registered entities also ensures legal compliance and maintains a social licence to operate.
EnI Electrical's local operation in Zambia – established in 2002 – employs 188 local staff including highly skilled technical teams. In Ghana, ongoing investment in assets and skills gives that office the capability to run up to R300 million in contracts at any given time.
"Our success in Africa is built on our specialised expertise and experience, but what clients really appreciate is our willingness and ability to 'take up the slack' towards the end of their project when time is not on their side," concludes Fisher. "Our close contractor interface and solution-driven approach allow us to do this."
Credit(s)
Further reading:
Electrical certificate of compliance (COC) for instrumentation: non-hazardous installations
June 2020, Everest Equipment & Control , Electrical Power & Protection
An instrument and control installation's scope of work often never makes a request for a certificate of compliance: it is assumed to be an electrical function and hence many installations are non-compliant. 
...
Read more...
---
Zest adds geared motors to product range
May 2020, Zest WEG Group , Motion Control & Drives
A range of WEG geared motors with benefits including efficiency and reliability will soon be available to customers in South Africa and the rest of the continent from Zest WEG. According to national sales 
...
Read more...
---
Five tips to manage energy use while staying at home
May 2020 , Electrical Power & Protection
Covid-19 continues to impact many aspects of our lives. Many are now required to stay at home in an effort to curb the spread of the pandemic. One of the many implications of staying at home will be the 
...
Read more...
---
Holistic approach to energy security
April 2020 , Electrical Power & Protection
As South Africans settle into the routine and inconvenience of load shedding and planning their activities around shifting electricity supply, it is businesses that are taking the biggest hit through 
...
Read more...
---
Save energy costs with highly-efficient Delta VFDs
April 2020, ElectroMechanica , Electrical Power & Protection
Customers can realise significant savings on their total energy costs by replacing older motor starters with energy-efficient Delta variable frequency drives (VFDs), distributed locally by ElectroMechanica 
...
Read more...
---
Utility made easy
April 2020, Schneider Electric South Africa , Electrical Power & Protection
In recognition of the growing demand for reliable power provision, Schneider Electric strives to assist network operators to deliver electricity safely and efficiently. The company's Advanced Distribution 
...
Read more...
---
Specialised transformers for renewable energy projects
April 2020, Zest WEG Group , Electrical Power & Protection
Zest WEG's local transformer manufacturing facility has supplied 36 specialised photovoltaic (PV) transformers to a solar energy generation plant in the Northern Cape. According to sales team leader, 
...
Read more...
---
Meeting the needs of the mining industry
April 2020, Varispeed (Div of Hudaco Trading) , Electrical Power & Protection
Both above and below ground, Varispeed keeps the interests of its customers top of mind, all the time. The company was recently approached by a platinum mine in South Africa to assist with a robust application. 
...
Read more...
---
Game-changing electrical accessories
April 2020, Schneider Electric South Africa , Electrical Power & Protection
In a world where products are moving from standardised to customised, today's consumers want high quality products that meet their specific requirements. Electrical accessories are no exception and Schneider 
...
Read more...
---
Zest pioneers remote acceptance testing during lockdown
April 2020, Zest WEG Group , News
In an innovative step to keep a customer's mining project in the Democratic Republic of Congo (DRC) on schedule despite the impact of Covid-19, Zest WEG successfully conducted a remote witness test of 
...
Read more...
---