printer friendly version
Four key factors to consider when choosing devices for the control cabinet
November 2019
System Integration & Control Systems Design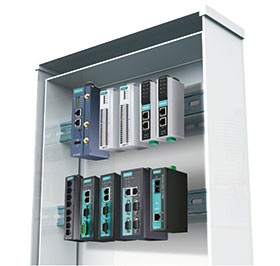 Control cabinets play a vital role in monitoring and controlling industrial applications. To ensure system uptime, system integrators should consider several key factors when choosing devices for control cabinets that need to perform optimally and reliably for the next 10-15 years.
Drawing from over 30 years of experience in providing reliable products for industrial control cabinets, Moxa has identified the following four key considerations for choosing the best control cabinet devices for mission-critical applications:
1. Withstand harsh environments
Control cabinets can be placed in a variety of environments, both indoors and outdoors. Depending on the specific project requirements, the devices used in the cabinet should feature a wide operating temperature range and specific certifications for use in hazardous locations, such as C1D2 (US) or ATEX (EU) certifications for oil and gas applications, or DNV GL certification for marine applications.
2. Efficient use of space
Control cabinets are often added to an existing infrastructure or placed alongside machine tools used to enable remote monitoring and control. Consequently, the devices inside should be as compact as possible. In addition, thermal management of electronic equipment also requires additional space and an adequate 'keep-out-zone' to ensure safe and reliable operation. A good way to save space is to choose integrated (all-in-one) devices, such as a computer with a rich interface set and wireless capabilities, or a device server with integrated I/Os or switches.
3. Easy hardware installation and maintenance
Control cabinets have a limited amount of physical space to accommodate a high volume of industrial control units, switching blocks, wiring, and other equipment. Devices with DIN-rail mounting capabilities save installation time, reduce wiring connection costs and effort, provide easy component adjustments, arrangements and maintenance, as well as supporting high-density deployment.
4. Power consumption and redundancy
Due to different use cases, the control cabinet may be situated in places with limited power supply, or even only rely on batteries. Consequently, it is important to choose devices with relatively low power consumption. At the same time, these devices must still have the operational reliability to ensure the efficiency of a functioning cabinet. Depending on the project specifications the cabinet may even require a redundant power supply to guarantee power stability, uptime reliability and a wide range to overcome power fluctuation demands.
Recommendations from Moxa include the NPort IA5000A serial device servers; MGate MB3170/MB3270 Modbus TCP gateways; ioLogik E1200 remote I/O; and IMC-21A Ethernet-to-fibe media converters.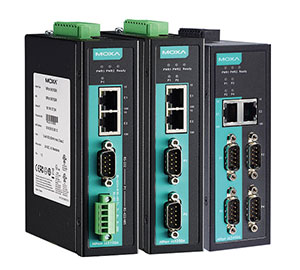 NPort IA5000A
The NPort IA5000A device servers are designed for connecting industrial automation serial devices, such as PLCs, sensors, meters, motors, drives, barcode readers and operator displays. The devices are solidly built, come in a metal housing with screw connectors, and provide full surge protection. The NPort IA5000A servers are extremely user-friendly, making simple and reliable serial-to-Ethernet solutions possible.
Each unit has two Ethernet ports that can be used as Ethernet switch ports. One port connects directly to the network or server, and the other can be connected to either another NPort IA device server or another Ethernet device. The dual Ethernet ports help reduce wiring costs by eliminating the need to connect each device to a separate Ethernet switch.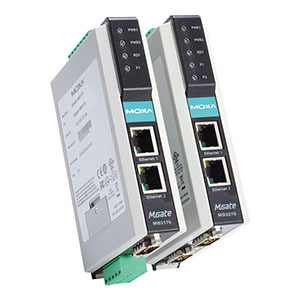 MGate MB3170/MB3270
The MGate MB3170 and MB3270 are 1 and 2-port Modbus gateways, respectively, which convert between Modbus TCP, ASCII, and RTU communications protocols. The gateways provide both serial-to-Ethernet communication and serial (master) to serial (slave) communications. In addition, the gateways support simultaneously connecting serial and Ethernet masters with serial Modbus devices. The gateways can be accessed by up to 32 TCP master/clients or connect to up to 32 TCP slave/servers. Routing through the serial ports can be controlled by IP address, TCP port number, or ID mapping. A featured priority control function allows urgent commands to obtain an immediate response. All models are rugged, DIN-rail mountable, and offer optional built-in optical isolation for serial signals.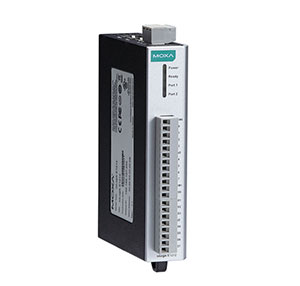 ioLogik E1200
The ioLogik E1200 Series supports the most often-used protocols for retrieving I/O data, making it capable of handling a wide variety of applications. Most IT engineers use SNMP or RESTful API protocols, but OT engineers are more familiar with OT-based protocols, such as Modbus and EtherNet/IP. Moxa's Smart I/O makes it possible for both IT and OT engineers to conveniently retrieve data from the same I/O device. The ioLogik E1200 Series speaks six different protocols, including Modbus TCP, EtherNet/IP, and Moxa AOPC for OT engineers, as well as SNMP, RESTful API, and Moxa MXIO library for IT engineers.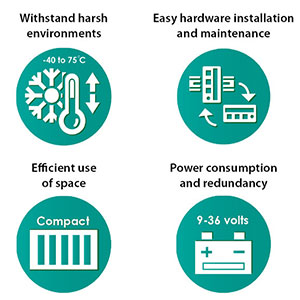 The ioLogik E1200 retrieves I/O data and converts the data to any of these protocols at the same time, allowing users to get your applications connected easily and effortlessly.
The UC-8100 computing platform is designed for embedded data-acquisition applications. The computer comes with one or two RS-232/422/485 serial ports and dual 10/100 Mbps Ethernet LAN ports, as well as a mini PCIe slot to support cellular modules. These versatile communication capabilities let users efficiently adapt it to a variety of complex communications solutions.
Each unit is built around a Cortex-A8 RISC processor that has been optimised for use in energy monitoring systems, but is widely applicable to a variety of industrial solutions. With flexible interfacing options, this tiny embedded computer is a reliable and secure gateway for data acquisition and processing at field sites as well as a useful communication platform for many other large-scale deployments.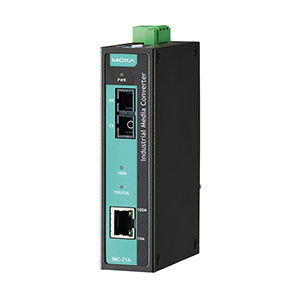 IMC-21A
The IMC-21A industrial media converters are entry-level 10/100BaseT(X)-to-100BaseFX media converters designed to provide reliable and stable operation in harsh industrial environments. The converters can operate reliably in temperatures ranging from -40 to 75°C. The rugged hardware design ensures that all Ethernet equipment can withstand demanding industrial conditions. The IMC-21A converters are easy to mount on a DIN rail or in distribution boxes.
Credit(s)
Further reading:
SCiBOTRON's quality culture the key to success
May 2020 , System Integration & Control Systems Design
The company was founded on lean principles and quickly grew into a QSE (Qualifying Small Enterprise). Ricardo Paddy, managing director and founding member, attributes one of the reasons for the company's 
...
Read more...
---
PC-based control monitors road tunnel with flexible scalability
September 2020, Beckhoff Automation , System Integration & Control Systems Design
With more than 200 Industrial PCs in operation, the Kaisermühlen Tunnel in Vienna shows that scalable PC-based control technology from Beckhoff is an optimum automation platform in this environment.
Read more...
---
EtherCAT I/O for conveyor control
September 2020, Beckhoff Automation , System Integration & Control Systems Design
Integrated compact motor controller reduces cabling effort and increases diagnostic capabilities for roller conveyor systems.
Read more...
---
Making Machine-as-a-Service a reality
September 2020, RJ Connect , IT in Manufacturing
Using cloud-based software, machine builders can access their machines anytime, allowing connections to be set up to link the machine builders and their clients.
Read more...
---
Robots could solve the social distancing problem
September 2020 , System Integration & Control Systems Design
While South Africa has seen a significant uptake in robotic technology, there are signs it will grow in the years to come as businesses make provision for these types of advancements.
Read more...
---
Fully automated CIP system upgrade at a food factory
September 2020, Hybrid Automation , System Integration & Control Systems Design
Hybrid automation was recently approached to upgrade the CIP system at a food production plant based on the East Rand of Johannesburg.
Read more...
---
Machine upgrade at Rostberg
August 2020, Ana-Digi Systems , System Integration & Control Systems Design
Ana-Digi Systems designs and delivers a state-of-the-art, reliable machine upgrade to match its client's requirements of easy setup and low maintenance.
Read more...
---
HMIs improve operations and maintenance collaboration
June 2020, Emerson Automation Solutions , System Integration & Control Systems Design
It is essential that operators and maintenance engineers work together to resolve issues quickly, before they affect plant performance. However, coordinating actions between these departments can be challenging.  
...
Read more...
---
SLE5 series label sensor
June 2020, Turck Banner , System Integration & Control Systems Design
The small infrared light spot of Banner's new SLE5 can quickly detect the gap between opaque labels on clear or opaque backing. The 5 mm slot width and 50 mm slot depth allow precise detection of a wide 
...
Read more...
---
The IIoT powered village
July 2020, RJ Connect , IT in Manufacturing
Creating power solutions that brighten the lives of remote communities.
Read more...
---