printer friendly version
Simple path to Industry 4.0-enabled process technology
Technews Industry Guide: Industrial Internet of Things & Industry 4.0
Industrial Computer Hardware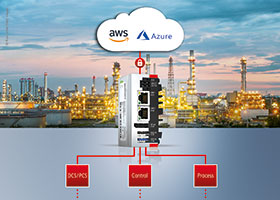 Modern system concepts tailored to Industry 4.0 or the IIoT offer numerous advantages in terms of process efficiency, costs and quality. The ultra-compact range of Industrial PCs (IPC) from Beckhoff are the ideal space-saving, high-performance IIoT edge devices to fully utilise these advantages for new and legacy systems in the process industry.
By integrating comprehensive IIoT and analytics functionality, PC-based control technology opens up a wealth of options to optimise production. System consistency in the control platform ensures simple implementation and high transparency:
• A universal portfolio of components for explosion protection, including the ELX series EtherCAT Terminals, enables end-to-end automation of even large and complex processing plants.
• The TwinCAT software platform offers specific interfaces and libraries for process technology, and enables convenient cloud integration via TwinCAT IoT and data analysis via TwinCAT Analytics in perfect synchronisation with control cycles.
• A high-performance IoT edge device is available in the form of the C6015 ultra-compact IPC, a universally suitable machine control platform.
C6015: an exceptionally compact IoT edge device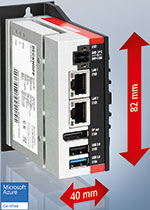 C6015.
Measuring just 82 x 82 x 40 mm, the exceptionally compact C6015 IPC with multi-core technology can be flexibly installed even in highly confined spaces. Equipped with an Intel Atom processor offering up to four CPU cores, the C6015 provides sufficient processing power for simple collection, processing and provision of process data and for the more complex tasks required of a modern IoT gateway. The Microsoft Azure certification of the C6015 underscores that the device is ideal for state-of-the-art Industry 4.0 applications.
The C6015 is predestined for such communication tasks especially when retrofitting and connecting legacy systems. Existing process technology systems can easily be equipped with additional IIoT capabilities using this edge device, or they can be readied to meet future communication requirements. In this way, operators of process technology systems gain access to the full wealth of IIoT and analytics solutions supported by Beckhoff technology, regardless of the automation technology used – be it PC-based control or third-party control platforms. This reduces production costs, optimises product quality and improves the overview and transparency of all process workflows. In addition, system availability and productivity can be increased and cloud-based services used, for example, to implement predictive maintenance.
C6017: combines compact design with a variety of interfaces and integrated UPS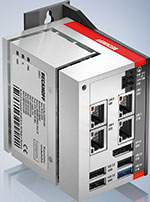 C6017.
With miniaturised dimensions, the C6017 is practically identical in design to the popular C6015, currently the smallest ultra-compact IPC from Beckhoff. The success of the C6015 quickly created additional demand, especially from applications with increased requirements for connectivity and data security in the event of potential power supply failures. The C6017 was developed precisely for this purpose: the existing C6015 configuration with DisplayPort connection, an onboard dual Ethernet adapter with two 100/1000Base-T connections as well as a USB 3.0 and USB 2.0 port, is extended on the C6017 with an additional two RJ45 and two USB 2.0 interfaces. Moreover, an optional capacitive 1-second UPS is integrated, which ensures storage of persistent data in the event of a power supply failure.
With dimensions of 82 x 82 x 66 mm, the size of the C6017 is almost identical to the C6015. Only the overall height is extended by 24 mm. Equipped with an Intel Atom CPU with up to four processor cores, the passively cooled IPC also features a robust aluminium and zinc die-cast housing so it is equally ideal for automation, visualisation and communication tasks up to the mid-performance range.
Universally applied generation of control devices
The new ultra-compact IPC series is ideally suited to meet today's demanding requirements in machine building, such as increased modularisation, reduced space requirements in control cabinets, higher processing power and competitive pricing. Designed precisely with these requirements in mind, the new device generation is ideal for a broad range of applications, for instance in distributed topologies and advanced Industry 4.0 applications. Computing power is scalable to match requirements:
• C6015 and C6017 for the lower and mid-performance range.
• C6030 – the high-end device with Core-i series processors with up to 3.9 GHz per core for highly complex machines, CNC or XTS applications, comprehensive multi-axis control, feature-filled HMI, applications with extremely short cycle times, and for handling large data volumes.
C6032: high-performance for extremely short cycle times
With dimensions of only 129 x 133 x 104 mm, the C6032 Industrial PC offers high-performance in a modular design. For this purpose, the C6032 adds a further circuit board level to the C6030 single-board IPC, which is comparable in terms of computing power, to allow for accommodation of modular interface and functional extensions. With the use of compact PCIe modules, the C6032 can be optimally adapted to the requirement profile of individual applications.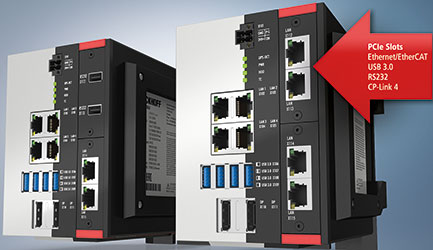 C6032.
The use of an extremely durable, speed-monitored and controlled fan makes the C6032 suitable for a temperature range of up to 55°C. Available options are Windows 7 or Windows 10 operating systems, as well as a second M.2 SSD in RAID configuration. The C6032 offers storage capacity of 40 GB M.2 SSD, 3D flash even in the basic configuration.
A device generation designed for universal use in the digital era
The Microsoft Azure-certified devices of Beckhoff's ultra-compact IPC series are ideal to meet current requirements in advanced machine building, such as increasing modularity, reduced space requirements in control cabinets, increased computing power and growing price pressure. Designed exactly with all these requirements in mind, the new device generation is suitable for use in a broad range of application scenarios such as distributed architectures and the IIoT applications associated with digital transformation.
For more information contact Michelle Murphy, Beckhoff Automation, +27 11 795 2898, michellem@beckhoff.com, www.beckhoff.co.za
Credit(s)
Further reading:
Edge device provides fanless control
June 2020, Beckhoff Automation , Industrial Computer Hardware
With its new C7015 ultra-compact industrial PC, Beckhoff has combined its extensive expertise with PC-based machine control and IP 65/67 components. The result is an industrial PC (IPC) designed with 
...
Read more...
---
PC-based control technology for process automation
May 2020, Beckhoff Automation , System Integration & Control Systems Design
Progress is not based on the innovative creation of buzzwords. Unfortunately, the development of enabling technologies in recent decades did not help to raise process automation to an advanced level. 
...
Read more...
---
PC-based control for Covid-19 rapid testing production lines
June 2020, Beckhoff Automation , System Integration & Control Systems Design
The rapid testing equipment production lines made by Ginolis in Qulunsalo, Finland, have proven themselves in the market for almost a decade. Because of the coronavirus pandemic, previously delivered 
...
Read more...
---
The efficient and easy to configure DALI-2 lighting solution
May 2020, Beckhoff Automation , System Integration & Control Systems Design
The TwinCAT 3 Lighting Solution, which is easy and convenient to configure via Excel files, simplifies all work steps from engineering to maintenance. All typical lighting controls are integrated in the 
...
Read more...
---
Flexibility of PC-based control minimises development times
May 2020, Beckhoff Automation , System Integration & Control Systems Design
The outbreak of Covid-19 in China created a massive demand for masks and other medical products. Xiamen Booltech recognised the need to produce N95 masks, which provide protection for both medical staff 
...
Read more...
---
Appointments
April 2020, Beckhoff Automation , News
Beckhoff has appointed Brendan van der Westhuizen as support technician.   
Read more...
---
More efficient engineering with automatically generated dashboard
April 2020, Beckhoff Automation , IT in Manufacturing
Engineering 4.0: One-Click Dashboard eliminates an entire work step.
Read more...
---
High-end measurement technology drives innovation in machine availability
Technews Industry Guide: Maintenance, Reliability & Asset Optimisation 2020, Beckhoff Automation , System Integration & Control Systems Design
EtherCAT measurement modules now include the cost-effective ELM314x Economy line.
Read more...
---
Smart engineering directly in the cloud
March 2020, Beckhoff Automation , IT in Manufacturing
PC-based control offers a central, open and comprehensive machine control platform ideal for delivering highly efficient, IoT-based automation strategies. It enables machines, plants and production lines 
...
Read more...
---
PC-based control drives advances in laser navigation for automated guided vehicles
March 2020, Beckhoff Automation , System Integration & Control Systems Design
End to end control solution equips smart logistics systems for tomorrow's challenges.
Read more...
---