printer friendly version
Endress+Hauser's IIoT technology masters the mining challenge
June 2019
IT in Manufacturing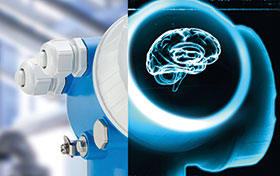 Endress+Hauser aims to improve the processes of its customers with regards to efficiency, quality, safety and sustainability. When it comes to the mining business, the company is intent on mastering the challenges of extracting and processing precious metals and minerals by increasing efficiency, improving safety and protecting the environment.
Integration as the first step
The question is: how much can Big Data help mining companies master these challenges? Data is already produced in abundance within a mining operation: process information from the field, inventory values, plant status and market prices to name just a few. The challenge is that most of this data is stored and visible only in different systems. So the first step towards the IIoT has to be the integration of this data to open up its real potential. Integration has to be aligned along three axes: horizontally along the value creation chain, vertically from the field to the control level, and thirdly, from planning to maintenance to ensure consistent engineering. With the help of Endress+Hauser, users can boldly take the first step today.
With respect to the horizontal axis: an exact forecast of consumption based on current inventory values and planned material movements is the key to reducing warehouse stocks and improving delivery services. Reliable measurement is the basis for this and Endress+Hauser can provide a complete range of technology. For data communication, most available fieldbus technologies can be plugged directly into smart measurement sensors. In addition, the local data transmission unit, Fieldgate, with integrated web server, allows for global data acquisition via private and public communication network.
A standard Internet browser is sufficient for querying inventory data. Fieldgate not only provides current measured values, but also offers the possibility of monitoring device stations, requesting information and sending data directly to a superordinate inventory management software system such as SupplyCare from Endress+Hauser. SupplyCare offers convenient access to the current fill levels in tanks and silos from the comfort of the office, and offers extensive functions for inventory management. With the integrated email function, users can request supplies quickly and easily. With the analysis module, they can also calculate and evaluate KPIs.

Full control of basic processes
When it comes to vertical integration, intelligent networking between subsystems of the mining process, from the ERP system to the operating and control level, and on to the field level, is essential for optimised functionality and the highest efficiency. The reality today is often something less than a smooth, streamlined operation. It is characterised by closed system silos, missing interfaces and many manual data transfers, all of which are potential error sources. However, thanks to Endress+Hauser's business process integration (BPI) concept, it is now possible to connect these currently decoupled system silos to form an elegant overall system with a continuous data flow. BPI acts as an interface beneath the sub-systems and thus forms a shared platform for data exchange.
By using industrial Ethernet at field and control level, automation components can also be integrated in the overall system. Digital communication, for example, enables advanced measurement sensor diagnostics, which can form the basis of effective process condition monitoring and preventative maintenance strategies, or calibration requests triggered in the ERP system.
Many of Endress+Hauser's smart measurement sensors can be used to monitor process condition and verify measurement integrity. Simply look for the Heartbeat Technology logo. Several examples of Heartbeat Technology benefits are already used in the concentration processes in many copper and gold mines. For example in froth flotation tanks a Promass 100 Coriolis flowmeter will schedule a flocculant batch remix by measuring changes in the medium chemistry. The aim is to produce process optimisation and stability using a combination of smart sensors which monitor their own performance, indicate process anomalies and inform maintenance when cleaning or recalibrating are required.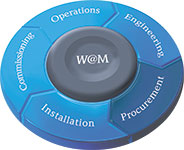 Big Data made easy
In order to get close to the goal of maximum process efficiency at the lowest possible cost, intuitive and reliable process asset management is crucial. To facilitate this, Endress+Hauser offers Big Data asset management software that is vendor
neutral. The cloud-based asset management toolbox, W@M, has proven beneficial to management executives, maintenance personnel, process engineers and metallurgists in generating plant wide process improvements and providing relevant and reliable data on process performance. A simple example is a 10% proven increase in heap leach and stripping performance in a copper mine when it introduced W@M's powerful capability to monitor variations in performance of critical measurement parameters such as acid usage, PLS output, organic to aqueous stripping rates against pipeline breakage, filter rupture, and other process imbalances.
In short, what does the software deliver that is Industry 4.0 or IIoT ready?
• Quick, visual and targeted access to the right data exactly when it is needed.
• Easy to download cloud-based tools including apps for mobile devices.
• Wireless and wired connectivity to smart sensors and other process equipment for diagnostics, verification and condition monitoring
"Our customers are sometimes surprised to find that for their first implementation of Industry 4.0 they do not need to completely revamp their operation," explains Endress+Hauser industry manager, Susan Buitendag. "The fourth industrial revolution is in fact more a gradual evolution than a big bang approach to change. We at Endress+Hauser take pride in being an innovative company and our engineers keep us ahead of the game when it comes to smart sensor development. This means that the first step towards Industry 4.0 and the 'digital mine' is a small one for our customers."
For more information contact Dhiren Naidoo, Endress+Hauser, +27 11 262 8077, dhiren.naidoo@endress.com, www.endress.com
Credit(s)
Further reading:
IIoT platforms, not all created equal
Technews Industry Guide: Industrial Internet of Things & Industry 4.0, Altron Arrow , IT in Manufacturing
Having a state-of-the-art architecture based on the most modern technology will not benefit any company unless it is tied to a specific purpose and business outcome.
Read more...
---
Bringing trust to the Internet of Things
Technews Industry Guide: Industrial Internet of Things & Industry 4.0 , IT in Manufacturing
Huge amounts of data are generated by and collected from a wide variety of IoT devices. It is then analysed and actions taken, depending on the results of the analysis. However, if you cannot trust the 
...
Read more...
---
Increased plant availability through optimal management of field devices
Technews Industry Guide: Industrial Internet of Things & Industry 4.0, Endress+Hauser , Maintenance, Test & Measurement, Calibration
As a complete provider for process sensory mechanisms, the company has accumulated decades of expertise with a strong range of solutions and services. The new online services enable it to link this expertise 
...
Read more...
---
So, what's left for us humans after the machines take over?
Technews Industry Guide: Industrial Internet of Things & Industry 4.0 , IT in Manufacturing
That said, there are some guidelines that can be put in place. An obvious career path exists in being 'on the other side of the code', as it were – being the one who writes the code, who trains the machine, 
...
Read more...
---
Staying ahead of industrial cyber-security threats
July 2019, Parker Hannifin Sales Company South , IT in Manufacturing
The consequences of cyber attacks on businesses can be huge, operation downtime, loss of productivity, proprietary information loss, diminished reputation among customers, business partners and investors and disruption of services.
Read more...
---
Comos version 10.3 saves time
Technews Industry Guide: Industrial Internet of Things & Industry 4.0, Siemens Digital Industries , IT in Manufacturing
Modular engineering with intelligent templates and central data storage.
Read more...
---
Innovation and intelligence for smart manufacturing
Technews Industry Guide: Industrial Internet of Things & Industry 4.0, Omron Electronics , IT in Manufacturing
Adaptive algorithms offer new ways to optimise production lines.
Read more...
---
Securing the smart factory?
Technews Industry Guide: Industrial Internet of Things & Industry 4.0, Throughput Technologies , IT in Manufacturing
Secomea provides secure remote access without the need for advanced firewall configuration.
Read more...
---
Digitalisation drives compressed air system development
Technews Industry Guide: Industrial Internet of Things & Industry 4.0, Siemens Digital Industries , IT in Manufacturing
German company, Otto Boge (Boge), develops compressed air systems for which it offers an extensive portfolio of components, machines and complete plants. To increase the efficiency of its production, 
...
Read more...
---
Industrial cybersecurity risk assessment and management
Technews Industry Guide: Industrial Internet of Things & Industry 4.0, Proconics , IT in Manufacturing
Since the acceptance of the various IEC62443 modules as national standards: SANS62443-2-1/4, SATS62443-1-1 and SATR62443-3-1, there has been confusion about the requirements, methodologies and implementation. 
...
Read more...
---