printer friendly version
Hazardous area installations
March 2019
Enclosures, Cabling & Connectors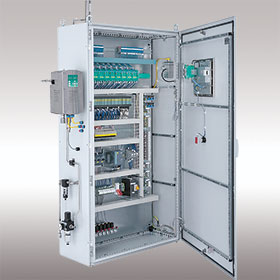 Safe protection of humans and installed assets in hazardous areas is pre-scribed in a multitude of international, regional and company regulations and standards. In order to meet these requirements and find the most efficient control equipment for any specific application, Pepperl+Fuchs' supplies a comprehensive portfolio of explosion protection equipment.
The international standard on explosion protection, IEC 60079, defines a multitude of regulations for development, production and operation of devices in hazardous areas. For the European Community these regulations are stipulated in the directives 99/92/EC (ATEX 137) and 94/9/EC (ATEX 95). The latter is the relevant standard for manufacturers of explosion protected equipment and protection systems.
Various types of protection are defined in the IEC standard. For automated plant control 'intrinsic safety' Ex i (IEC 60079-11) is popular as it allows work on electrical circuits without hot work permit or plant shutdown. Most modern remote I/O and fieldbus signal transmission systems are based on Ex i. However, the available energy to power the connected devices is very limited. 'Increased safety' Ex e (IEC 60079-7) allows far more energy, albeit repair or maintenance work during operation is not possible. Besides these examples the standard specifies several other types of protection. Most have in common that the electrical devices have to be specifically designed and certified for use in hazardous areas. Two types of protection allow the use of standard electrical components in dangerous environments – 'flameproof' Ex d (IEC 60079-1) and 'pressurisation' Ex p (IEC 60079-2).
Solution Engineering Centres offer support
The trick now is how to find the most efficient explosion protection method for the specific application. On top of explosion hazards there could be environmental influences such as dusty or corrosive atmospheres, freezing or boiling temperatures, special requirements on hygiene or further preconditions. Pepperl+Fuchs offers products and solutions in all types of protection as well as consultancy and project management. Skilled engineers are based in Solution Engineering Centres (SEC) located around the world to offer expert support for explosion protected equipment project. From the first evaluation of the requirements to final specification and manufacturing, the experienced project engineers will design the most appropriate explosion protected solution in close cooperation with the end user. The result could be an interface cabinet equipped with various IS barriers from the comprehensive Ex i portfolio, a remote I/O field unit complete with all components and accessories, a fieldbus junction box combining barriers, interfaces and solenoid valves or, a ready-for-commissioning integrated control and safety system for fire and gas detection, safely protected in either a flameproof or pressurised enclosure. Every solution will be assembled by trained specialists in one of the ISO 9000 certified SECs. Continuous quality control and functional tests will guarantee a fully operative system with customers invited to conduct the factory acceptance tests in the dedicated facilities of the SEC. Every solution will be appropriately packed and shipped, with complete certification and documentation, to the respective plant, ready for connection.
The majority of the utilised enclosures, made of aluminum, stainless steel, cast iron or glassfibre reinforced polyester, are manufactured in specialised Pepperl+Fuchs factories, starting with an in-house foundry for high-quality aluminium casting. All operating elements, from simple pushbuttons and LED indicators to control switches in various contact configurations, are appropriately certified according to either Ex d, Ex e or Ex i as well as Ex td.
A local control unit, for instance a single emergency stop, can come in Ex e or in Ex d, in various enclosure materials, with a choice of different cable glands, accessories and labeling options. A maximum of 56 operating elements can be integrated in one common stainless steel enclosure, thus offering a multitude of configuration options. If standard electrical components, such as power relays, motor starters, MCBs through to complete DCS systems, have to be operated inside hazardous areas, the SEC specialists will design an efficient solution based on the appropriate Ex d enclosure. Complex control and distribution panels will be a combination of the Ex d and Ex e types of protection, thus offering additional benefits in maintenance and modifications to the customer.
Based on Pepperl+Fuchs' vast portfolio of explosion protection equipment, in conjunction with experience and expert knowledge, the SEC engineers help customers to implement efficient explosion protection solutions that meet any requirement.
Credit(s)
Further reading:
Understanding data cables, their categories, and what they mean
September 2019, Helukabel , Enclosures, Cabling & Connectors
For many end-users, engineers and purchasing agents, who do not work with these types of cables on a daily basis, the different categories can seem complicated and overwhelming.
Read more...
---
Clever chilling with less refrigerant
September 2019, Rittal , Enclosures, Cabling & Connectors
Rittal expands its cooling technology for enclosures and machines with new Blue e+ chillers.
Read more...
---
Hutchings Hydraulics and Rittal project success in KZN
August 2019, Rittal , Enclosures, Cabling & Connectors
With extensive experience in the food processing industry, Durban-based automation specialists Hutchings Hydraulics, was tasked with a unique challenge by one of KZN's largest food manufacturers. Exposed 
...
Read more...
---
Weidmüller's u-mation embraces the digitally connected world
Technews Industry Guide: Industrial Internet of Things & Industry 4.0, Phambili Interface , Enclosures, Cabling & Connectors
Weidmüller's u-mation system is more than just automation, it's a connected digital solution for a diverse range of businesses. That is because u-mation is a hardware and software solution that embraces 
...
Read more...
---
Rittal invests in new global smart factory
Technews Industry Guide: Industrial Internet of Things & Industry 4.0, Rittal , Enclosures, Cabling & Connectors
Investing in the future, Rittal's new plant in Haiger embraces the principles of Industry 4.0. The company has made its largest single investment, totalling €250 million, to establish an advanced facility 
...
Read more...
---
Crimp and cleave connectivity solution for industrial networks
July 2019, KVMTech , Enclosures, Cabling & Connectors
This product was launched by KVMTech at Africa Automation Fair 2019.
Read more...
---
Control and report in hazardous areas
July 2019, Pepperl+Fuchs , IS & Ex
Installers expect quick and on-demand delivery from their electrical equipment suppliers, even for apparatus for hazardous areas. The carefully considered ability to configure many housing and control 
...
Read more...
---
Rittal introduces the VX25
July 2019, Rittal , Enclosures, Cabling & Connectors
Rittal's new VX25 large enclosure system is the first to be developed to meet the requirements for increased productivity in control and switchgear manufacturing and along the Industry 4.0 value chain. 
...
Read more...
---
Mobility for Industry 4.0 ­challenges
Africa Automation Fair 2019 Preview, Pepperl+Fuchs , Industrial Wireless
The Tab-Ex 02 series of tablets from Pepperl+Fuchs has innovative features that make Industry 4.0/IIoT applications easy to implement.    The DZ1 version ecom has a range of applications that are unique 
...
Read more...
---
IO-Link infrastructure components
Africa Automation Fair 2019 Preview, Pepperl+Fuchs , Sensors & Transducers
Pepperl+Fuchs has on show a range of IO-Link infrastructure components. As a globally established communication standard that is system- and fieldbus-independent, IO-Link offers many advantages. The universal 
...
Read more...
---