printer friendly version
Optimised maintenance for gas burners
February 2020
Maintenance, Test & Measurement, Calibration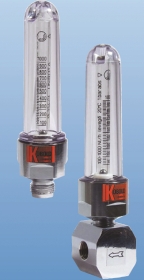 Whenever the flow of gases needs to be adjusted or monitored, Kobold's model UTS variable area flowmeter for monitoring gas burners offers a solution. This compact measuring instrument can be placed at various locations, precisely where required. Recently, the company was tasked with optimising gas burner production line monitoring in order to achieve a 'No Product Rejection' status.
The task
Lighting machine manufacturers generally require several small and one large annual maintenance session on their production lines. This means shutting down (completely dismantling) the production lines. All failures to be fixed, broken or worn parts replaced, burners and valves refurbished and production lines reassembled.
It is only after such maintenance, that production restarts. Each production phase of the renewed line must be resynchronised, each burner reset at the correct temperature and the entire production process adjusted in order to manufacture the highest quality product. This requires not only precision but is time consuming and involves a significant quantity of reject product. The time consumed and the wasted goods cost money, which may result in a serious competitive disadvantage in the market.
Kobold's UTS solution:
Production lines are equipped with UTS type variable area flowmeters: one built into each gas circuit for burner control. Retrofitting of machines without major modification, even with 10-20 flowmeters, is easy due to UTS's compact design and small footprint. When a production line produces a perfect product, the process values are recorded. Following the next shutdown, and before starting, all burners are set up to the recorded values. It takes only a few seconds then to set each burner for optimal operation. Production can then be restarted in a short time and the quality of first finished product is always perfect. Total investment is returned after only a few maintenance cycles. Other typical examples include monitoring engines and the supply of laboratory equipment with different gases.
Credit(s)
Further reading:
Temperature measurement on ultra-thin glass
March 2020, Instrotech , Temperature Measurement
Touch displays, such as for smartphones and tablets, use ultra-thin glass that brings special challenges for temperature measurement technology during their manufacturing. For this application, Optris 
...
Read more...
---
Economical magnetic-inductive flowmeters
March 2020, Instrotech , Flow Measurement & Control
Instrotech now offers Kobold's MIK, a compact, magnetic-inductive flowmeter, combining a large measuring range and six different measuring tube sizes – perfect for users with smaller to medium-sized measuring 
...
Read more...
---
RS Components unveils expansion of hand-tool portfolio
March 2020, RS Components SA , Maintenance, Test & Measurement, Calibration
RS Components has announced a major expansion of its RS PRO hand-tools range, enabling maintenance engineers to purchase individual devices not previously available. The portfolio will see a significant 
...
Read more...
---
Robust new dry-block calibrator
March 2020, WIKA Instruments , Maintenance, Test & Measurement, Calibration
Suitable for on-site use, WIKA's new Model CTD4000 dry-well calibrator has been designed for use in the severe conditions of the naval and marine sectors. Their ease of use and compact and practical 
...
Read more...
---
Food grade electric chain hoists
February 2020, Becker Mining South Africa , Maintenance, Test & Measurement, Calibration
New to Becker's range of Kito hoists are food grade electric chain hoists, designed for safe lifting applications in contaminant controlled and corrosive processing environments, particularly the food 
...
Read more...
---
Hygienic limit switches for processes
February 2020, Morton Controls , Maintenance, Test & Measurement, Calibration
Process and storage vessels incorporate limit switches to prevent overfilling of a tank or vessel (full indicator) or dry running of a pump (empty indicator). Anderson-Negele's NCS series are ideally 
...
Read more...
---
Using Fluke's T6 electrical testers
February 2020, Comtest , Maintenance, Test & Measurement, Calibration
Those who use electrical testers to capture measurements such as voltage and current know that the process is traditionally time-consuming and carries potential risk. Fluke T6 electrical testers provide 
...
Read more...
---
Sonic industrial imager detects leaks
February 2020, Comtest , Maintenance, Test & Measurement, Calibration
Comtest now offers the Fluke's ii900, a handheld sonic industrial imager that enables maintenance teams to locate air, steam, gas and vacuum leaks in systems. The straightforward, intuitive interface 
...
Read more...
---
Direct mounting absolute encoder with Profibus interface
February 2020, Instrotech , Sensors & Transducers
Instrotech has announced Scancon's Model: SCH88BEX, a new ATEX absolute encoder with Profibus Interface. It is a strong, compact (89 mm footprint), cost-effective hollow-bore encoder engineered for rugged 
...
Read more...
---
Focus on combustion and refinery applications
January 2020, Instrotech , Analytical Instrumentation & Environmental Monitoring
Instrotech now offers Keller's range of intrinsically safe electronic pressure gauges for use in areas subject to gas explosion risks. The type approvals are compliant with the ATEX Explosion Protection 
...
Read more...
---