printer friendly version
Dry running conveyor components
February 2020
Motion Control & Drives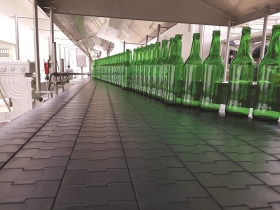 BMG's Light Materials Handling division has launched a new range of dry running conveyor components for the food and beverage sector that offer high productivity, low energy and reduced water consumption, as well as a safe and hygienic work environment.
BMG has also introduced a new condition monitoring system, which has been developed to automatically monitor the coefficient of friction of bottling or canning lines, ensuring consistently high productivity levels.
"In recognition of the importance of optimal safety, hygiene, sustainability and efficient total cost of ownership (TCO) BMG has further improved its range, through the development of new products, to meet the latest global requirements," says Ryan Forsyth, business unit manager, Light Materials Handling division. "Our new range of dry running belts with approval for direct food contact from leading global manufacturers, have important advantages over our original and conventional acetal chains and belts. These features include higher chemical and abrasion resistance, lower friction, greater strength and extended service life.
"The reduced coefficient of friction properties of dry running conveyor components enable end-users to reduce or eliminate chain and belt lubrication, providing a true dry running conveyor. Improved sliding properties result in reduced power consumption, increased wear life, lower dust generation and the ability to run at higher speeds, with higher loads. Other advantages over acetal chains and belts are improved product stability and efficient flow."
This advanced technology reduces the need for soap, water and chemical-based lubrication, resulting in dry equipment and floors, thus a safer work environment, with sustainability improvements, reduced bacteria growth and further cost savings.
Regular maintenance not required
Running dry also eliminates the need for regular maintenance and component replacement because a dry operation is easier on conveyor bearings, frames and the chain or belt. Excellent chemical resistance also extends the operating life.
BMG's new condition monitoring device continuously measures the coefficient of friction, to ensure efficient handling and flow of all container types, including PET, glass and cans. Variations in the coefficient of friction are reliable indicators of changing conditions and even pollution of the conveyor, especially in dry running lines.
This device is a complete unit, with sliders, which can be mounted on a conveyor and integrated into the line control system, to temporarily or continuously monitor friction. The condition monitoring unit is programmed to collect performance data, obtain data for trouble-shooting or to act as continuous input for the line controls. It can also be used as a stand-alone or portable device for spot measurements, without the need for operator intervention.
Obtained data is then used to calculate the average value, as well as the standard deviation and the trend. These values trigger an alarm if pre-set limits are reached and based on this signal; the user can check the situation and take corrective action before efficiency is compromised.
Another key feature is an easy-to-define optimum cleaning regime called 'Smart Cleaning'. Long-term line conditions can be analysed using data obtained through Ethernet or Modbus connections.
A permanent control process of real-time monitoring of the line condition helps to maintain optimum conditions, ensuring high efficiency of conveying in food and beverage plants.
BMG's extensive range of belting for food and beverage processing includes slat-top and mat-top chains and belts, Ammeraal Beltech's KleenEdge non-fray synthetic belts, Uni modular belts including Pop-up flight solutions for inclined food conveyors, flat food processing belts and Rapplon flat processing transmission belts.
All products for food handling, bottling and packaging applications meet the highest conveying and packaging standards, in terms of reliability, flexibility and consistent quality and hygiene controls.
Credit(s)
Further reading:
BMG's heavy-duty mechanical face seals
Bearing Man Group t/a BMG News
BMG's extensive range of seals and gaskets includes Trelleborg mechanical face (torric) seals, which have been specially engineered for rotating applications in arduous conditions.
Read more...
---
Conveyor chain for special applications
Bearing Man Group t/a BMG Motion Control & Drives
BMG's comprehensive range of power transmission components incorporates ZMC industrial conveyor chains that offer dependable service in diverse applications, especially in food production.
Read more...
---
BMG'S Nord IE5+ motor generation
Bearing Man Group t/a BMG Motion Control & Drives
BMG and German precision engineers, Getriebebau Nord, entered a partnership agreement in 1996 to assemble, distribute and support Nord Drive Systems throughout southern Africa.
Read more...
---
BMG gearboxes for railway maintenance
Bearing Man Group t/a BMG Maintenance, Test & Measurement, Calibration
BMG supplies the local railways sector with custom-designed planetary gearboxes for use in railway maintenance programmes.
Read more...
---
V-belts designed for food applications
Bearing Man Group t/a BMG Motion Control & Drives
BMG supplies a wide range of power transmission components, designed to enhance efficiency and safety in the food and beverage sector.
Read more...
---
Control automation excellence
SEW-Eurodrive Motion Control & Drives
Movi-C from SEW-EURODRIVE is a unique automation control system that sets a new benchmark in control automation, embracing Industry 4.0 technology.
Read more...
---
BMG boosts solutions through Heko products
Bearing Man Group t/a BMG News
Through the supply and support of Heko products, BMG has boosted its solutions service to customers wanting to optimise the efficiency of their bulk material conveyor systems.
Read more...
---
Locally manufactured knife gate valves
Bearing Man Group t/a BMG Valves, Actuators & Pump Control
BMG and Abrasive Flow Solutions (AFS) play a major role in the local valves sector, through the design, distribution, supply and support of a broad range of slurry related valves.
Read more...
---
Efficient agriculture systems from BMG
Bearing Man Group t/a BMG Motion Control & Drives
BMG's Boer Slim/Smart-Farming agricultural team works closely with farmers throughout southern Africa, assisting them with the selection, installation and operation of new electromechanical systems. These 
...
Read more...
---
Inertial spin filters save energy
Motion Control & Drives
RTS Africa's inertial spin filters provide an effective, maintenance-free solution to dust problems in MCC rooms, transformer rooms, control rooms and the like.
Read more...
---